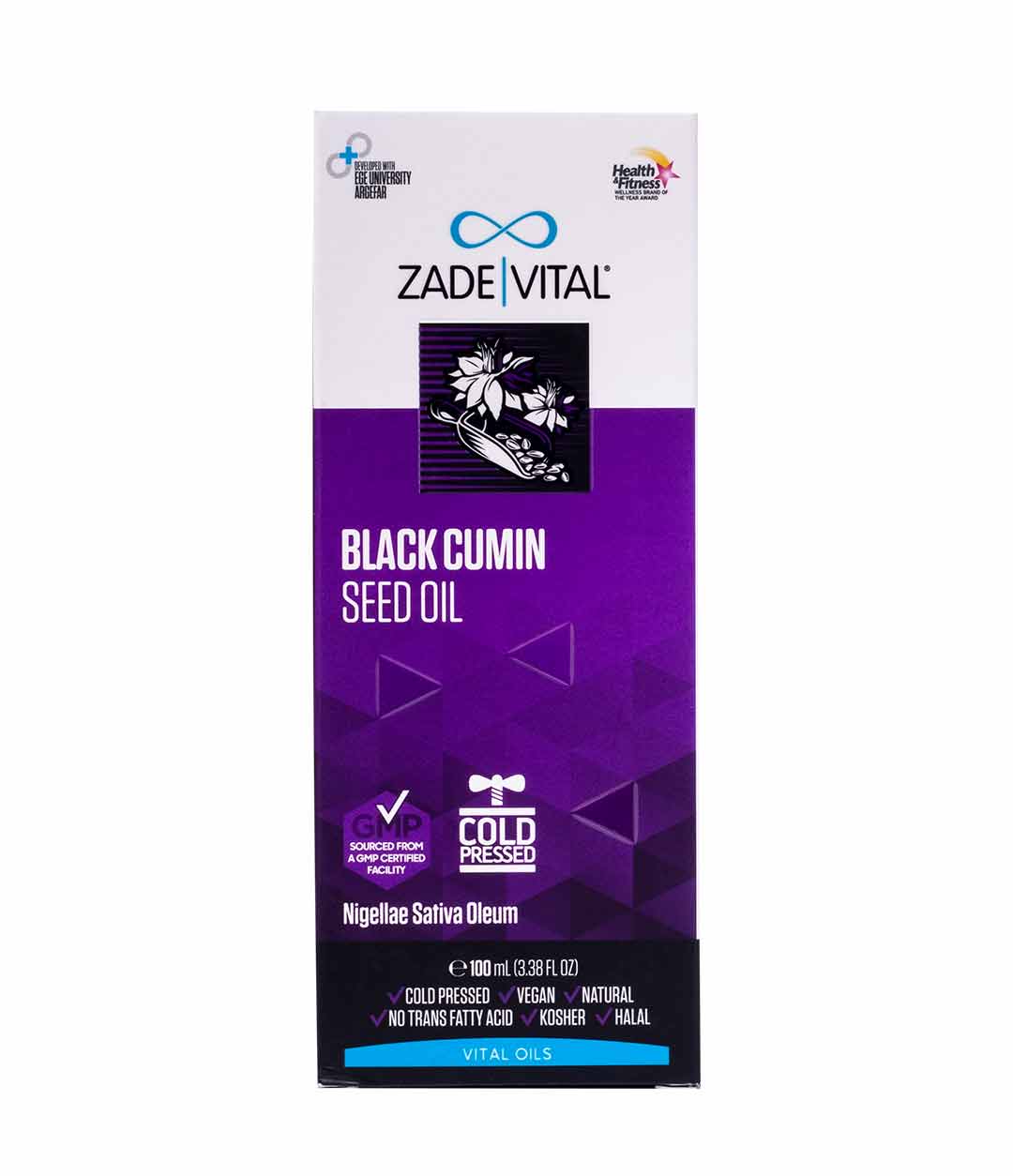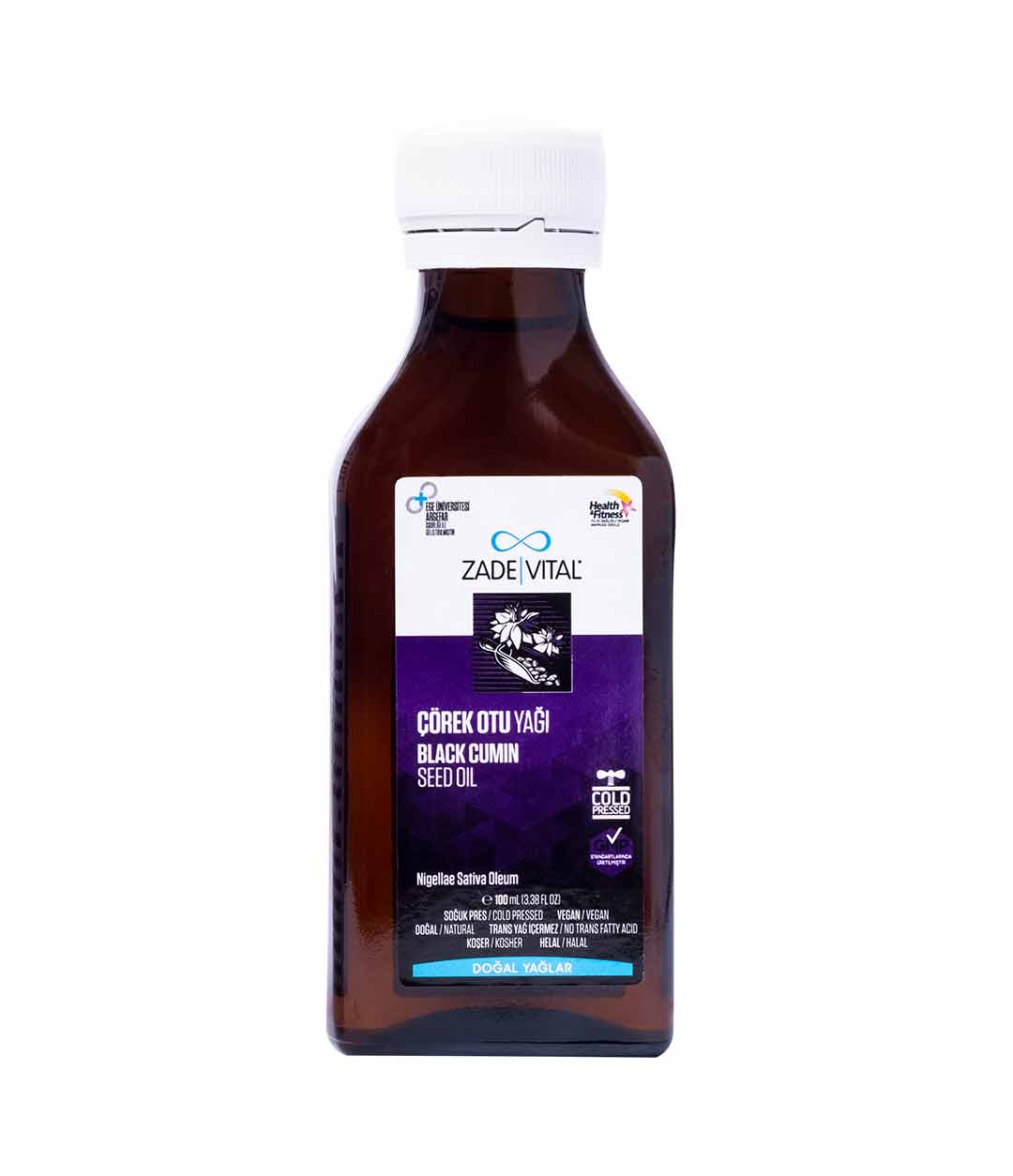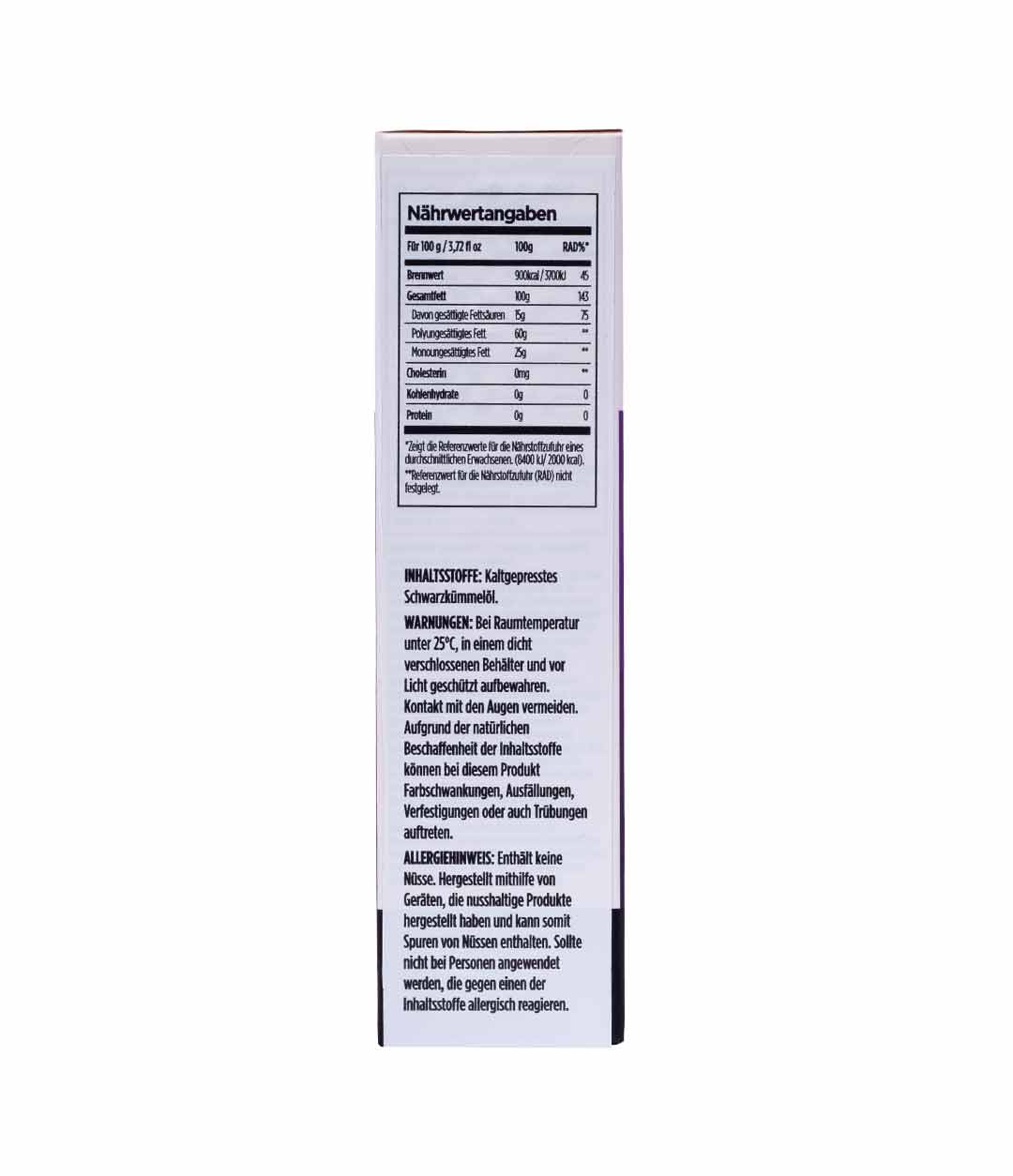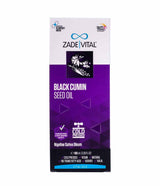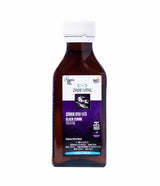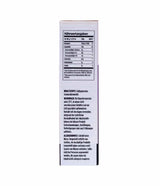 black seed oil
Zade Vital
Cold-pressed black cumin oil for oral use.
100.0 ml ( 13,26 €* / 100 ml)
inkl. 7 % MwSt.
zzgl. Versandkosten
Auf Lager. 2-3 Tage Lieferzeit
KOSTENLOSER VERSAND AB 49€
SICHERE UND EINFACHE ZAHLUNG
Meet Zade Vital Black Seed Oil (100ml), made with GMP standards and cold press processes. The most important effects of black cumin oil on your health are:
Effective against hair loss

immune system strengthening

Perfect for skin health
It helps with weight loss
antioxidant source
Regulates cholesterol levels
Help against asthma symptoms
You can use Zade Vital Black Seed Oil to cleanse your body of toxins, rejuvenate, relieve your digestive problems, boost your immune system, relieve cough and cold symptoms.
Black seed oil is also full of antioxidants, which are necessary for healthy skin and shiny hair. Zade vital black cumin oil (100 ml) contains no gluten, BHA, BHT, trans fat. It is KOSHER and Halal certified.
On this page you can buy black cumin oil and find out about the effects of black cumin oil on your health.
What is black cumin?
Black cumin, also known as "Nigella sativa", is a plant native to Eastern Europe, Central Europe and Western Asia.
Black seed has been one of the most commonly used medicinal plants throughout history. This medicinal plant, which is good for many health problems, is widely used today. It is one of the most scientifically researched plants. Black cumin seeds and oil can be used. It was used by Cleopatra for beauty and by Hippocrates for liver disease. Diabetes, cholesterol, obesity, psoriasis, eczema, allergies, Alzheimer's and digestive problems are among the top health effects of black seed oil. Black seed oil is also used to prevent hair loss and moisturize the skin.
Ingredients: Cold-pressed black cumin oil.
Application of black cumin oil
Black Seed Oil is a wonderful natural supplement that supports your body inside and out. While it increases your body's resistance to disease, it helps you feel better by naturally improving your overall health. The main benefits of black seed oil for your health
Supports the immune system.
Increases the body's resistance to viruses and inflammation
Supports digestive health
Moisturizes the skin and removes wrinkles
Effective against hair loss
Reduces allergy symptoms
Helps strengthen memory
Helps with weight loss
Helps maintain liver health
Natural support of the immune system
Black cumin oil, cold-pressed using the cold-press method, supports the immune system in a natural way.
"Timoquinone", the main component of black cumin, is a phenolic compound and has antioxidant, anti-inflammatory and antimicrobial properties. With these effects, it supports the immune system and improves the body's defense system.
Reduces allergy symptoms
Black seed oil may help reduce some allergy symptoms. Studies show that black seed oil can help with common allergy symptoms like nasal congestion, runny nose and sneezing.
Supports brain functions
Black cumin oil supports brain functions in a natural way. A study published in the Journal of Ethnopharmacology found that black seed increases memory, alertness, and concentration.
Supports digestive health
With its antimicrobial and antimicrobial effects, black cumin oil prevents the proliferation of many types of bacteria (such as Candida albicans) that endanger intestinal health. However, it is also effective in relieving stomach pain, bloating, and ulcer pain.
Helps with weight loss
Black seed oil is one of the most effective natural alternatives for obesity. It aids in weight loss by reducing inflammation in the body.
Studies have shown that regular exercise and consumption of black seed oil produce positive weight loss results.
Benefits of Black Seed Oil for Skin
The fatty acids and antioxidants in black seed oil can benefit skin health in many ways.
It moisturizes the skin and eliminates bacterial infections, stimulating the growth of healthy new cells. Black seed reduces the appearance of wrinkles and blemishes.
Black seed oil is good for hair loss
With regular use, black seed oil can soften hair and increase its shine. It also prevents hair loss. Thanks to the "timoquinone" content of black seed oil, it helps hair regrow and helps strengthen thinning hair.
WARNINGS: Store at room temperature below 25°C, in a tightly closed container and protected from light. Avoid eye contact. Due to the natural nature of the ingredients, color fluctuations, precipitation, solidification or turbidity can occur with this product.
ALLERGY ADVICE: Contains no nuts. Manufactured using equipment that manufactured products containing nuts and may therefore contain traces of nuts. Should not be used on people allergic to any of the ingredients.

Contents and indications for Zade Vital black cumin oil
Cold-pressed black cumin oil, alpha-tocopheryl acetate (antioxidant), alpha-tocopherol (E307) (antioxidant), bovine gelatine for the capsule shell, glycerin (E422) (emulsifier), deionized water, titanium dioxide, allura red, brilliant blue.
100.0 ml ( 13,26 €* / 100 ml) inkl. 7 % MwSt. zzgl. Versandkosten
RIGHT OF CANCELLATION: 14 DAYS
RIGHT OF CANCELLATION: 14 DAYS