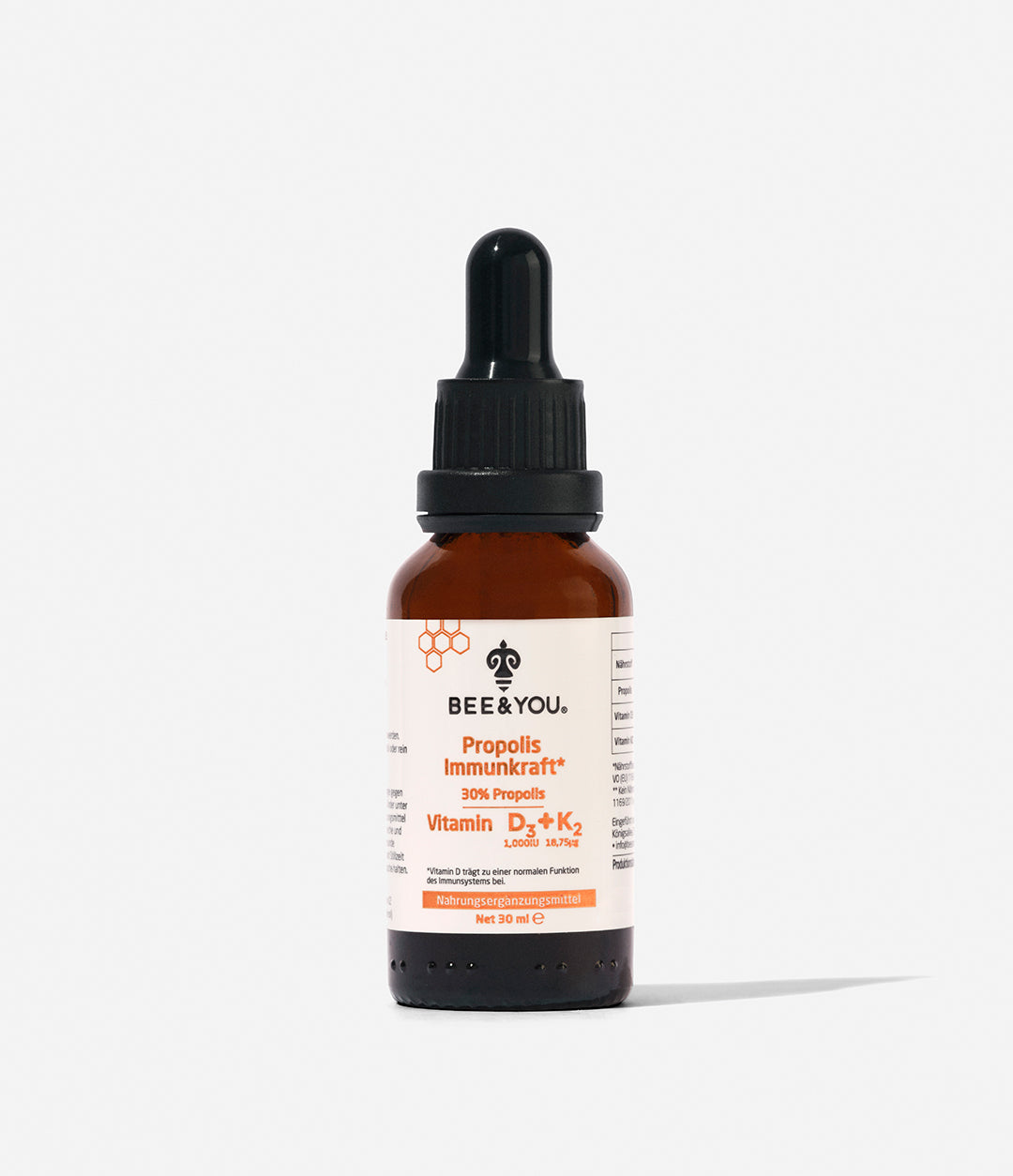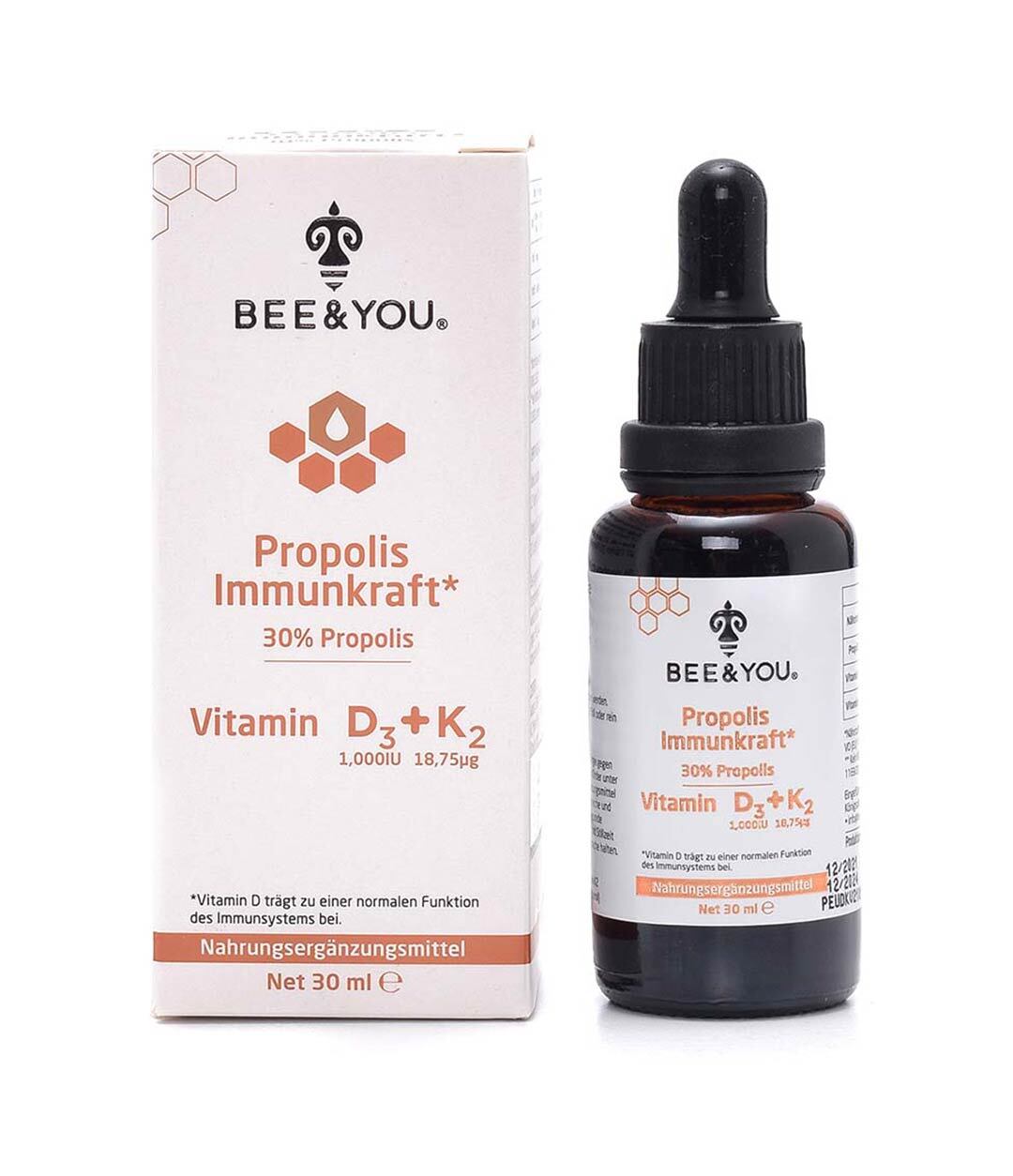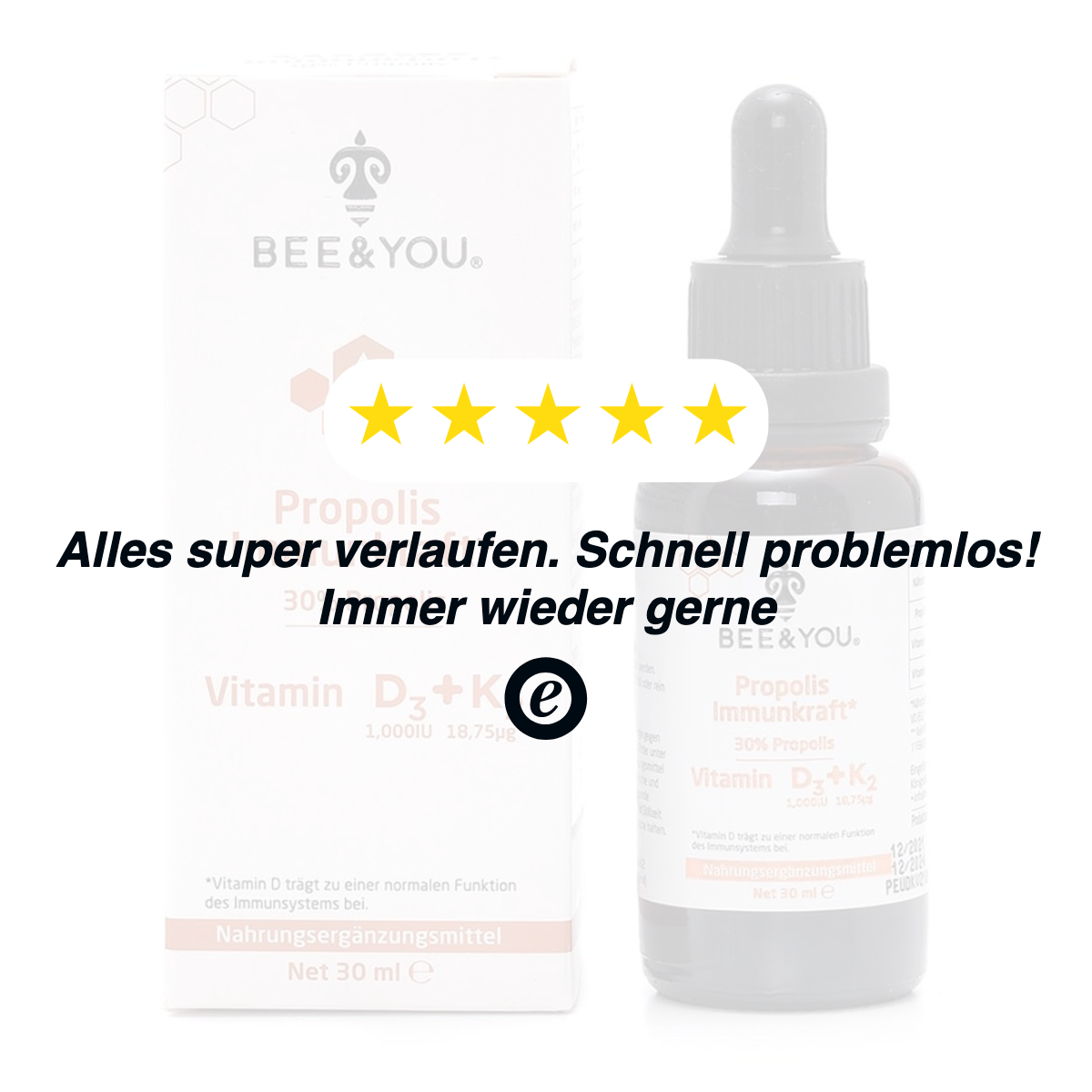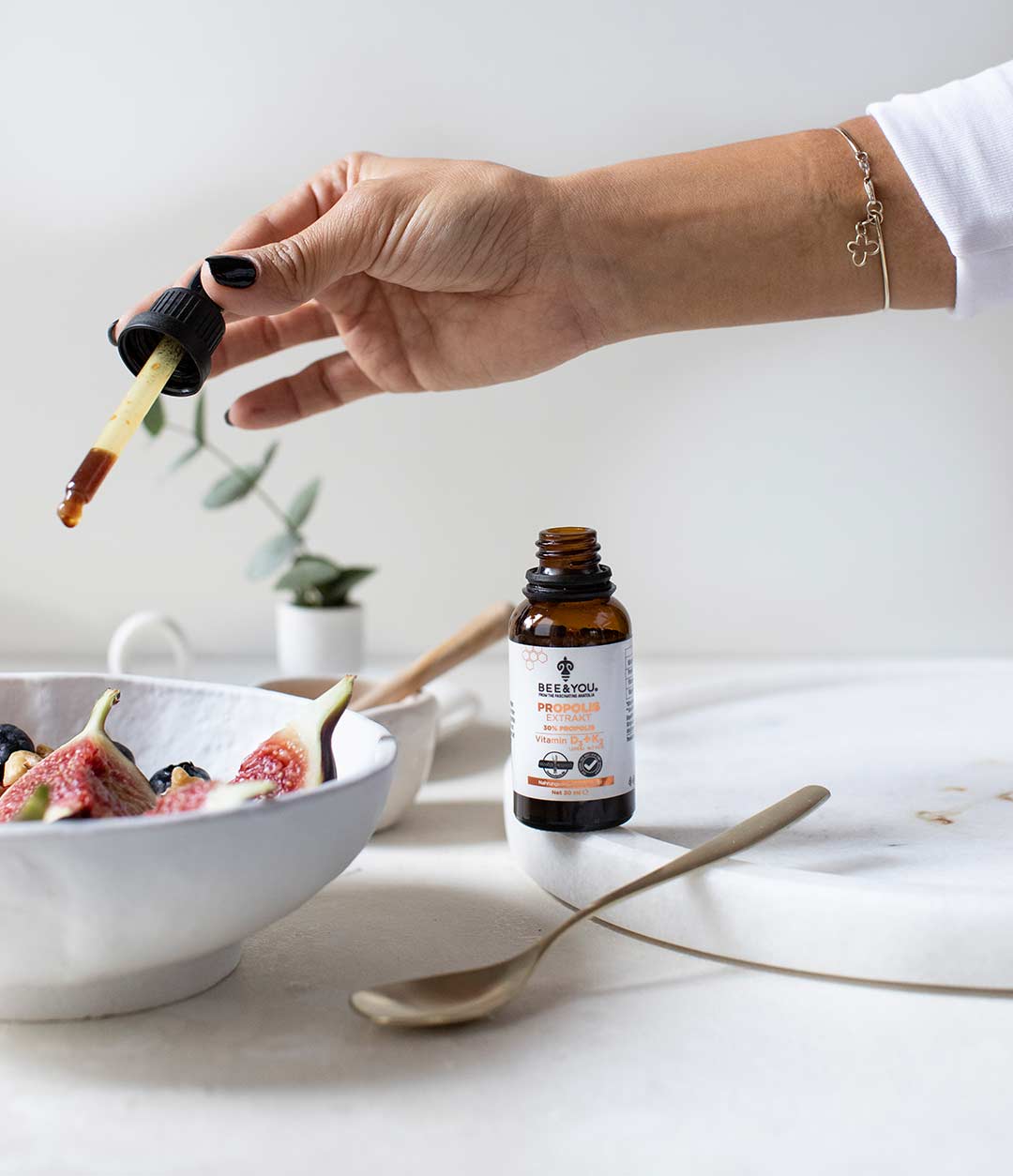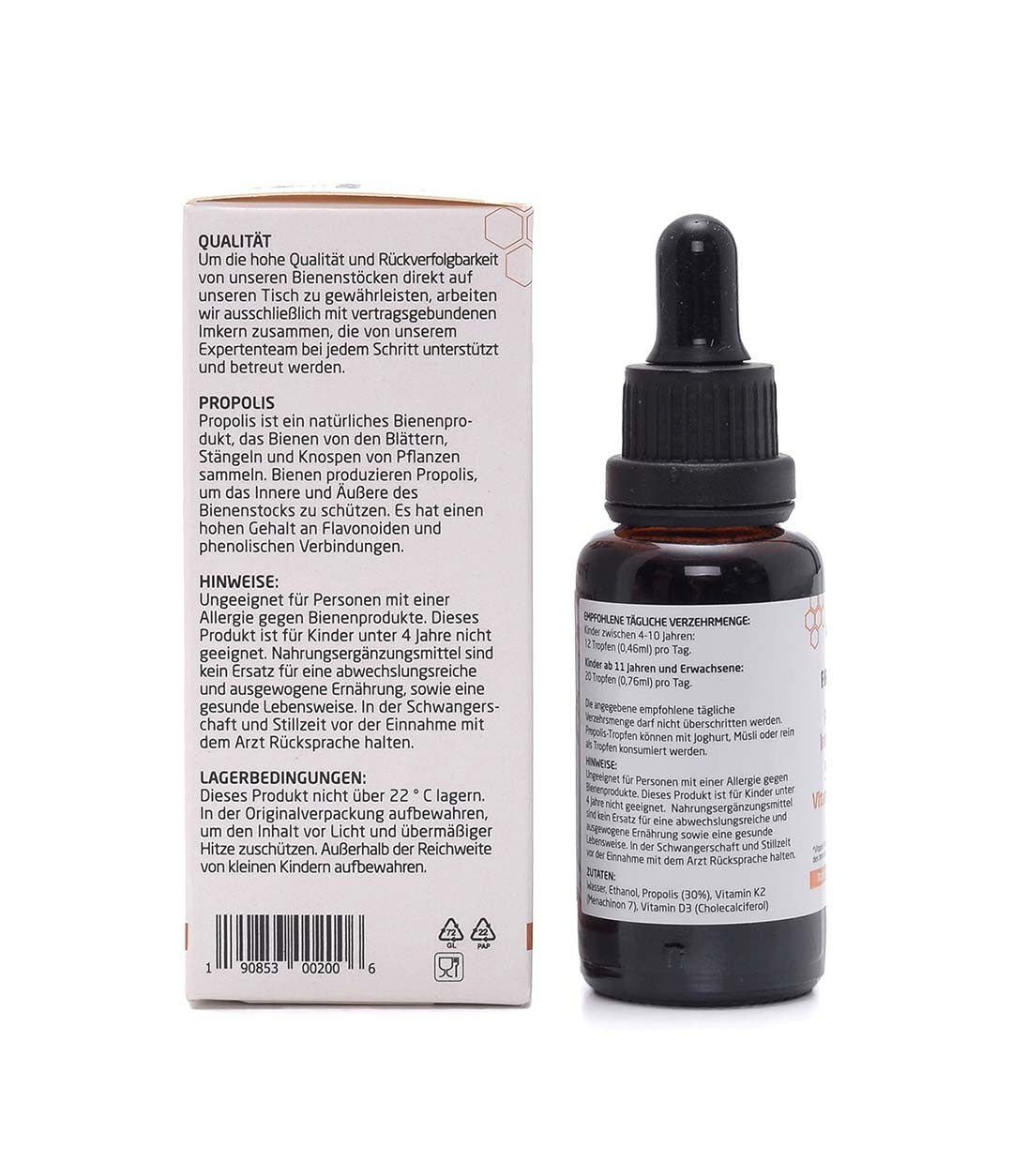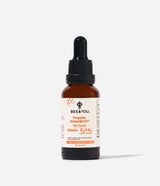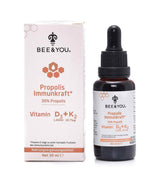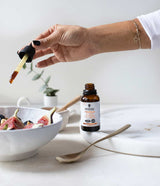 Propolis immune power with 30% propolis
Bee&You Deutschland
Das BEE&YOU Propolis Extrakt 30% für die tägliche Anwendung kann pur oder mit festen Lebensmitteln eingenommen werden. Vitamin D trägt zur Erhaltung normaler Knochen bei.
30.0 ml ( 76,50 €* / 100 ml)
inkl. 7 % MwSt.
zzgl. Versandkosten
Auf Lager. 2-3 Tage Lieferzeit
KOSTENLOSER VERSAND AB 49€
SICHERE UND EINFACHE ZAHLUNG
Tipps & Tricks
• The tincture can be taken with solid foods.
• The tincture can be mixed with honey, yoghurt or in the muesli in the morning.
• The daily dosage can be taken throughout the day.
• The tincture can also be taken pure.
• The tincture can be instilled into the breakfast bowl.
What is vitamin D3+ K2 drops with 30% propolis?
propolis
Propolis is a completely natural bee product that bees make from leaves, stalks
and gather buds from plants. The main task of propolis in the hive
is providing and maintaining a clean environment. is propolis
very rich in phenols, flavonoids and polyphenols.

vitamin D and vitamin K2
• Vitamin D contributes to the normal utilization of calcium and phosphorus.
• Vitamin D contributes to normal blood calcium levels.
• Vitamin D contributes to the maintenance of normal bones.
• Vitamin D contributes to the maintenance of normal muscle function.
• Vitamin D contributes to the normal functioning of the immune system.
• Vitamin D plays a role in the process of cell division.
• Vitamin K contributes to normal blood clotting.
• Vitamin K contributes to the maintenance of normal bones.

--
The BEE&YOU Propolis Extract 30% for daily use can be taken pure or with solid foods. Vitamin D contributes to the maintenance of normal bones.
Application of Immune Power | Vit. D3, K2 drops, 30% propolis (30ml)
The propolis 30% immune power Vit.D3 & Vit.K2 can be taken pure or with solid foods such as yoghurt, honey or in the morning muesli.
In addition, BEE&YOU Propolis D3+K2 drops cover the daily requirement of vitamin D-3 (at least 800 IU) recommended by the German Society for Adult Nutrition in the winter months. It provides 1000 IU of vitamin D3 when taken daily (20 drops). It provides 18 mcg of vitamin K2 in daily intake (20 drops)
Dosing of immune power | Vit. D3, K2 drops, 30% propolis (30ml
BEE&YOU Propolis Drops 30% D3 + K2 Adults can consume 20-80 drops per day, while children can consume 10-40 drops per day directly or by adding warm or cold foods such as yogurt, honey, molasses.
Content and hints for immune power | Vit. D3, K2 drops, 30% propolis (30ml)
Contents: Water, propylene glycol, propolis (%15), vitamin D3, vitamin K2
Note for allergy sufferers:
Please carry out an allergy test when using bee products for the first time. Drizzle a few drops of the bee products on the inner part of your wrist and leave it on for 15 minutes. If there are no reactions such as itching, redness or swelling, your immune system does not appear to be in danger. If you are unsure, it is always advisable to consult a doctor or an expert alternative practitioner first.
Net weight: 30ml
Storage conditions: room temperature (approx. 24°C / 72°F)
Shelf life: 36 months
What distinguishes BEE&YOU Propolis from other products?
Germany's No. 1 propolis drops: According to vergleich.org comparison results

BEE&YOU Propolis Tincture has more biological activity than its comparable

It is produced under controlled conditions by experts using a contractual beekeeping model.
Thanks to the innovative award-winning extraction, the useful components of propolis are produced with maximum preservation.
Has international certificates proving food safety and quality: GMP, BRC, IFS, ISO9000, ISO22000, Halal, Kosher
33 national and international awards
Those who test it are very satisfied: 4.88 / 5.00 customer satisfaction in Trusted Shops
It is safely consumed by thousands of families in more than 13 countries.
Check out our site to discover all our propolis products.
study results
Santos, Everton OL, et al. ""Flavonols modulate the effector functions of healthy individuals' immune complex-stimulated neutrophils: A therapeutic perspective for rheumatoid arthritis."" International immunopharmacology 21.1 (2014): 102-111.
Zorlu, DUYGU ""COVID-19 and Anatolian propolis: A case report."" Acta Medica Mediterranea 37.2 (2021): 1229-1233.
Bislev, Lise Sofie, et al. ""The effect of vitamin D3 supplementation on markers of cardiovascular health in hyperparathyroid, vitamin D insufficient women: a randomized placebo-controlled trial."" Endocrine 62.1 (2018): 182-194.
Suna, Gülen, and Aylin Ayaz. ""K vitamininin Cardiovascular Sağlık Üzerine Etkisi: Güncel Yaklaşımlar."" Beslenme ve Diyet Dergisi 45.1 (2017): 61-69.
Küşümler, Aylin Seylam, and Ayça Çelebi. ""Propolis ve Sağlık Üzerine Etkileri."" Akademik Gıda 19.1 (2021): 89-97.
Zhang, Yingfeng, et al. "Effect of Low-Dose Vitamin K2 Supplementation on Bone Mineral Density in Middle-Aged and Elderly Chinese: A Randomized Controlled Study." Calcified tissue international (2020): 1-10.
Ang, Estisch SM, et al. "Caffeic acid phenethyl ester, an active component of honeybee propolis attenuates osteoclastogenesis and bone resorption via the suppression of RANKL‐induced NF‐κB and NFAT activity." Journal of cellular physiology 221.3 (2009): 642-649.
Goddek, Simon. "Vitamin D3 and K2 and their potential contribution to reducing the COVID-19 mortality rate." International Journal of Infectious Diseases 99 (2020): 286-290.
30.0 ml ( 76,50 €* / 100 ml) inkl. 7 % MwSt. zzgl. Versandkosten
RIGHT OF CANCELLATION: 14 DAYS
RIGHT OF CANCELLATION: 14 DAYS