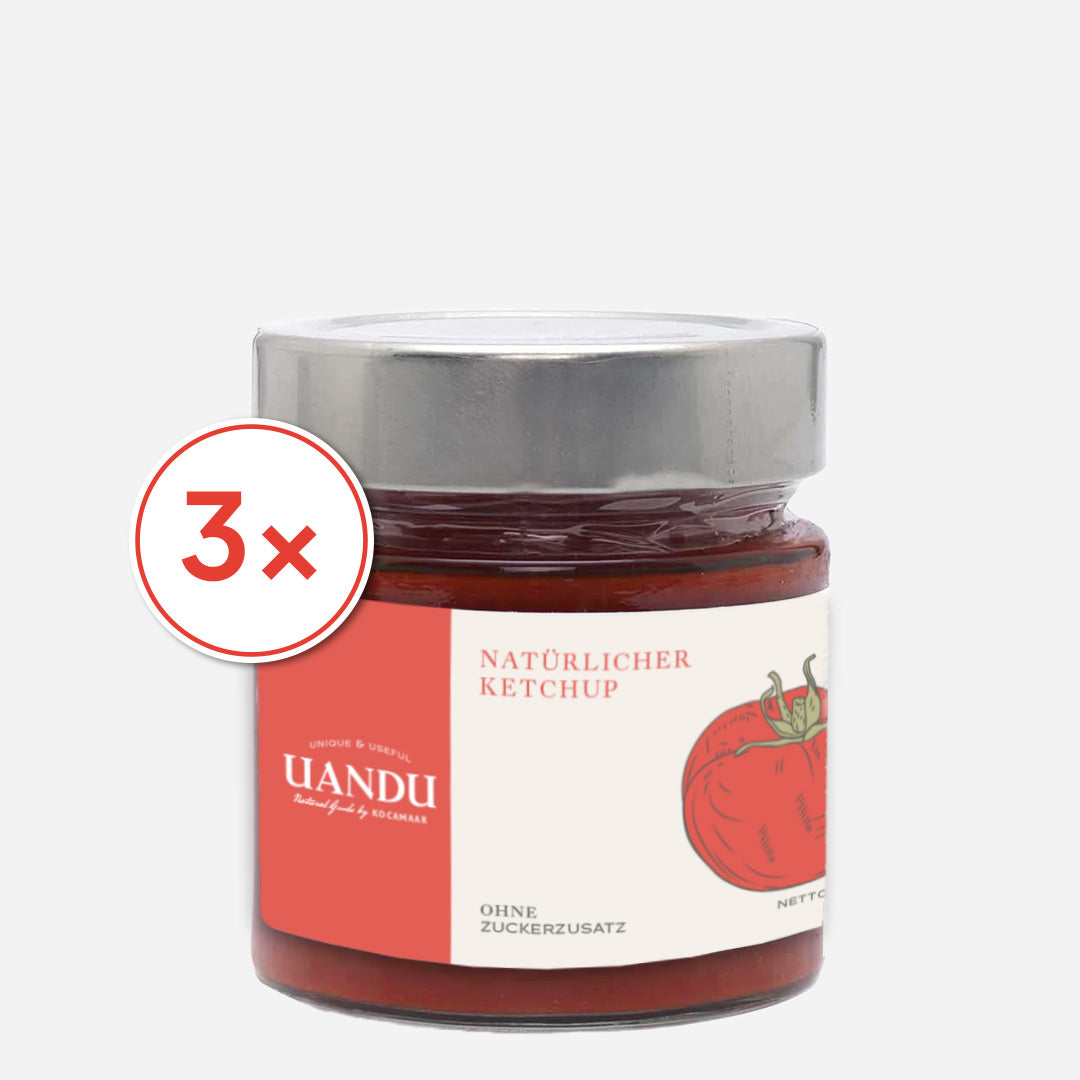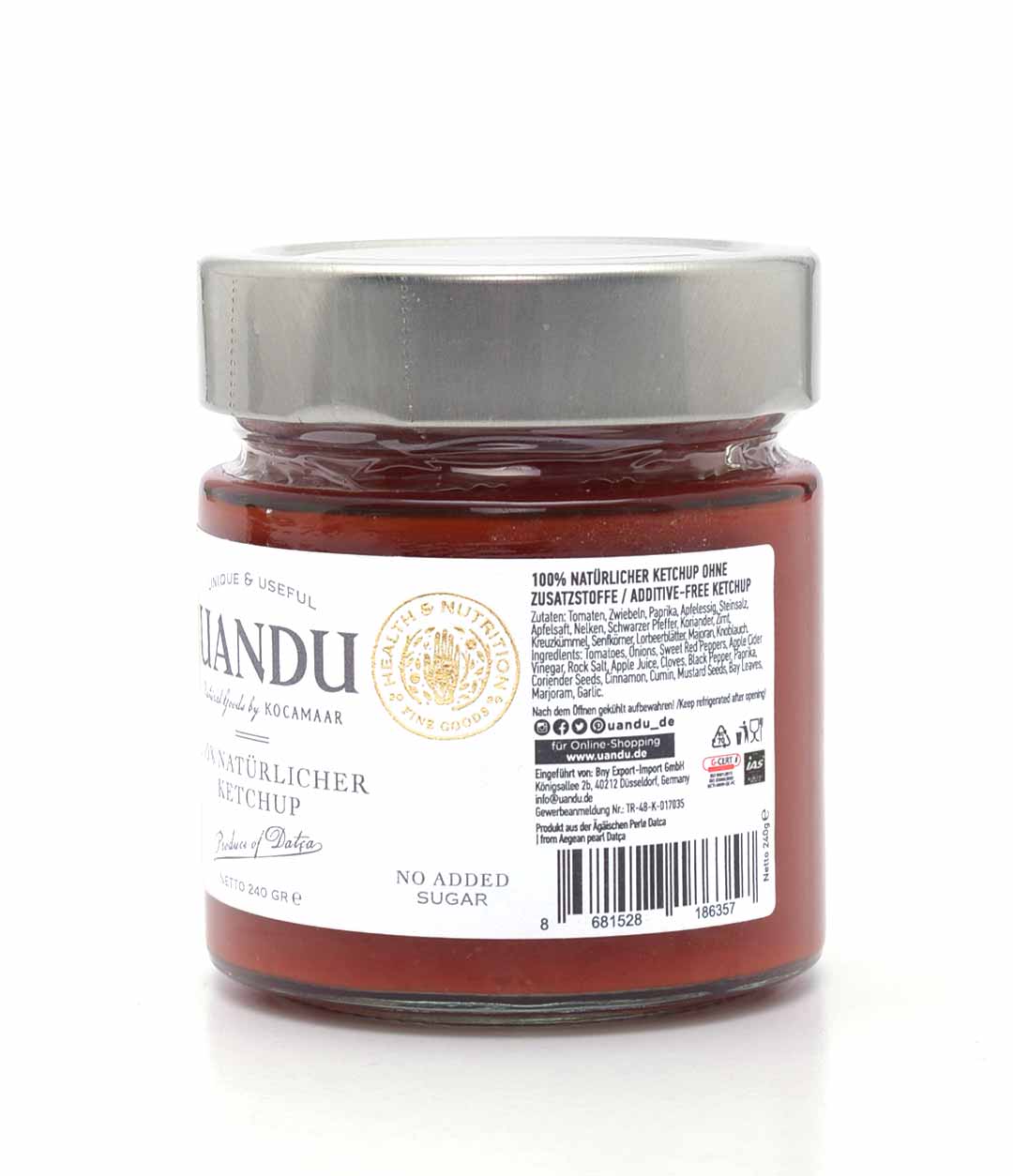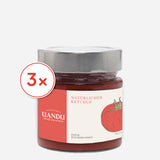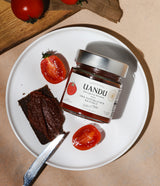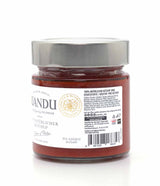 100% natural ketchup without additives (3x)
Kocamaar
Natural ketchup without sugar from tomatoes from our UANDU farm in Datca.
720.0 g ( 27,17 €* / 1000 g)
inkl. 7 % MwSt.
zzgl. Versandkosten
Auf Lager. 2-3 Tage Lieferzeit
KOSTENLOSER VERSAND AB 49€
SICHERE UND EINFACHE ZAHLUNG
Tipps & Tricks
Giving kids ketchup without a guilty conscience :)
What is UANDU Natural Ketchup without additives?
The uandu ketchup you need to prepare the perfect hamburger, pizza, fried potatoes and pasta is made on the Kocamaar farm in Datça, the charming town of the Aegean, with no additives and no added refined sugar.
uandu ketchup is made in a healthy jar.
It is 100% natural and made without additives according to the principles of healthy nutrition.
Contains fragrant tomatoes, fresh vegetables, extra virgin olive oil, vinegar, rock salt and various spices.
Apple juice is used instead of additional refined sugar
It's the intense texture and taste that your family loves.
Ideal ketchup for perfect burgers, hot dogs and pizzas
Ketchup is one of the most consumed and popular sauces in the world. The first attempt at ketchup in history was a sauce made in China in 1690 with pickled fish, anchovies and spices and no tomatoes.
Tomato was first used in the ketchup recipe included in Sandy Addison's 1801 cookbook. Later, a cookbook author named Mary Randolph published the recipe for making ketchup from tomatoes in her book, and ketchup quickly became a sauce that spread around the world.
100% natural ketchup without GMOs, gluten, additives and added refined sugars
Ketchup, the world's favorite sauce, is made at the Kocamaar farm in Datca, a peninsula in the Aegean Sea, with good farming practices. Ketchup in a Kocamaar jar made from the ripest tomatoes of the season consists only of vegetables, vinegar, salt and aromatic herbs. In addition, following the original ketchup recipe, it was flavored with apple juice instead of refined sugar. Ketchup with no added refined sugar!
Application of UANDU Ketchup
The secret of ketchup in a Kocaamar jar with no added refined sugar is in its ingredients. It contains just a variety of tomatoes, onions, garlic, capia peppers, apple cider vinegar and apple juice, rock salt, cloves, black pepper, sweet red pepper, coriander, cinnamon, cumin, mustard seeds, bay leaf and marjoram. No added additives, preservatives, sweeteners or refined sugar. Suitable for a healthy
Nutrition with 100% natural ingredients.
Contents and Notes for UANDU Ketchup
Ingredients: Tomato, Onion, Garlic, Capia Pepper, Apple Cider Vinegar, Rock Salt, Apple Juice, Cloves, Black Pepper, Sweet Red Paprika, Coriander, Cinnamon, Cumin, Mustard Seeds, Bay Leaf, Marjoram
It contains no additives, preservatives, flavors and binders. With its 100% natural content, it is suitable for a balanced diet.
720.0 g ( 27,17 €* / 1000 g) inkl. 7 % MwSt. zzgl. Versandkosten
RIGHT OF CANCELLATION: 14 DAYS
RIGHT OF CANCELLATION: 14 DAYS