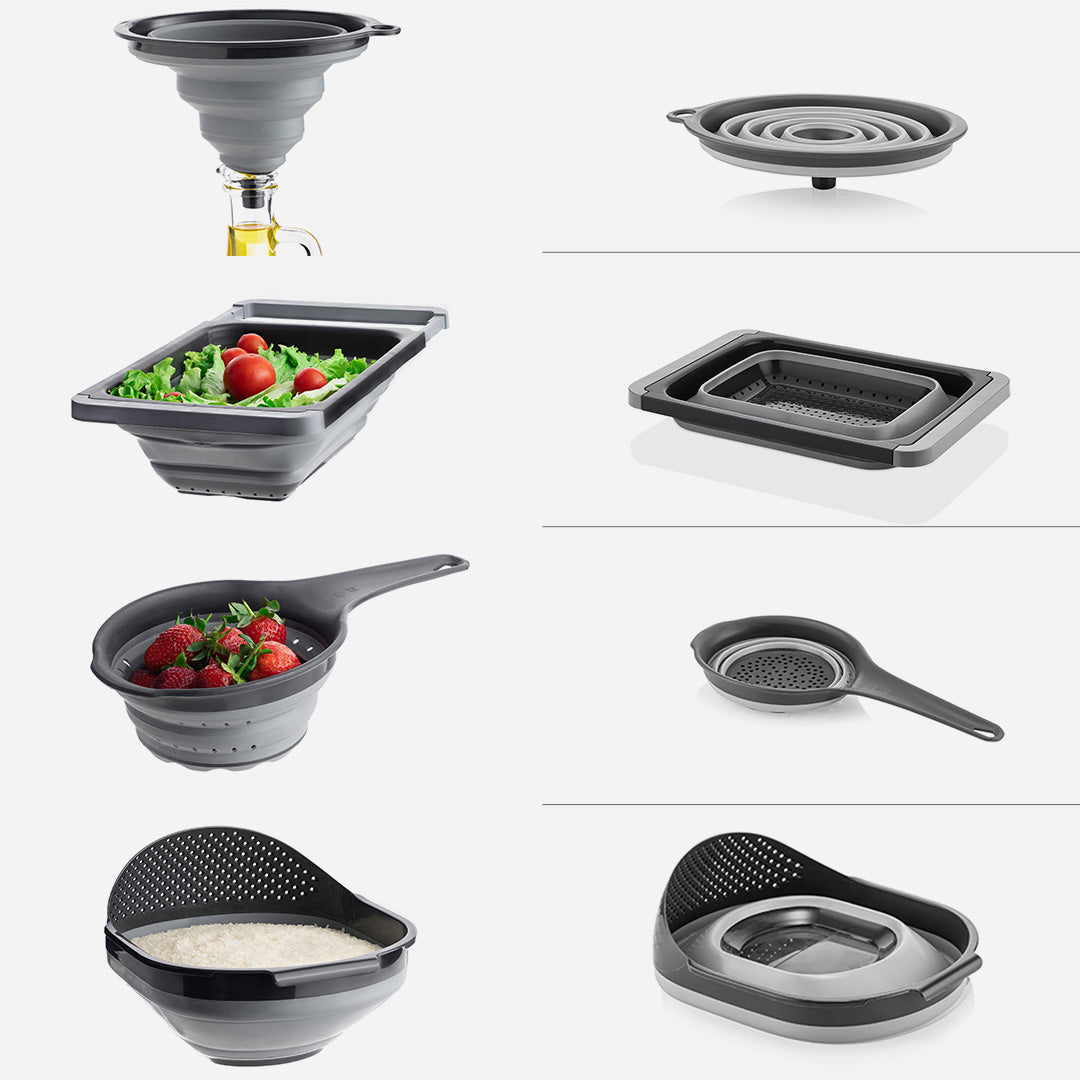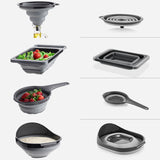 UANDU set of 4 sieves
Uandu Home

inkl. 7 % MwSt.
zzgl. Versandkosten
Auf Lager. 2-3 Tage Lieferzeit
KOSTENLOSER VERSAND AB 49€
SICHERE UND EINFACHE ZAHLUNG
UANDU screens versatile and easy to use. Can be used at the sink to rinse vegetables and fruits, drain pasta, easy to hold and use. No matter how you use it, we believe you will love the versatility and uniqueness of our UANDU strainer. Thanks to the foldable design, it takes up little space in both your home kitchen and camping kitchen.

UANDU foldable, rectangular strainer, modern & unique design: rectangular strainer, adjustable handles - our rectangular strainers can be extended on the handles for an optimal fit in the sink, sink strainer. Our UANDU sieves are BPA free and dishwasher safe - made of high-quality food-safe PP material.

UANDU foldable silicone filter basket modern & unique design: basket-shaped sieve with handle - basket is foldable, very versatile, functional.

UANDU foldable funnel strainer modern & unique design - ideal for narrow bottle necks such as oil bottles to ensure a leak and drip-free flow of oils and other liquids.

UANDU foldable rice strainer modern & unique design: ideal and functional especially for e.g. rice, lentils, pearl barley, legumes etc - practical and easy to use for kitchen use, rice wash bowl.
Set includes the following 4 dimensions:

Rectangular sieve
Dimensions: 55X26.3X12 cm

Silicone filter basket with handle
Dimensions: 37X18.5X5 cm

rice sieve
Dimensions: 27.5X23X10 cm

silicone funnel
Dimensions: 17.5X11.5X3.5cm

UANDU foldable and space-saving design
Our UANDU strainers can be folded, so they save a lot of space in your kitchen and can be conveniently stored in any drawer, cupboard or drying cabinet. Our UANDU foldable sieves are ideal for camping and picnics and other activities.

Easy cleaning and emptying
The special UANDU design makes it drain very easily and is mostly used for foods like spaghetti, pasta, potatoes, broccoli, green beans, lentils, rice, carrots, spinach and other vegetables. Easy to clean after use, clean with warm soapy water or put in the dishwasher to dry.

Comfortable ergonomic handle from UANDU
To do your health good, we guarantee maximum comfort and our comfortable handles make working in the kitchen easier.
--
Ideal and functional UANDU sieve set, makes your work in the kitchen easier.
inkl. 7 % MwSt. zzgl. Versandkosten
RIGHT OF CANCELLATION: 14 DAYS
RIGHT OF CANCELLATION: 14 DAYS