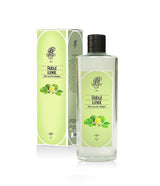 Rebul Lime Eau de Cologne 100ml
Rebul
The refreshing Lime Cologne perfect for the warm summer days.
100.0 ml ( 5,95 €* / 100 ml)
inkl. 19 % MwSt.
zzgl. Versandkosten
Auf Lager. 2-3 Tage Lieferzeit
KOSTENLOSER VERSAND AB 49€
SICHERE UND EINFACHE ZAHLUNG
A Mediterranean coolness
Sicilian lemon essence, aromatic bergamot, citrus fruits and lily of the valley that energize the body that capture the fresh scent of spring in Rebul Lime Colognege offers you a unique coolness and freshness.

100.0 ml ( 5,95 €* / 100 ml) inkl. 19 % MwSt. zzgl. Versandkosten
RIGHT OF CANCELLATION: 14 DAYS
RIGHT OF CANCELLATION: 14 DAYS