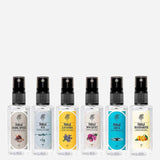 Rebul Eau de Cologne introductory package 6 x
Rebul
6 excellent colognes handy for the handbag.
300.0 ml ( 5,31 €* / 100 ml)
inkl. 19 % MwSt.
zzgl. Versandkosten
Auf Lager. 2-3 Tage Lieferzeit
KOSTENLOSER VERSAND AB 49€
SICHERE UND EINFACHE ZAHLUNG
Symbol of nobility, bouquet of peonies
Our story begins with Rebul Cologne's encounter with the peony, heralding spring in Japan. Delicate but energetic Mediterranean citrus fruits in the top notes, the euphoric peony in the heart notes, the nobility of the innocent lily of the valley and the graceful lilies envelop you. This fragrance invites you into the sophisticated world of musk, cedar and sandalwood in deep notes and offers you an attractive refreshment. Thus, from generation to generation, Rebul Bouquet becomes an indispensable passion and at the same time becomes the protagonist of a never-ending story.
The story of Cologne Rebul begins with lavender, the plant that is fresh and cool with the scent of the Mediterranean Sea. The result of this harmonious meeting is Rebul Lavender Cologne, which has been used with acclaim for generations and has become a classic.
refreshment of the ice
Whether it's summer or winter, when you open the lid of Rebul Ice, you'll feel the juicy citrus fruits and notes of water touching your face. You get the pure taste of nature thanks to the mysterious African violet, the soft and transparent freesia, pineapple and green rosemary that make up the heart notes of Rebul Ice. The combination of warm and eye-catching protective amber with cedar moss forming the bottom note surrounds you and spreads. This fragrance gives the feeling of refreshment of the ice.
The mysterious world of spices
Modern and attractive, the Rebul Black Pepper Eau de Cologne awakens your feelings with its energetic black pepper and sharp aniseed scent, giving lemon freshness at first sight. In the heart notes, the warmth of cardamom from southern India and the gentle touch of geranium, identified with the Mediterranean Sea, envelop your skin. After meeting this special fragrance with woody tones, you will form an indispensable bond.
Invigorating effect of blue water
With the combination of fresh aromatic scents and warm woody scents, the doors of a refreshing and at the same time fascinating world open. As you meet this unique fragrance, invigorate the tones of water with the refreshing effects of green leaves and fresh lemon. Then the fresh aromatic scents of nature leave their place for warm and exotic wood scents and leave a catchy, masculine impression.
Mandarine Essence, lime, white peach, mysterious African violet, romantic peony and delicate lily of the valley are brought together in Rebul Mandarine. Rebul Mandarine Cologne gives a unique refreshment. In addition to this exquisite combination, Rebul Mandarine offers you the experience of discovering the mystical scents of amber mixed with cedar and sandalwood extracts.
300.0 ml ( 5,31 €* / 100 ml) inkl. 19 % MwSt. zzgl. Versandkosten
RIGHT OF CANCELLATION: 14 DAYS
RIGHT OF CANCELLATION: 14 DAYS