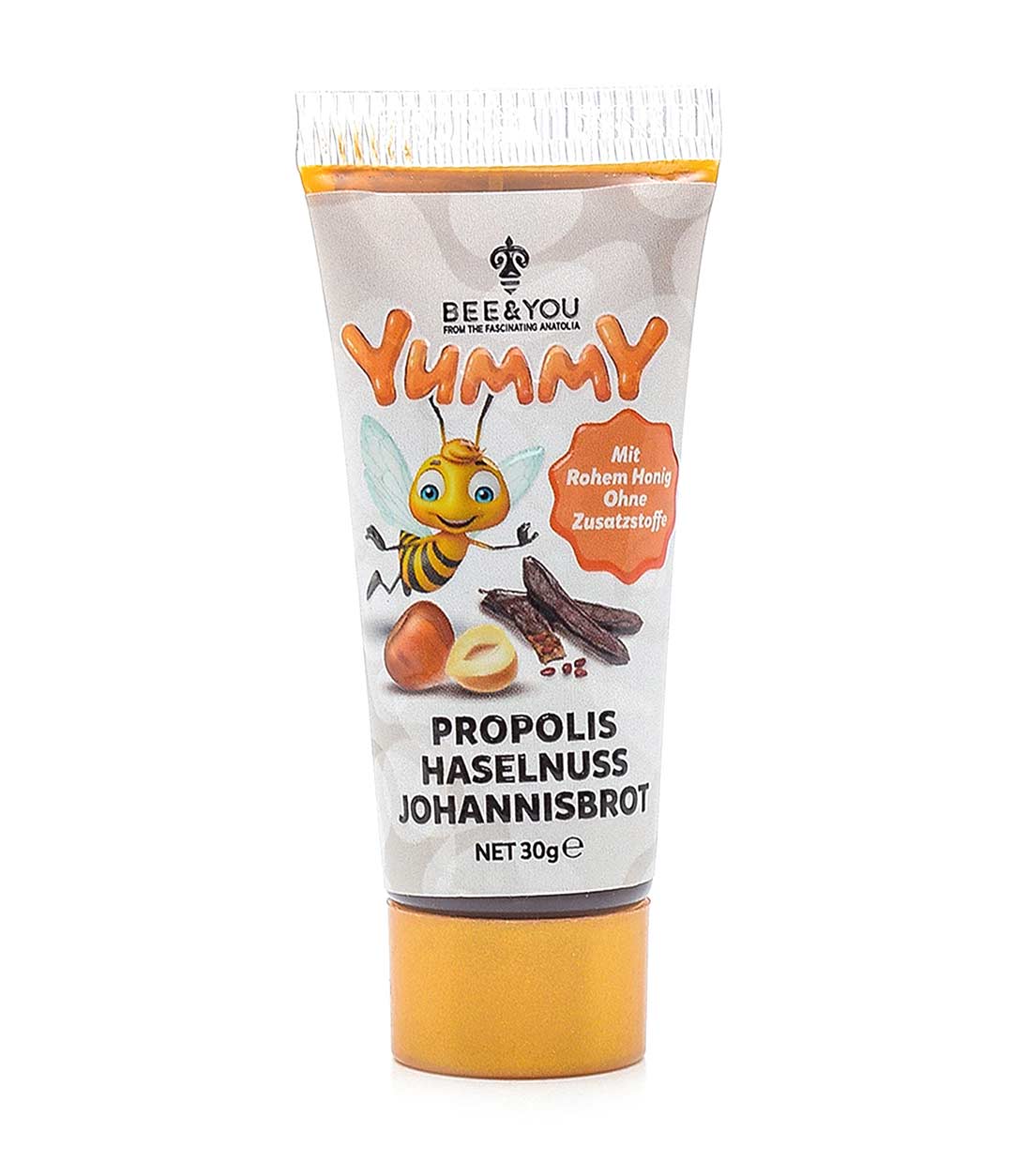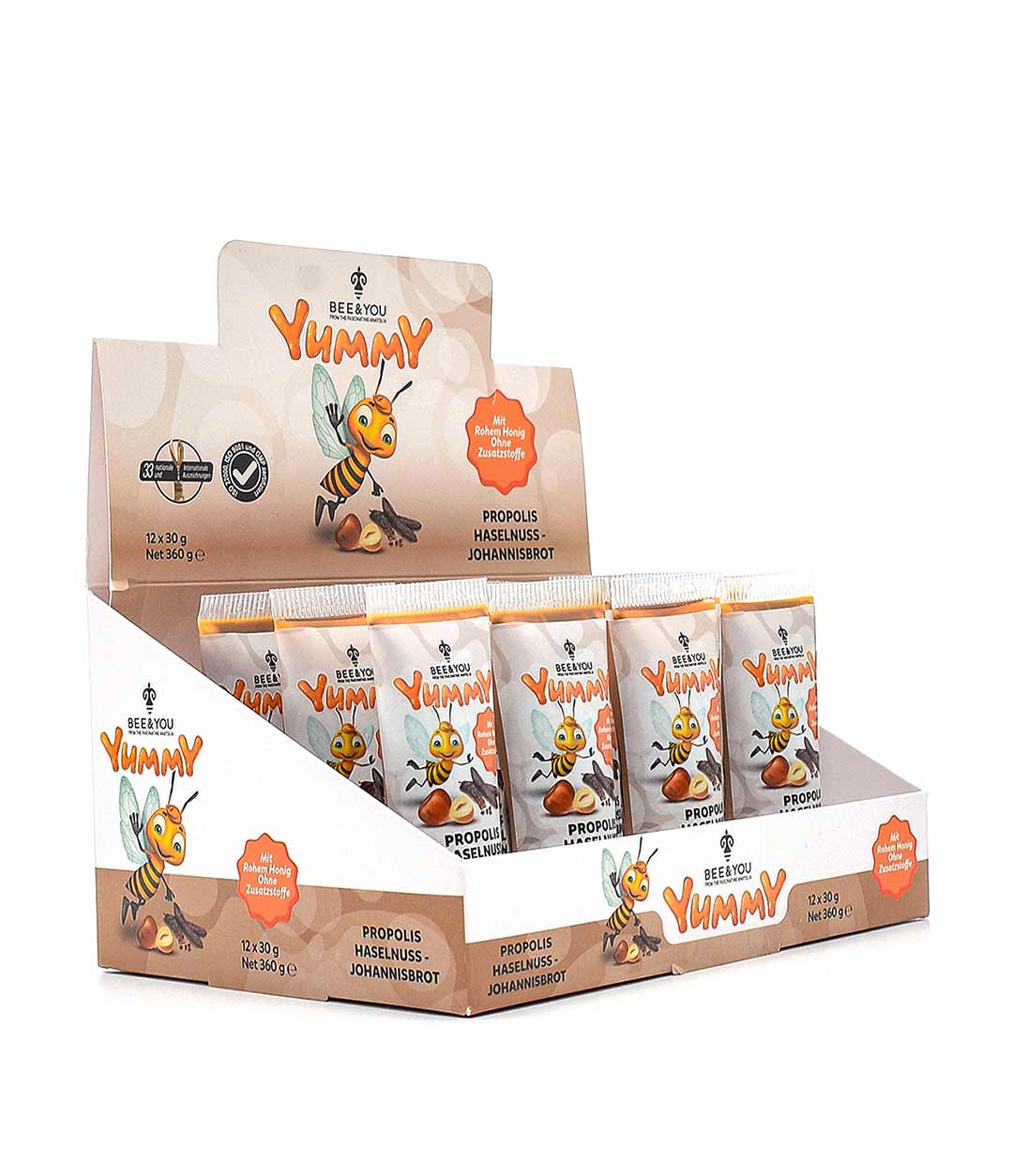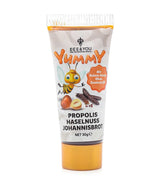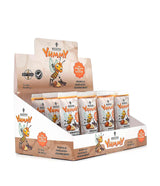 Yummy - raw honey with carob for children 12x30g
Bee&You Deutschland
The yummys with honey, propolis and carob is a healthy alternative for snacking between meals and fits perfectly in the snack box.
360.0 g ( 86,11 €* / kg)
inkl. 7 % MwSt.
zzgl. Versandkosten
Auf Lager. 2-3 Tage Lieferzeit
KOSTENLOSER VERSAND AB 49€
SICHERE UND EINFACHE ZAHLUNG
Tipps & Tricks
When it comes to children's snacking, it's important to choose healthy and balanced snacking options. Yummy is the best alternative for on the go, on the playground or at school.
What is Yummy - Raw Honey with Carob for Kids?
🐝It contains no additives, preservatives, coloring, gluten, GMO, alcohol, glycol, added sugar.
This product is Halal certified.

🐝Made from organically certified bee products, based on the principles of good beekeeping, with a contract beekeeping model.

🐝The formulations of all our products are developed in our R&D center, they are all 100% natural and patented and also all in our facilities with GMP, ISO 9000, ISO 22000, BRC, IFS, ISO 14001 and COVID-19 safe production packaging certificates.
study results
1. Aliyazıcıoglu, Rezzan, et al. "Properties of phenolic composition and biological activity of propolis from Turkey." International Journal of Food Properties 16.2 (2013): 277-287.
2. Tugba Degirmencioglu, Hacer, et al. "A new type of Anatolian propolis: Evaluation of its chemical composition, activity profile and botanical origin." Chemistry & biodiversity 16.12 (2019): e1900492.
1. PAZIR, Fikret, and Yüksel Alper. "Keçiboynuzu Meyvesi Ceratonia siliqua L. ve Sağlık." Akademik Gıda 14.3 (2016): 302-306.
2. Jasprica, Ivona, et al. "In vivo study of propolis supplementation effects on antioxidant status and red blood cells." Journal of Ethnopharmacology 110.3 (2007): 548-554.
Scheller, S., et al. "Free radical scavenging by ethanol extract of propolis." International Journal of Radiation Biology 57.3 (1990): 461-465.
360.0 g ( 86,11 €* / kg) inkl. 7 % MwSt. zzgl. Versandkosten
RIGHT OF CANCELLATION: 14 DAYS
RIGHT OF CANCELLATION: 14 DAYS