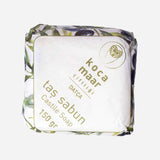 uandu Olive Oil Castile Soap
Kocamaar
150.0 g ( 4,63 €* / 100 g)
inkl. 19 % MwSt.
zzgl. Versandkosten
Auf Lager. 2-3 Tage Lieferzeit
KOSTENLOSER VERSAND AB 49€
SICHERE UND EINFACHE ZAHLUNG
The uandu Olive Oil Castile Soap is specially made from edible, natural extra virgin olive oil through the Castilian soap technique.
Since it contains only vegetable oils, it cares for your skin with its soft structure. It leaves no residue on your skin and is good for your soul with its classic Turkish bath scent.
castile soap
Castile soap is a natural soap that was developed in the Spanish region of Castile in the 17th century. During production, pure olive oil is used as the base oil. Castile soap contains no synthetic or chemical substances and is therefore ideal for daily hand and face cleansing.
150.0 g ( 4,63 €* / 100 g) inkl. 19 % MwSt. zzgl. Versandkosten
RIGHT OF CANCELLATION: 14 DAYS
RIGHT OF CANCELLATION: 14 DAYS