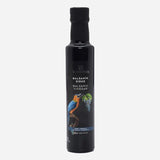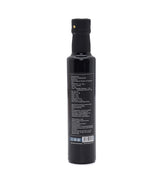 Balsamic vinegar
Novavera
The balsamic vinegar, which has a mild taste and a special aroma compared to other types of vinegar.
250.0 ml ( 3,96 €* / 100 ml)
inkl. 7 % MwSt.
zzgl. Versandkosten
Auf Lager. 2-3 Tage Lieferzeit
KOSTENLOSER VERSAND AB 49€
SICHERE UND EINFACHE ZAHLUNG
What is balsamic vinegar?
Balsamic vinegar is a vinegar native to Italy. It is one of the most popular types of vinegar worldwide. Balsamic vinegar is made from fresh grape vinegar, which is obtained from ripe and crushed grapes and is also stored for a long time.

The production of balsamic vinegar, which differs in taste and consistency from normal grape vinegar, is quite complex. Both because it takes a long time to obtain and because of the important health benefits it brings.

Balsamic vinegar develops its full aroma particularly well after a long period of storage. By evaporating water over time, the taste of the balsamic vinegar becomes more intense.

At the same time, however, it matures so that the taste becomes more complete and at the same time softer. You can even buy balsamic vinegars that are 50 or even 100 years old, i.e. matured.

Why and what is balsamic vinegar made for? Today this vinegar is made from the Berzemino and white Trebbiano grape varieties using two types of methods, traditional and industrial. The beet pulp obtained by crushing it in a sieve is first boiled for about a day. Cooked grape extract is stored in barrels made of mulberry, acacia, oak or cherry trees for at least 6 months. The taste of the balsamic vinegar is also influenced by the aroma of the tree that was used in the construction of the wooden barrel during this period.

The balsamic vinegar, which has a mild taste and a special aroma compared to other types of vinegar, has a wide and flexible use in the kitchen. The use of balsamic vinegar is preferred in Italian cuisine. Balsamic vinegar, which also goes very well with tomatoes, gives an additional delicious taste to both a salad and various soups. It is also used in salad dressings, which can be prepared with ingredients such as mustard, black pepper, sugar and olive oil. It can also be poured over the risotto or mashed potatoes.

Another use of balsamic vinegar is to reduce the intense flavor in desserts. To reduce the intense sugar of the dessert you just prepared, you can drizzle some balsamic vinegar over it.
250.0 ml ( 3,96 €* / 100 ml) inkl. 7 % MwSt. zzgl. Versandkosten
RIGHT OF CANCELLATION: 14 DAYS
RIGHT OF CANCELLATION: 14 DAYS