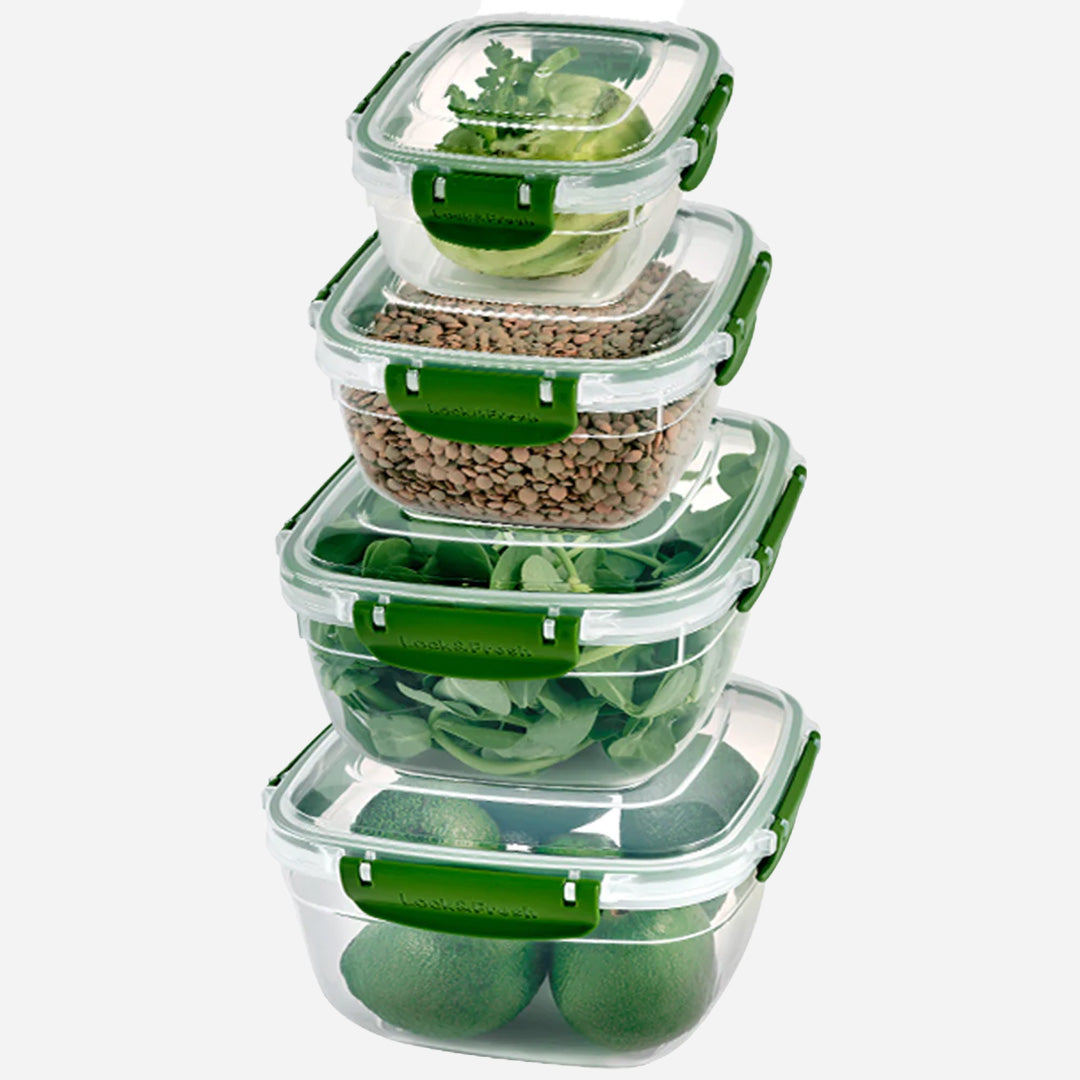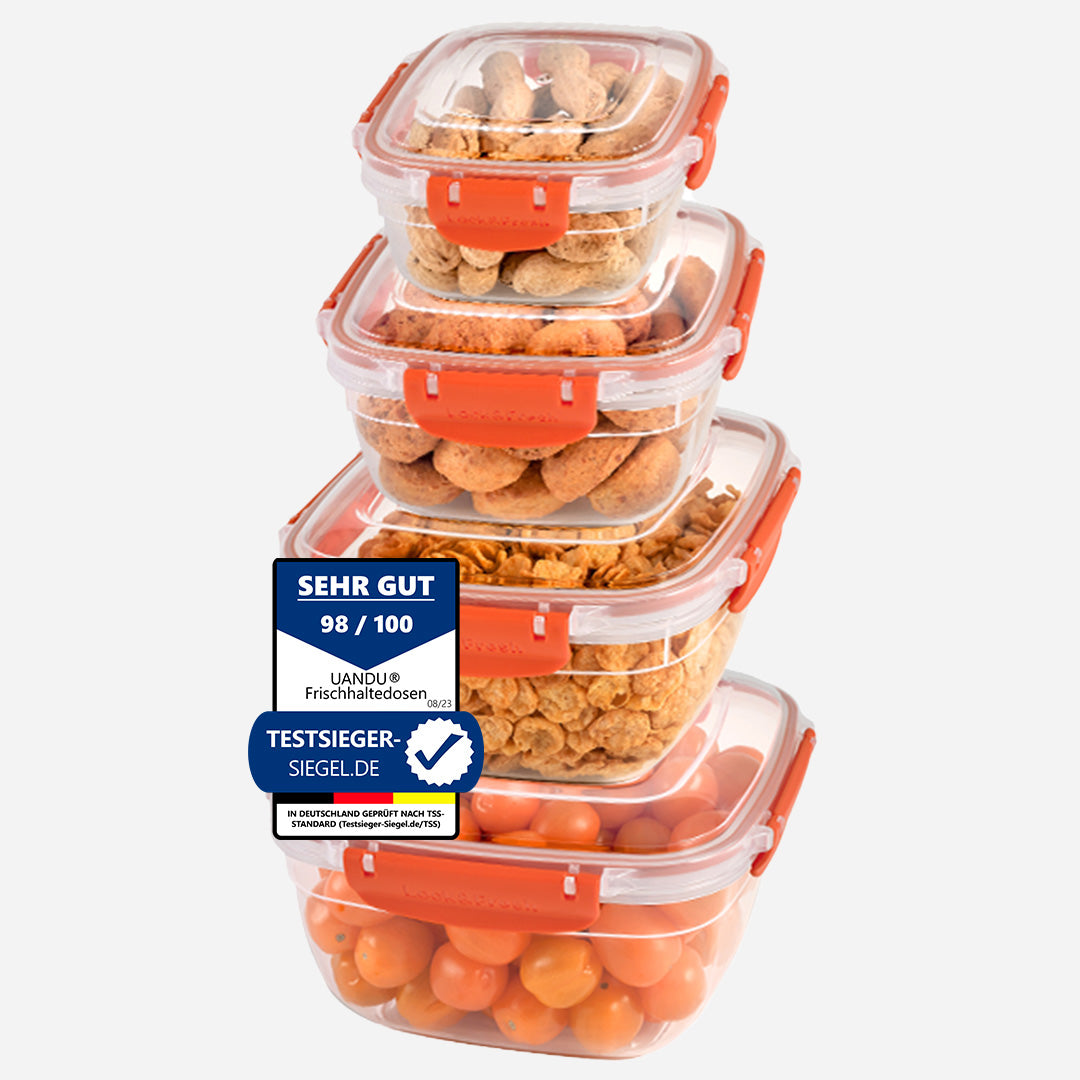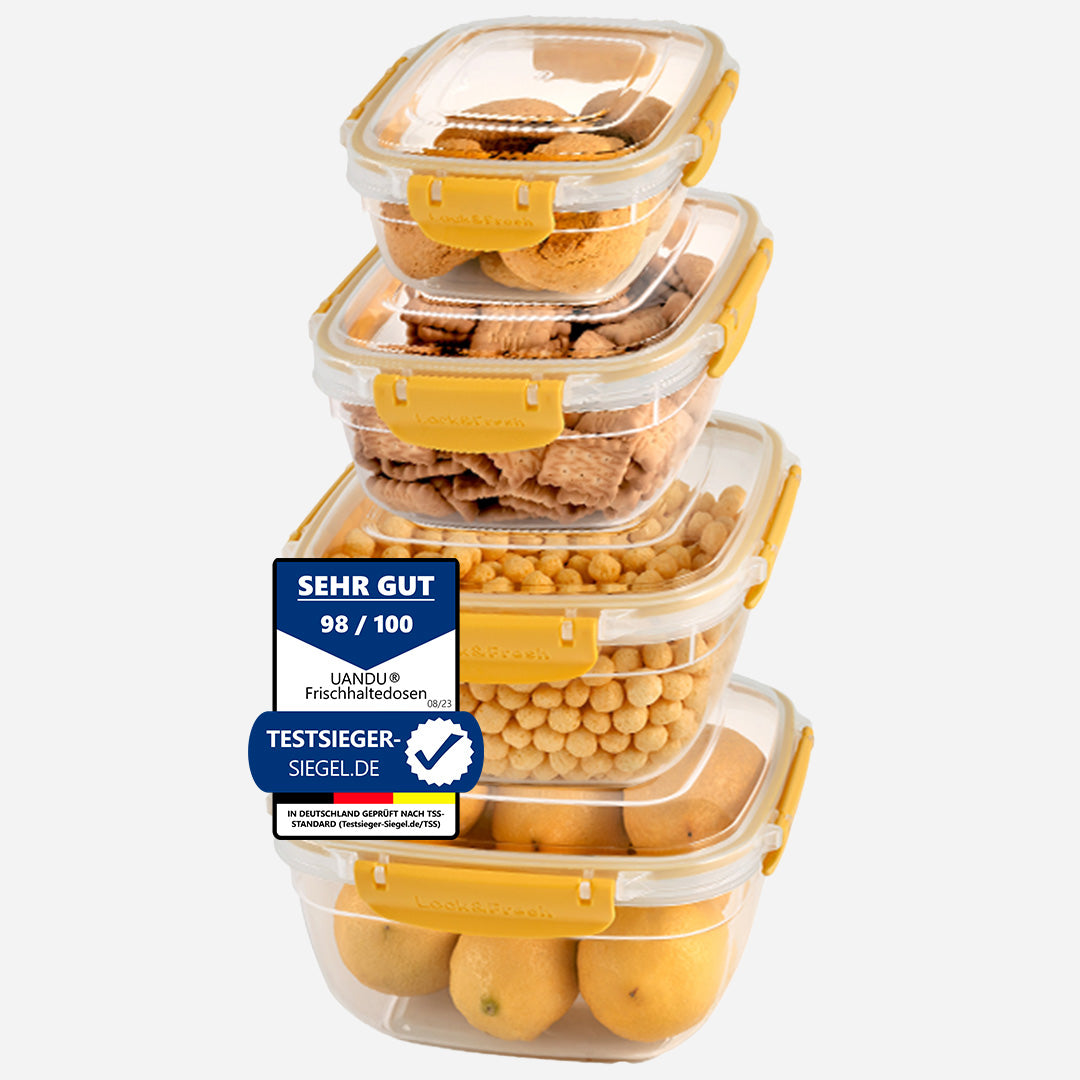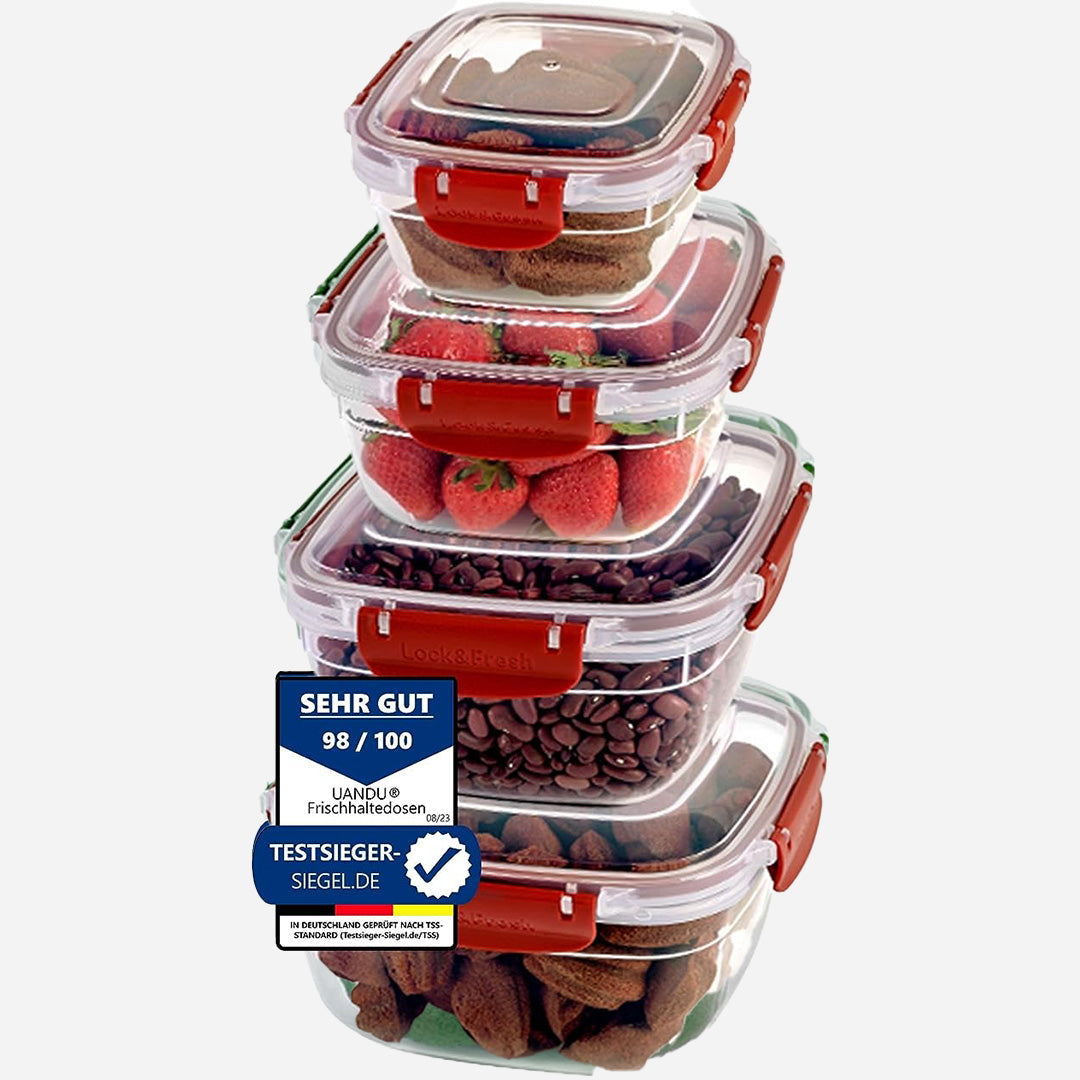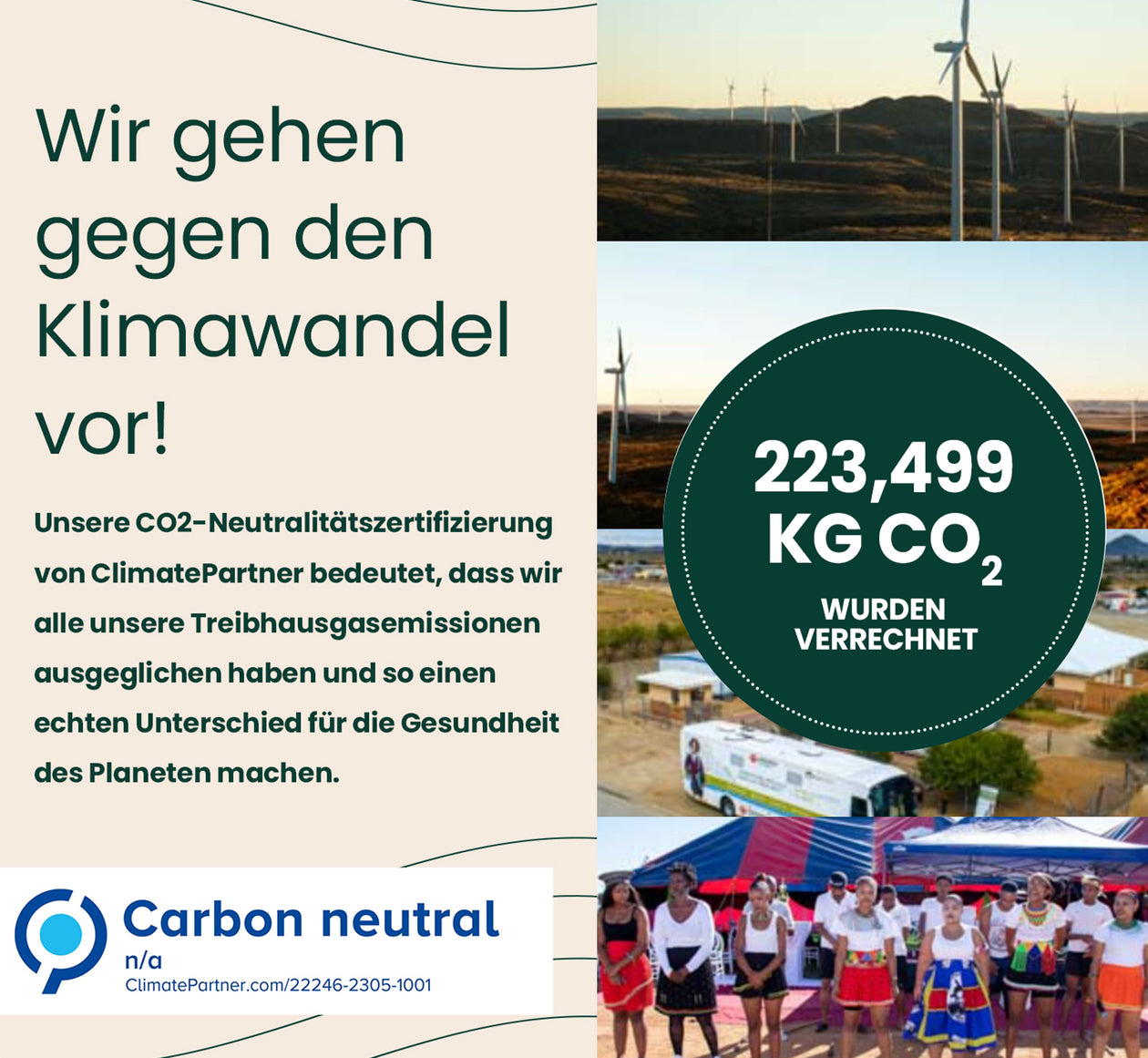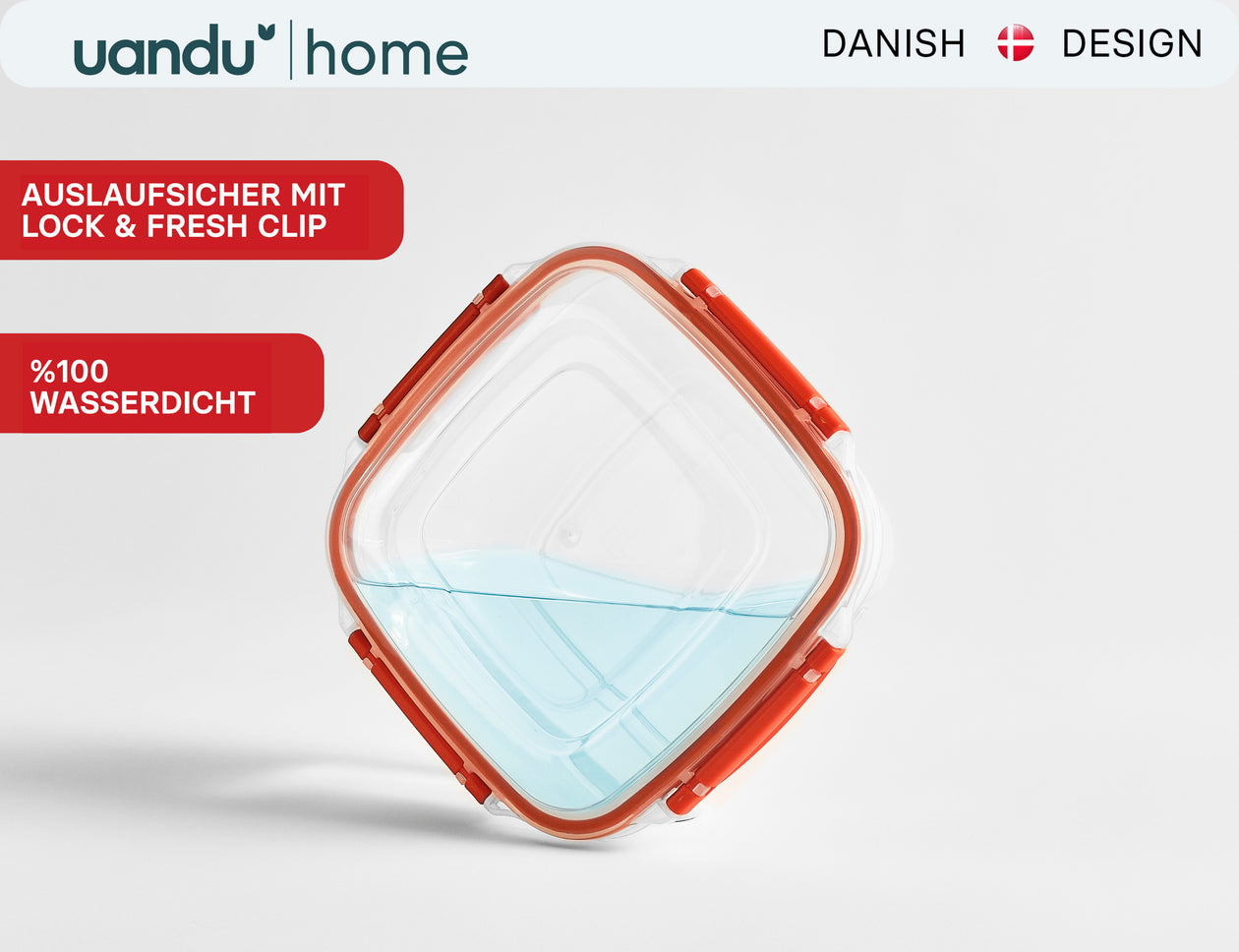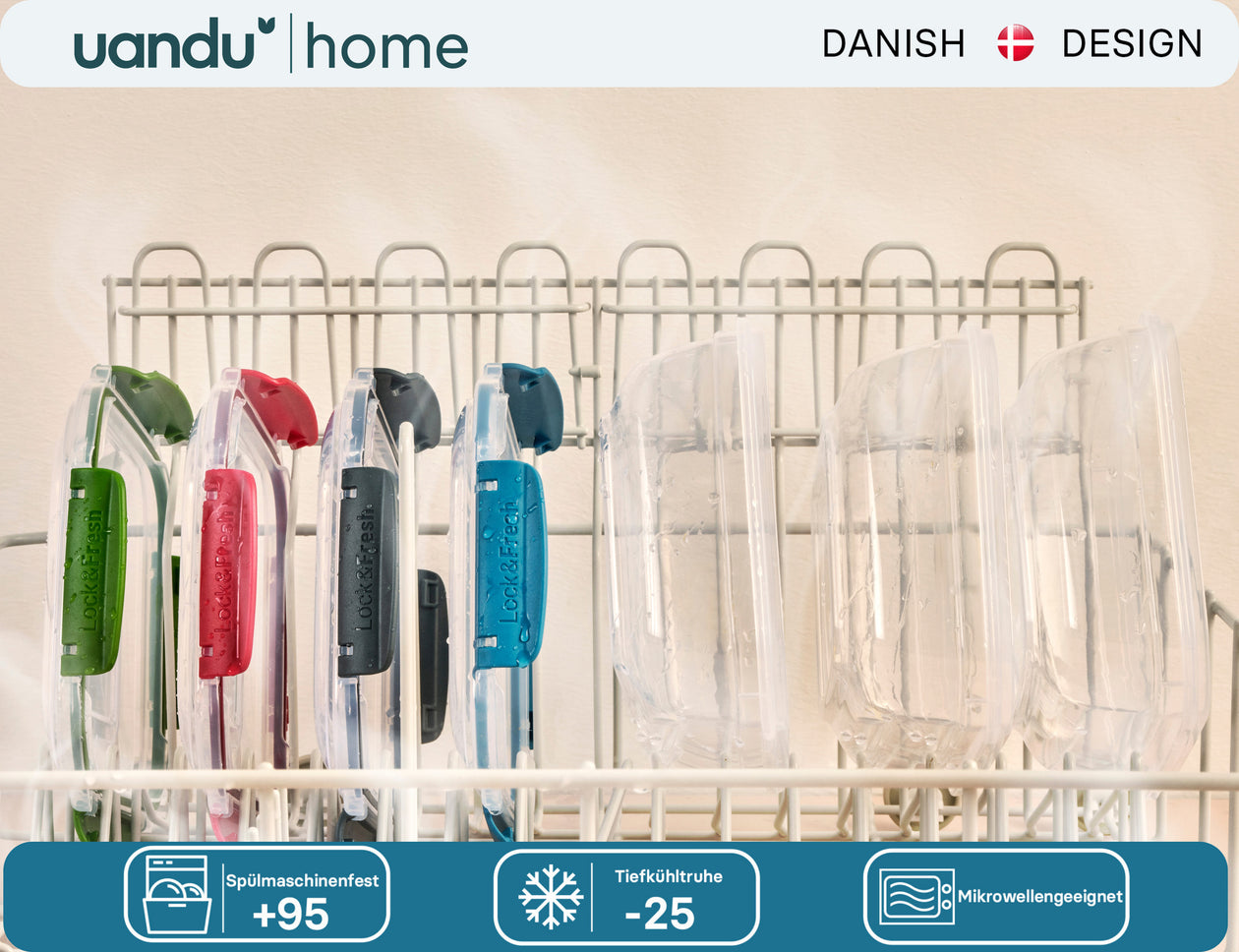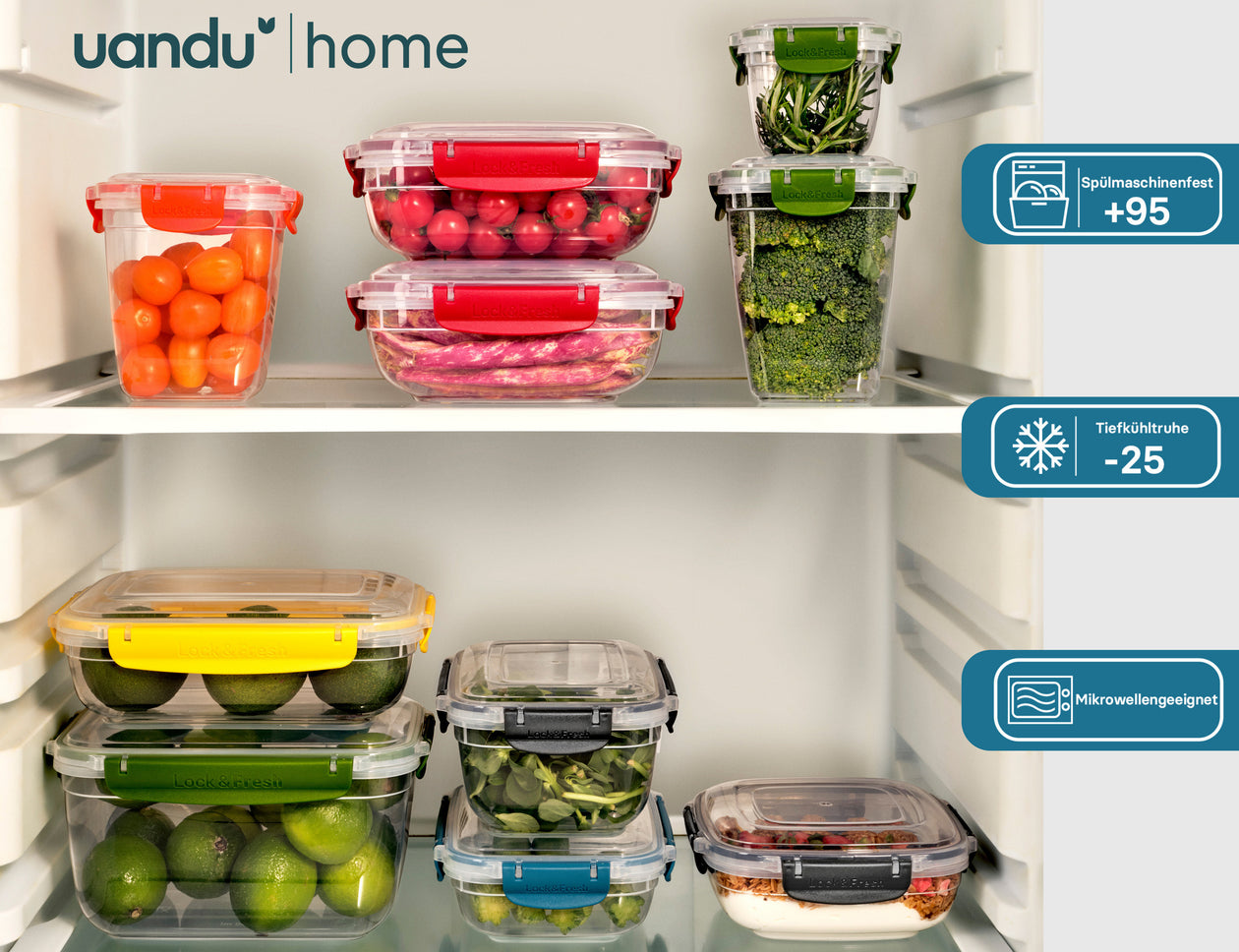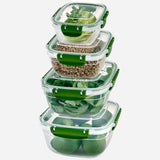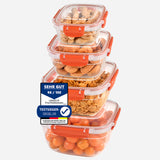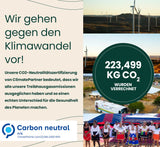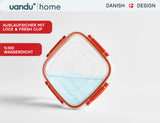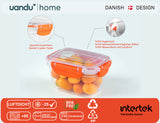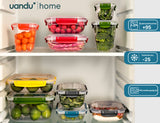 4 Mix - Lock & Fresh - storage containers with lids Green
Uandu Home
The perfect storage containers for storing fresh and dry food, ensuring order in every kitchen.

inkl. 19 % MwSt.
zzgl. Versandkosten
Auf Lager. 2-3 Tage Lieferzeit
KOSTENLOSER VERSAND AB 49€
SICHERE UND EINFACHE ZAHLUNG
100% airtight and 100% leak-proof: UANDU 4-piece kitchen storage & organization set BPA free, suitable for the microwave (open the lid and put it in), dishwasher (+95 degrees), suitable for freezer up to -25 degrees durable, stackable. Highest quality, high-quality lid with super effective seal, 100% waterproof.
Designed in Denmark, made in Europe: Uandu airtight storage containers, certified by Intertek laboratory and ISO 9001:2015, ISO 22000:2005, Business Social Compliance Initiative (BSCI) approved bodies, designed in Denmark and made in Europe. Ensure freshness, order and overview in the pantry. Minimum space requirement.Handy bowl set with airtight and watertight lids. Perfect for serving, keeping fresh and on the go.
Even more volume and color variations: UANDU kitchen organizer, refrigerator storage box, soup container is available in 5 different sizes. Dimensions: (500ml: 12.4cm x 12.4cm x 7cm) + (900ml: 14.7cm x 14.7cm x 8.4cm) + (1500ml: 17.3cm x 17.3cm x 9.8cm) + (2400ml: 20cm x 20cm x 11.5cm) 4 pieces in total. Bestselling container with an airtight and watertight lid. Perfect storage and serving container for cookies, cakes, but also desserts, salads and snacks
Visually aesthetically incomparable: the unique locking mechanism with 4 hinges prevents the ingress of air or water. The storage box with plastic lid, which is made of high-quality polypropylene material, promises UANDU tupperware set, transparency and a flawless glass-like appearance. Uandu fridge organizer, unique volume thanks to the curved lid for more space inside the container.
UANDU Lock & Fresh: Because it is made from the highest quality materials, it is as fresh as the first day. This means that the box with lid, kitchen storage, refrigerator storage, kitchen storage boxes can even be used as a freezer container set, dry storage container for meal prep, as a lighter and cheaper alternative for lunch boxes with compartments, food cans, glass storage containers, storage jars, glass storage containers with lids, glass food storage containers, glasses set, glass containers with lids, storage jars with lids.
inkl. 19 % MwSt. zzgl. Versandkosten
RIGHT OF CANCELLATION: 14 DAYS
RIGHT OF CANCELLATION: 14 DAYS