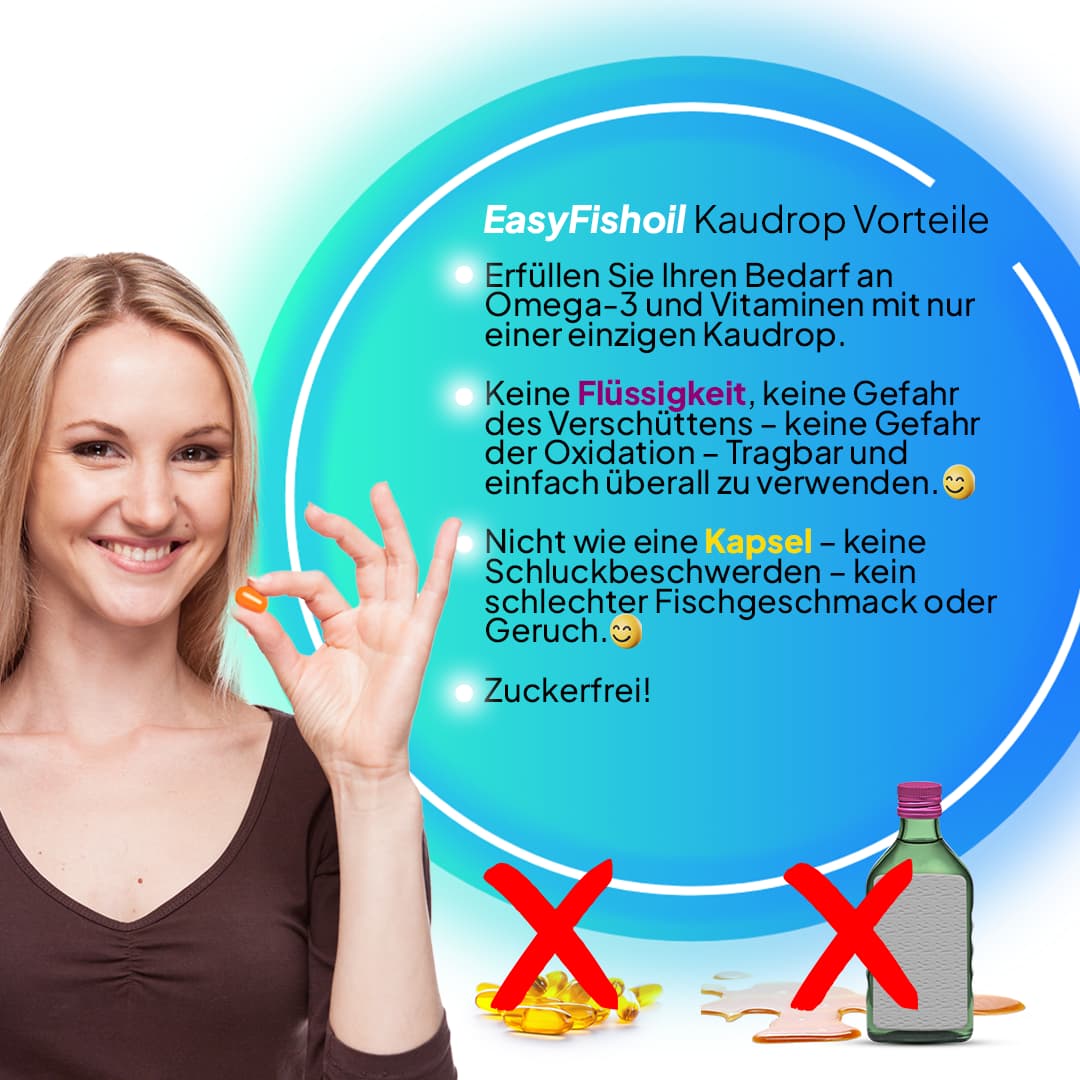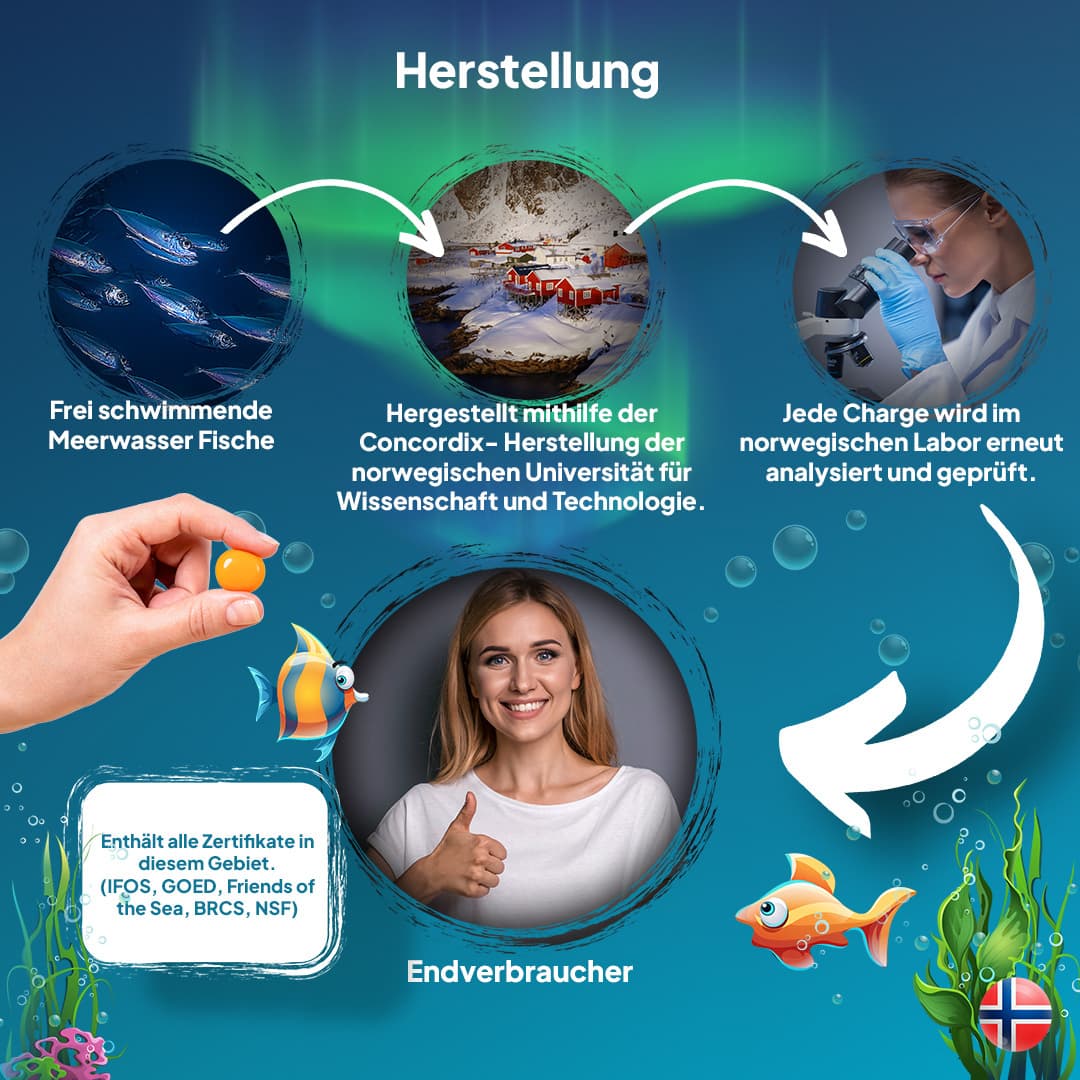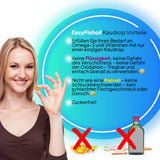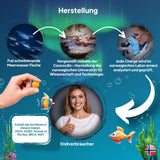 Easy Fishoil Adult
EasyVit
In addition to the valuable omega-3 fatty acids EPA and DHA, EasyFishoil Adult, specially increased in dosage for adults, also contains vitamin D. Vitamin D contributes to the maintenance of normal bones. The chewing money drops have a fruity taste of lemon and orange.
48.0 g ( 415,63 €* / kg)
inkl. 7 % MwSt.
zzgl. Versandkosten
Auf Lager. 2-3 Tage Lieferzeit
KOSTENLOSER VERSAND AB 49€
SICHERE UND EINFACHE ZAHLUNG
Tipps & Tricks
OMEGA-3 & VITAMIN D : The most important omega-3 fatty acids EPA & DHA have a positive effect on the brain, heart and eyes. Vitamin D contributes to the maintenance of normal bones.
Easy Fishoil Omega 3

Fish oil supplement with DHA and EPA plus additional vitamin D

Easy to consume, chewing jelly drops

No added sugar, preservatives or additives

Hygienic, thanks to individual packaging technology that protects against air and moisture

With patented ConCordix® technology

Made in Norway
EasyFishoil chewing jellydrop was tested by 10 people. 9 out of 10 people were very satisfied with the product.
They also reported that the product has no ill effects on the stomach.

EasyFishoil Adult - Omega-3 with vitamin D3 for adults PZN number: 18675810
Application of EasyFishoil
Easy to chew and swallow.
The Kaudrops are preferably taken before meals, they are easy to chew and swallow. The soft jelly have no fishy taste and smell. Sugar-free.
EasyFishoil Adult with lemon and orange flavor.
dosage
EasyFishoil Adult:

Recommended daily dose for children from 11 years and adults: 2 soft jelly to chew per day, preferably before meals
Content and Notes

EasyFishoil Adult Fish Oil contains a high content of omega-3 fatty acids EPA & DHA.
DHA contributes to the maintenance of normal vision and normal brain function.
EPA and DHA contribute to normal heart function.
Why Easyvit EasyFishoil?
EasyFishoil - Omega-3 Fish Oil Chewdrops are manufactured in Norway to global standards using innovative ConCordix® technology.
EasyFishoil offers fish oil supplements that contain a variety of ingredients to meet the changing needs of children.
EasyFishoil regularly analyzes each batch in which IFOS is produced.
EasyFishoil is an EasyVit brand and a member of the Plus category of GOED, a global organization that sets quality standards for high-dose omega-3 capsules/chewdrops.
With the Friends of the Sea certificate, EasyFishoil also supports the protection of the environment and sea life as well as the sustainability of seafood.
48.0 g ( 415,63 €* / kg) inkl. 7 % MwSt. zzgl. Versandkosten
COMPARE EASYFISHOIL PRODUCTS
CONTENT OF EASYFISHOIL ADULT
Contents
fish oil concentrate
EPA
DHA
Number
flavor
Vitamin D3
Easy Fishoil Adult
800.00 mg
320.00 mg
240.00 mg
30 pieces
lemon, orange
10mcg
RIGHT OF CANCELLATION: 14 DAYS
RIGHT OF CANCELLATION: 14 DAYS