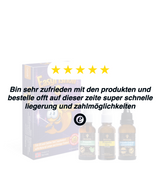 Back to School-1
uandu

inkl. 7 % MwSt.
zzgl. Versandkosten
Auf Lager. 2-3 Tage Lieferzeit
KOSTENLOSER VERSAND AB 49€
SICHERE UND EINFACHE ZAHLUNG
EasyFishoil Q - Omega 3 with choline, vitamin B6, B12 and folic acid
The human body cannot produce omega-3 fatty acids itself. Therefore, these must be ingested through daily food.
EasyFishoil fish oil is manufactured in Norway using innovative ConCordix® technology, manufactured to global standards.

EasyFishoil offers fish oil supplements that contain a variety of ingredients to meet the changing needs of children.

It is provided in the form of an easily chewable gel.

Contains fish oil in the form of triglycerides.

Contains no sugar, preservatives, lard or additives. It uses AluAluBlister packaging, which is airtight, lightweight and moisture-proof, and each gel foam is packed separately to keep the effects of the first day.

EasyFishoil regularly analyzes each batch in which IFOS is produced.

EasyFishoil is an EasyVit brand and a member of the Plus category of GOED, a global organization that sets quality standards for high-dose omega-3 capsules.

With the Friends of the Sea certificate, EasyFishoil also supports the protection of the environment and sea life as well as the sustainability of seafood. The fish ingredients used to make Easy Fishoil are Friend of the Sea certified.

This product has

 

Halal Certificates.
Propolis Extract Tincture Water Soluble 10%

Propolis is a bee product made by bees by processing the resinous substances collected from the buds and stems of plants.
produce bees

 

Propolis to protect the hive from microorganisms and external factors and repair cracks in the hive.
Propolis is one of nature's most powerful sources of antioxidants. It is a natural antiseptic.
Water-soluble propolis tinctures are propolis tinctures that contain 10% pure propolis and are suitable for daily consumption.
Propolis drops contain phenolic and flavonoid components that have an intense antioxidant effect.
The antiviral, antibacterial, antifungal and anti-inflammatory

 

effect of propolis

 

has been proven by scientific research.
Bee & You Propolis Tincture has more biological activity than its comparable..
Alcohol-free propolis drops
Germany's No. 1 propolis drops: According to vergleich.org comparison results
Propolis Throat Spray
Propolis throat spray that immediately relieves the throat
Propolis (6%) formulated by experts with raw honey and menthol
Gluten, GMO, PA, PA free
Rich in antioxidants
Practical use
Propolis spray
100% natural propolis spray containing only propolis and deionized water
100% natural and free from additives
Special care for sensitive noses
It can be safely used for nasal congestion, itching and discharge.
inkl. 7 % MwSt. zzgl. Versandkosten
RIGHT OF CANCELLATION: 14 DAYS
RIGHT OF CANCELLATION: 14 DAYS