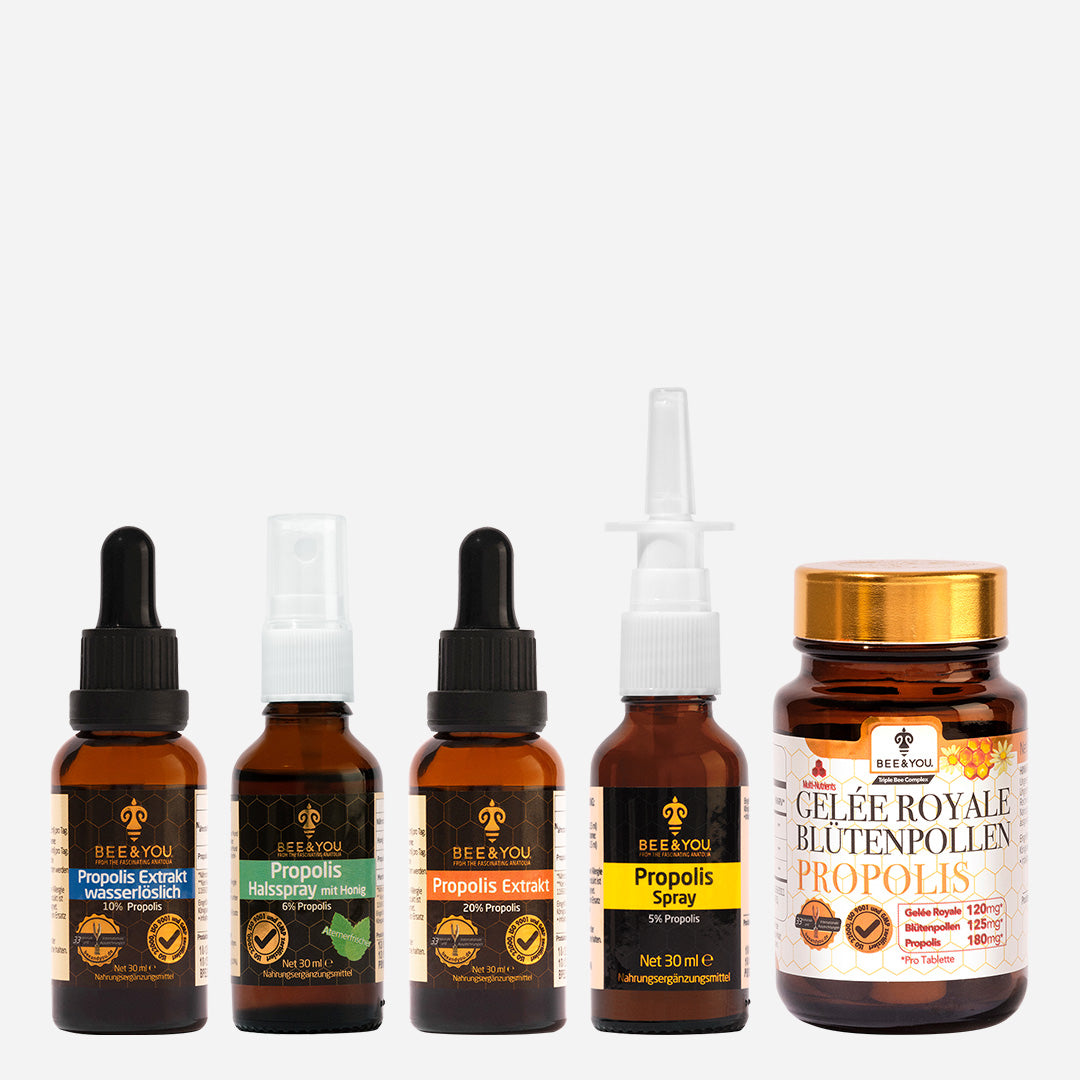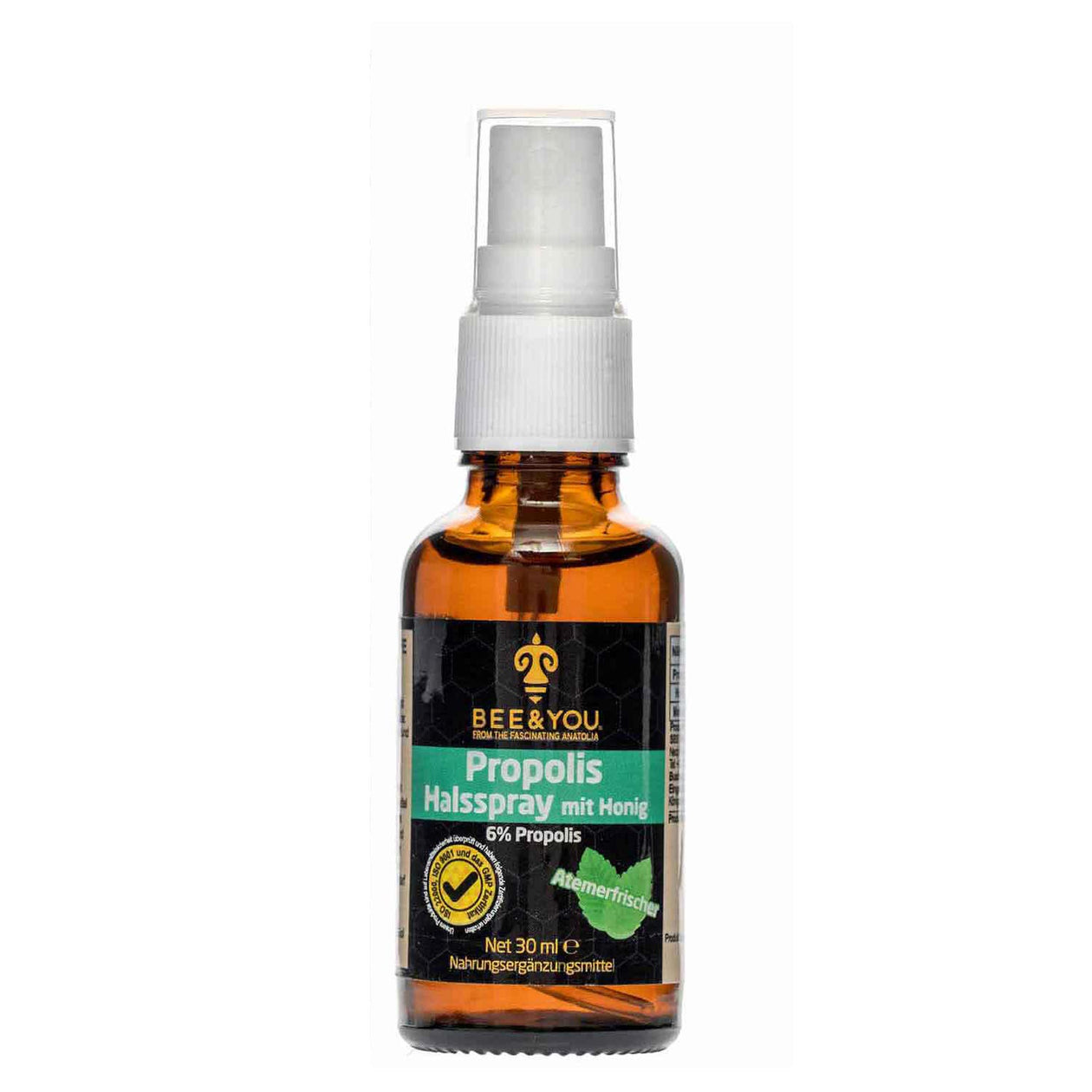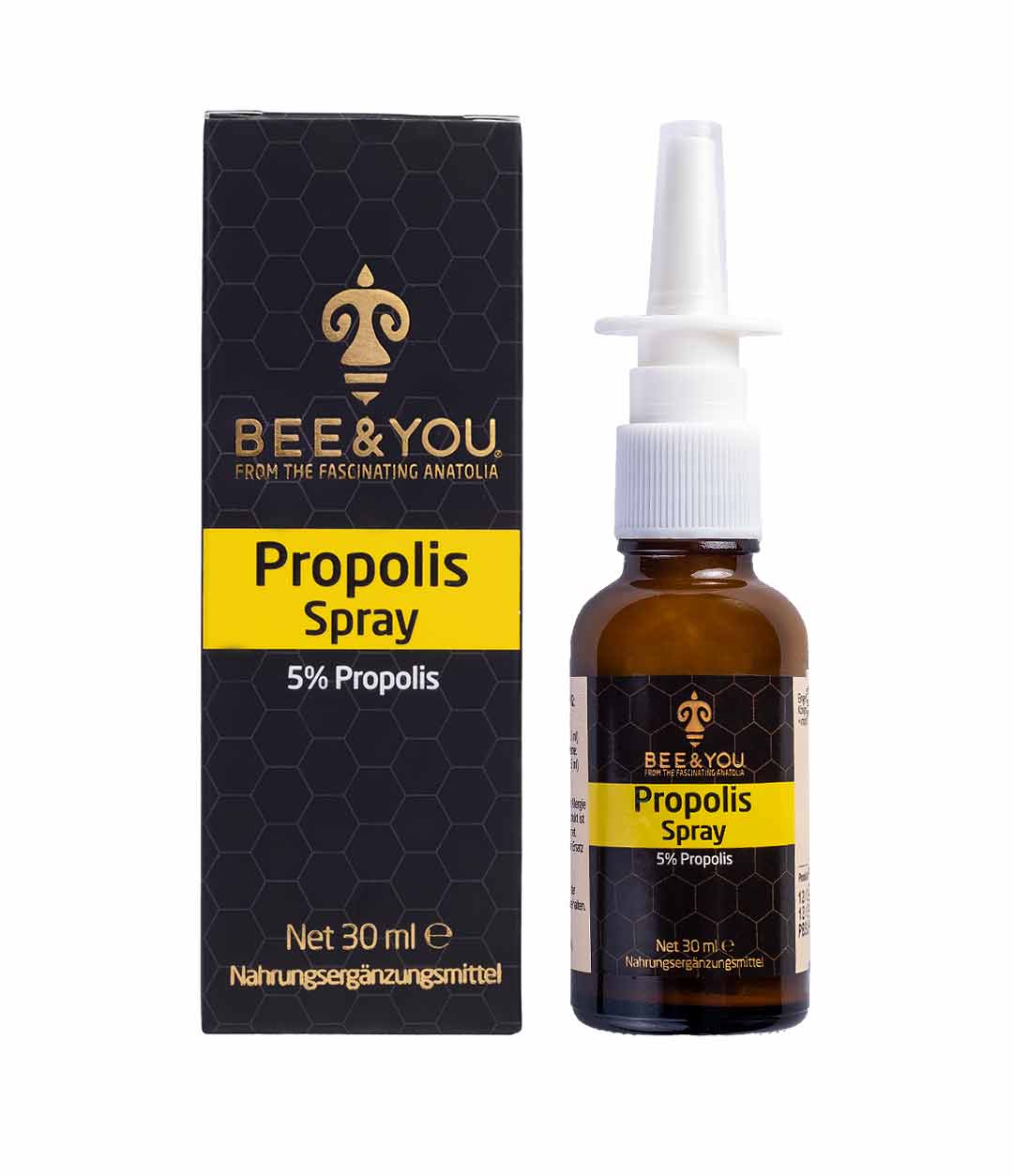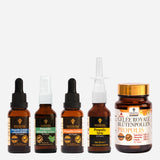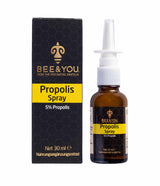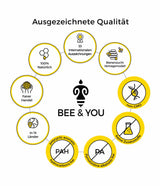 Advantage package 1
Bee&You Deutschland
Advantage package 1 is put together to support a healthy diet.

inkl. 7 % MwSt.
zzgl. Versandkosten
Auf Lager. 2-3 Tage Lieferzeit
KOSTENLOSER VERSAND AB 49€
SICHERE UND EINFACHE ZAHLUNG
Tipps & Tricks
The advantage package belongs in every pharmacy cupboard!
Value pack 1 is put together to support your healthy diet.
It contains the propolis extract tincture water-soluble 10%, propolis extract tincture 20%, propolis throat spray, propolis spray and pollen royal jelly propolis (tablets).
Propolis Extract Tincture Water Soluble 10%

Propolis tincture alcohol free 10% was created through the award-winning innovation process of Bee&You expert teams. Propolis contains valuable components such as phenol and flanovoid.
Propolis drops are among the easiest and most preferred propolis products. It contains 10% pure propolis. Since it is completely dissolved in liquid foods, it can be easily incorporated into the daily diet of yourself and your loved ones.
Propolis Extract (10%)
Other Ingredients: Water, Vegetable Glycol (Food Grade)
Net Weight: 30ml
Storage conditions: room temperature (approx. 24 °C / 72 °F)
Shelf life: 36 months
Propolis Extract Tincture 20%
BEE & YOU Propolis Propolis Extract Tincture 20% contains very valuable phenolic compounds including caffeic acid phenethyl ester (CAPE).
The natural product that bees make to protect their hives from harmful bacteria, viruses and microorganisms is called propolis. Propolis is a resinous substance and contains phenolic and flavonoid components. The phenolic and flavonoid compounds in propolis are derived entirely from the resin extracted from the leaves, stems and buds of the plants. These compounds exhibit antibacterial, antifungal, and antimicrobial properties; thus the bee keeps its hive clean. After bees clean their honeycomb eyes with propolis, they place their young and their nutrients in the clean hive. By disinfecting the beehive with the help of propolis, the larvae can grow up healthily. The disinfection also helps ensure that the royal jelly and pollen can be kept in the beehive for a long time.
Propolis Extract (20%)
Other ingredients: water, ethanol (food grade)
Net Weight: 30ml
Storage conditions: room temperature (approx. 24 °C / 72 °F)
Shelf life: 36 months
Propolis Throat Spray
Propolis, also called bee resin or putty resin, is a resinous mass produced by bees with antibiotic, antiviral and antifungal effects in the beehive. Propolis is used by worker bees to seal small openings while preventing the development of bacteria and microorganisms present in the hive, causing them to die out. The foreign bodies in the beehive that cannot be removed by the bees are also encapsulated with propolis. The antibacterial, antiviral and fungicidal effect makes propolis an important protective substance in the beehive. The Propolis Throat Spray and Throat Spray is a 100% natural and pure product with raw honey and menthol. The propolis spray contains no alcohol and is therefore ideal for children.
How does it work?
Propolis Throat Spray acts quickly on the throat. Thanks to its liquid structure, it adheres to the neck area. It offers relief by softening your throat.
Propolis Throat Spray(6%)
Other Ingredients: Water, Flower Honey, Menthol
Net Weight: 0.6 fl oz. (30ml)
Storage conditions: room temperature (approx. 24 °C / 72 °F)
Shelf life: 36 months
Propolis spray
Propolis Spray 5% Propolis contains high levels of antioxidants. The natural Bee and You product is processed by a team of experts using state-of-the-art technology to ensure all important content. This is an award-winning processing technology.
Ingredients: Deionized Water, Propolis (5%)

Net Weight: 30ml

Shelf life: 36 months
Royal Jelly & Bee Pollen & Propolis Tablets
Bee & You Royal Jelly Bee Pollen Propolis Tablets contains all beneficial bee products in one tablet to support and strengthen your overall health. It is made entirely without additives using proper beekeeping methods. It contains propolis (36%), pollen (25%), royal jelly (24%) and carob (15%).
Propolis (%36), Bee Pollen (%25), Royal Jelly (%24), Carob (%15)
Net weight: 60 tablets of 500 mg each
Storage conditions: room temperature (approx. 24 °C / 72 °F)
Shelf life: 36 months
study results
Toker, Hulya, et al. ""A morphometric and histopathologic evaluation of the effects of propolis on alveolar bone loss in experimental periodontitis in rats."" Journal of periodontology 79.6 (2008): 1089-1094.
Zorlu, DUYGU ""COVID-19 and Anatolian propolis: A case report."" Acta Medica Mediterranea 37.2 (2021): 1229-1233.
Lisbona-González, Maria Jesús, et al. ""Study of the Antimicrobial Effect of an Ethanolic Extract of Propolis in Periodontal Disease."" Applied Sciences 11.16 (2021): 7463.
Kim SR, Jeong MS, Mun SH, Cho J, Seo MD, Kim H, ... & Ko HJ (2021). Antiviral activity of chrysin against influenza virus replication via inhibition of autophagy. Viruses, 13(7), 1350.
El-Shouny, Iyyam Pillai, S., et al. "Wound healing properties of Indian propolis studied on excision wound-induced rats." Pharmaceutical Biology 48.11 (2010): 1198-1206.
Ghisalberti, EL "Propolis: a review." Bee world 60.2 (1979): 59-84.
Yilmaz, Ugur Cem, et al. "Evaluation of the miRNA profiling and effectiveness of the propolis on B-cell acute lymphoblastic leukemia cell line." Biomedicine & Pharmacotherapy 84 (2016): 1266-1273.
Demir, Selim, et al. "Antiproliferative and proapoptotic activity of Turkish propolis on human lung cancer cell line." Nutrition and cancer 68.1 (2016): 165-172.
Cai, Wei, et al. "Ethanol extract of propolis prevents high-fat diet-induced insulin resistance and obesity in association with modulation of gut microbiota in mice." Food Research International 130 (2020): 108939.
El-Shouny, Wagih, et al. "Antimicrobial activity of propolis extract on URT infections in pediatric patients admitted to Al-Thowrah hospital, Hodeidah City, Yemen." World Journal of Medical Sciences 7.3 (2012): 172-177.
Uzel, Atac, et al. "Chemical compositions and antimicrobial activities of four different Anatolian propolis samples." Microbiological research 160.2 (2005): 189-195.
Bapat, Salil, et al. "Effect of propolis mouth rinse on oral microorganisms—a randomized controlled trial." Clinical Oral Investigations (2021): 1-8.

Afkhamizadeh, Mozhgan, et al. "Topical propolis improves wound healing in patients with diabetic foot ulcers: a randomized controlled trial." Natural product research 32.17 (2018): 2096-2099.

Ibnu, Yunis Sucipta, Dwi Reno Pawarti, and Mansyur Siddiq Wiyadi. "Efektivitas terapi komplementer propolis telaah terhadap SGHT dan IL-33 secret hidung penderita rinitis alergi." Oto Rhino Laryngologica Indonesiana 49.1 (2019): 57-66.

Khayyal, MT, et al. "A clinical pharmacological study of the potential beneficial effects of a propolis food product as an adjuvant in asthmatic patients." Fundamental & clinical pharmacology 17.1 (2003): 93-102.
inkl. 7 % MwSt. zzgl. Versandkosten
RIGHT OF CANCELLATION: 14 DAYS
RIGHT OF CANCELLATION: 14 DAYS