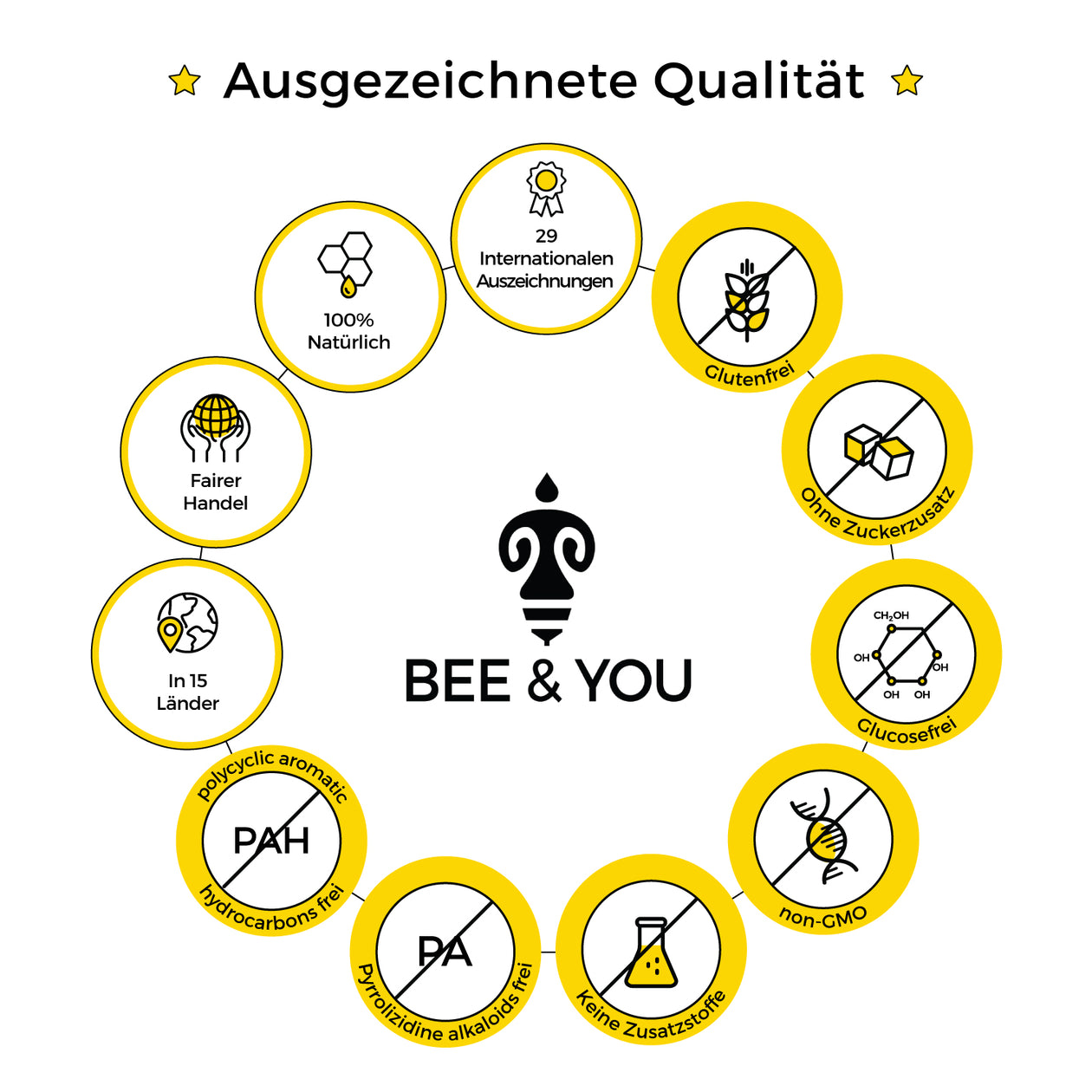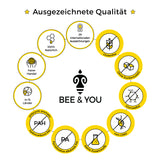 Propolis Spray
Bee&You Deutschland
The BEE&YOU Propolis Spray for nasal use supports the nasal mucous membranes without becoming addictive.
60.0 ml ( 56,30 €* / 100 ml)
inkl. 7 % MwSt.
zzgl. Versandkosten
Auf Lager. 2-3 Tage Lieferzeit
KOSTENLOSER VERSAND AB 49€
SICHERE UND EINFACHE ZAHLUNG
Tipps & Tricks
• Very simple - practical for the handbag.
• Can be used at any time, on the way to work on the train or on the plane.
• Both in winter and in summer, whatever the season.
• In the car or in the office, in air-conditioned rooms.
• At the turn of the year/weather change.
What is propolis spray?
100% natural propolis spray containing only propolis and deionized water
100% natural and free from additives
Special care for sensitive noses
It can be safely used for nasal congestion, itching and discharge.
7 effects of propolis spray on your health
Thorough & gentle cleaning of the nose.

Natural support against allergy symptoms such as sneezing and runny nose
May have a supportive effect on colds and flu.

Can help against viruses and bacteria that are free floating in the air.
Can have a supporting effect against the formation of viruses, bacteria and inflammation.
Can support sleep quality

May help maintain normal moisture balance in the nose

What distinguishes Bee & You Propolis from other products?
It is produced under controlled conditions by experts with a contractual beekeeping model.
Through the innovative award-winning extraction, the beneficial components of propolis are produced with maximum preservation.
Has international certificates proving food safety and quality: GMP, BRC, IFS, ISO9000, ISO22000, Halal, Kosher
33 national and international awards
Those who test it are very satisfied: 4.88 / 5.00 customer satisfaction in Trusted Shops
It is safely consumed by thousands of families in more than 13 countries.
Check out our page to see all of our

 

propolis products

 

to discover.
What are the properties of Bee & You Propolis?
It contains no additives or preservatives.
It does not contain PA (pyrrolizidine alkaloids) and PAH (polycyclic aromatic hydrocarbons).
It does not contain GMOs
It contains no glucose.
It contains no sugar.
It does not contain gluten.
study results
Kim SR, Jeong MS, Mun SH, Cho J, Seo MD, Kim H, ... & Ko HJ (2021). Antiviral activity of chrysin against influenza virus replication via inhibition of autophagy. Viruses, 13(7), 1350.
El-Shouny, Wagih, et al. "Antimicrobial activity of propolis extract on URT infections in pediatric patients admitted to Al-Thowrah hospital, Hodeidah City, Yemen." World Journal of Medical Sciences 7.3 (2012): 172-177.
Scheller, S., et al. "Free radical scavenging by ethanol extract of propolis." International Journal of Radiation Biology 57.3 (1990): 461-465.
Khayyal, MT, et al. "A clinical pharmacological study of the potential beneficial effects of a propolis food product as an adjuvant in asthmatic patients." Fundamental & clinical pharmacology 17.1 (2003): 93-102.
60.0 ml ( 56,30 €* / 100 ml) inkl. 7 % MwSt. zzgl. Versandkosten
RIGHT OF CANCELLATION: 14 DAYS
RIGHT OF CANCELLATION: 14 DAYS