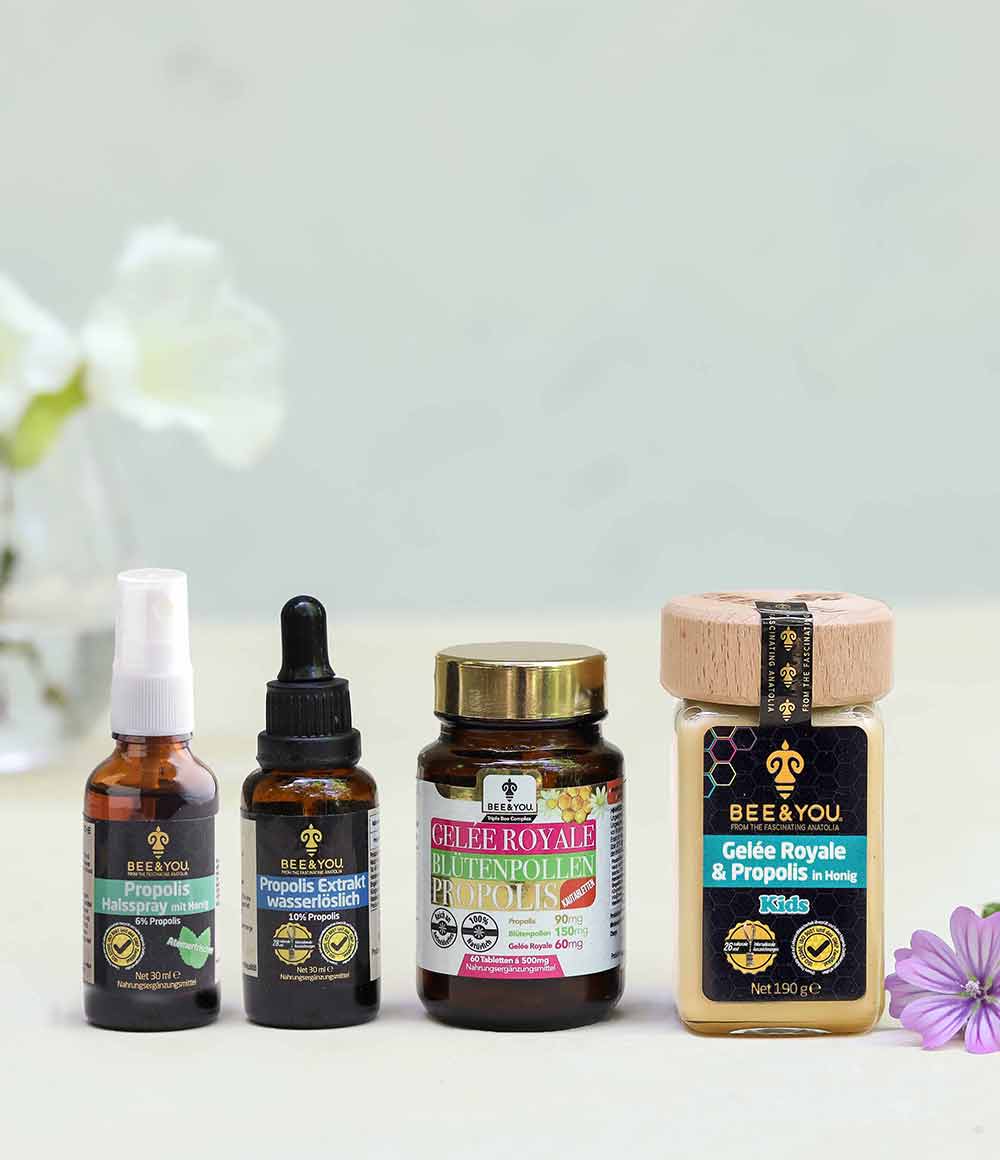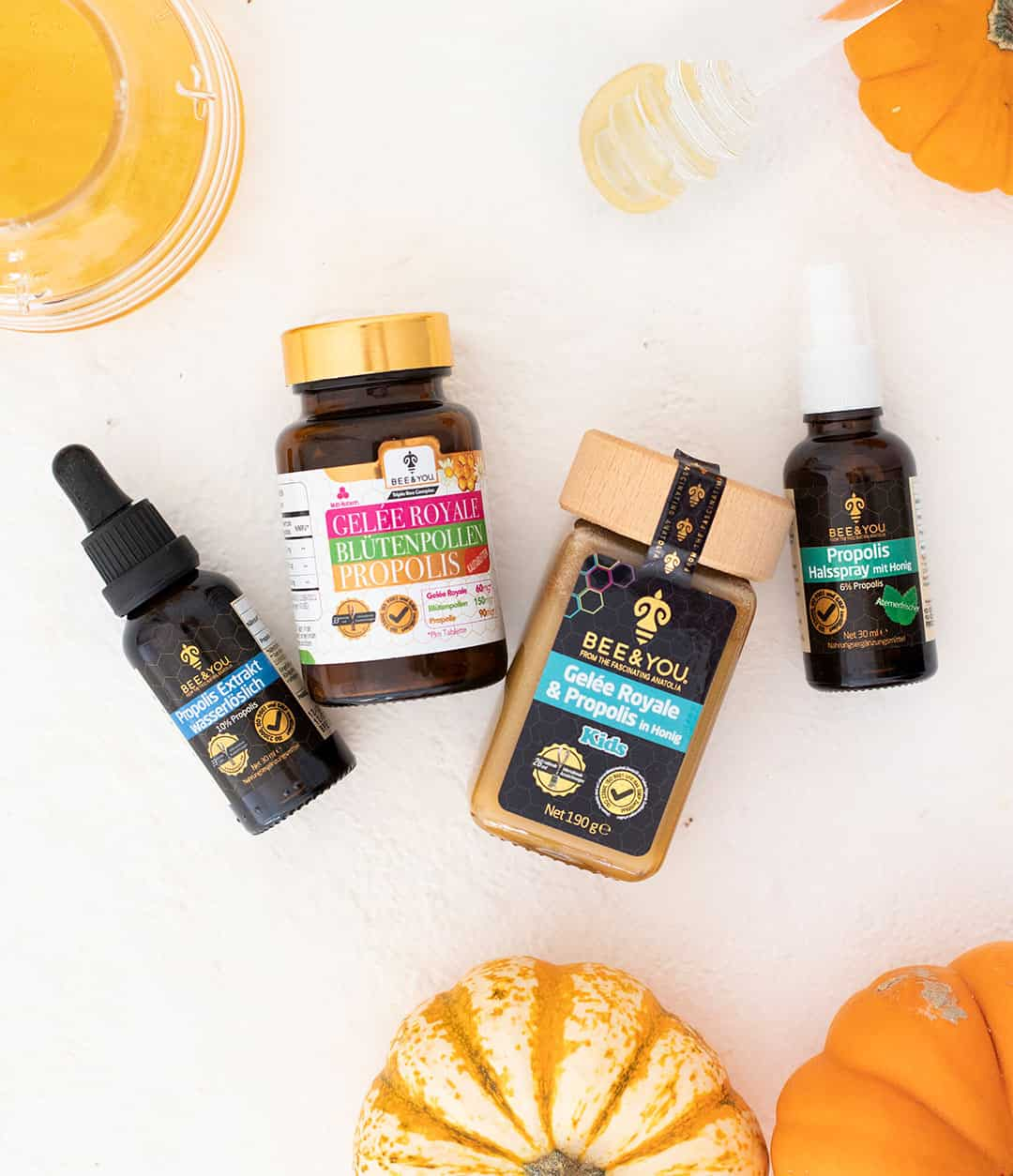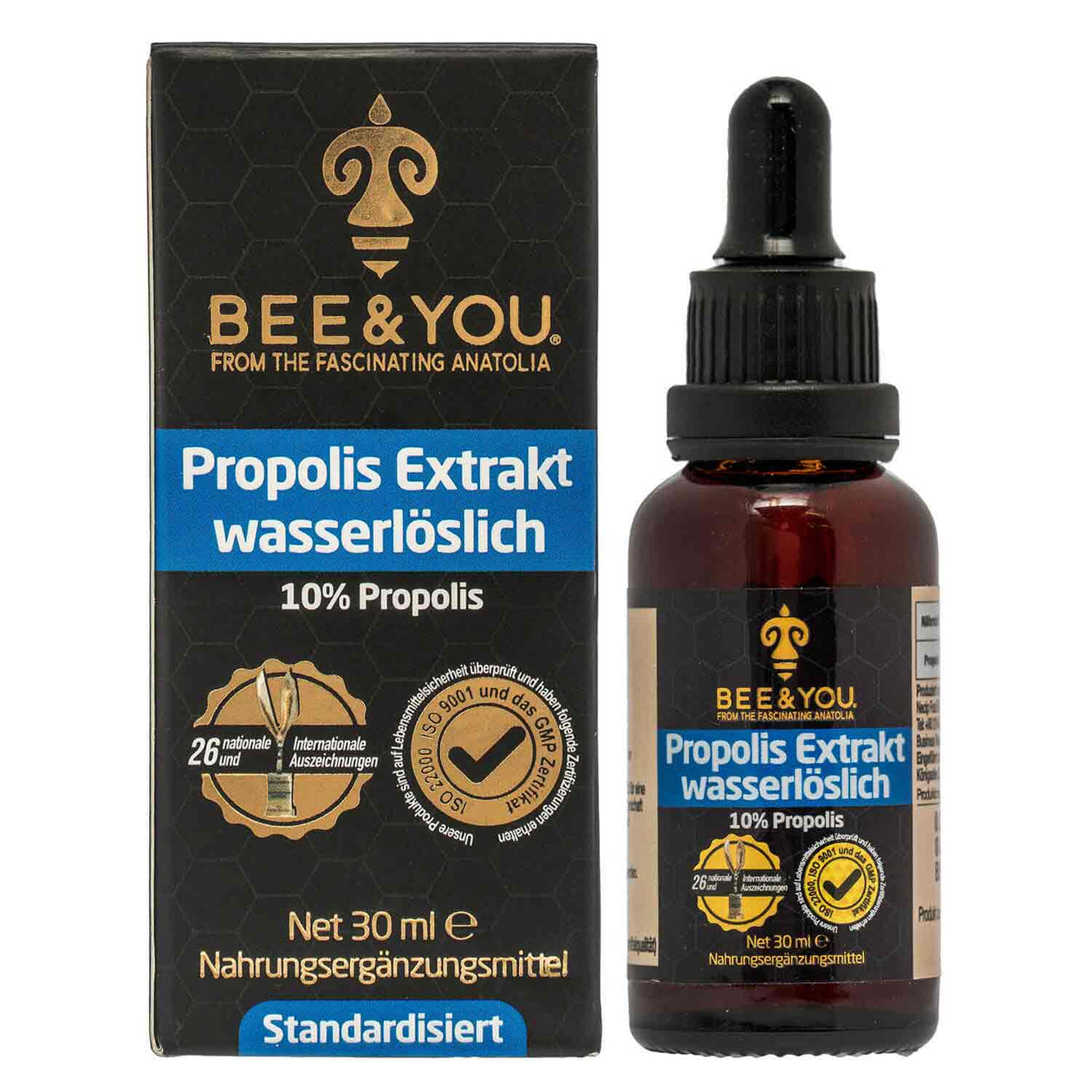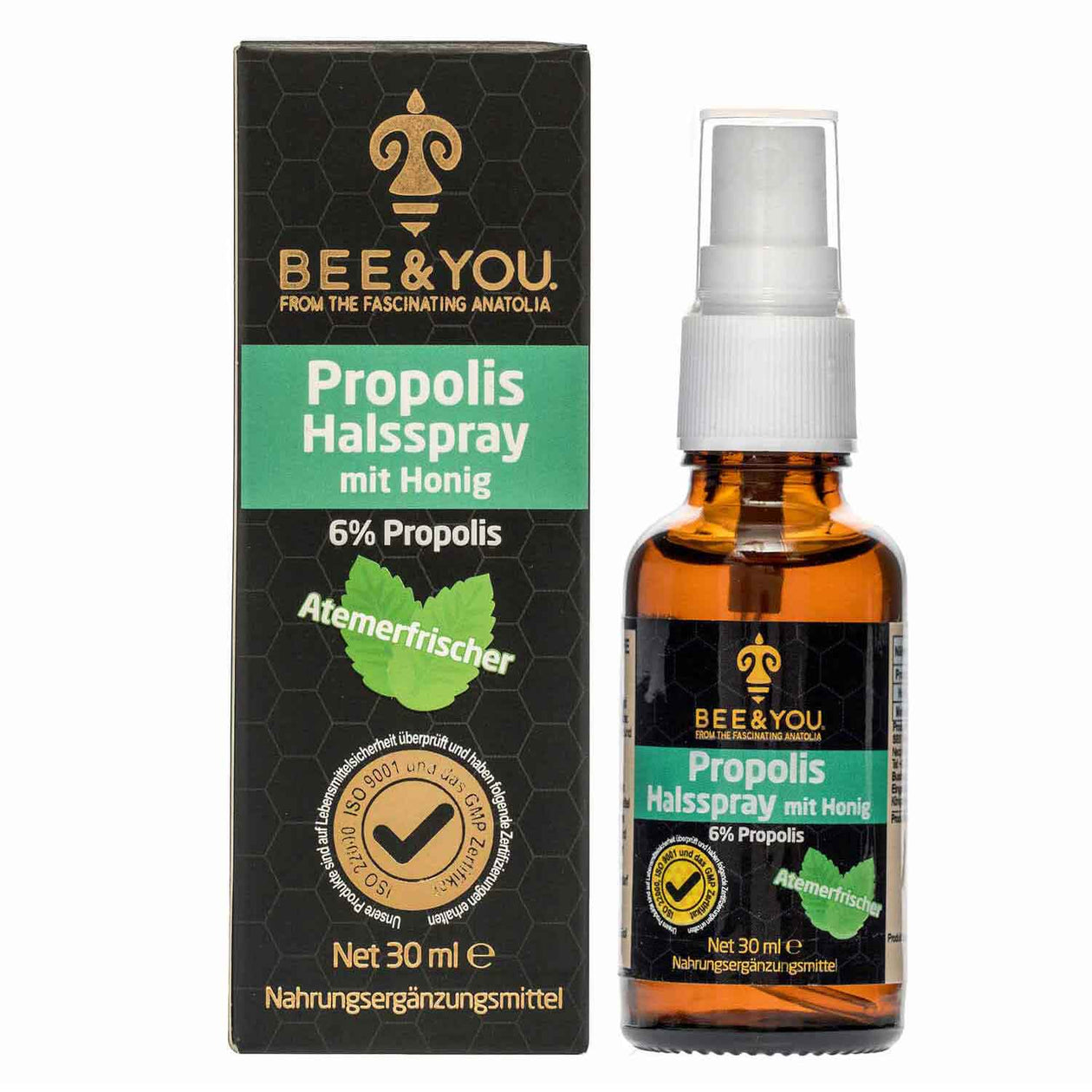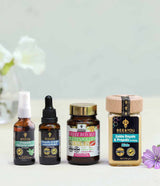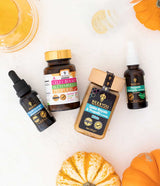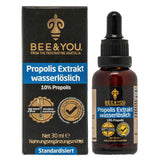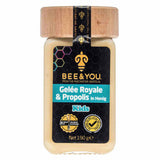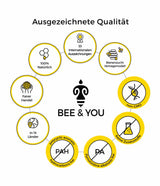 Especially for children
Bee&You Deutschland
The special package for children contains 100% natural and nutrient-rich bee products. Designed with your children's needs in mind.

inkl. 7 % MwSt.
zzgl. Versandkosten
Auf Lager. 2-3 Tage Lieferzeit
KOSTENLOSER VERSAND AB 49€
SICHERE UND EINFACHE ZAHLUNG
Tipps & Tricks
For easy intake of Propolis Extract 10%, the tincture can also be taken together with Royal Jelly Propolis in a honey mixture.
The children's package contains 4 bee products to support the normal function of the immune system.
1. BEE&YOU propolis extract tincture 10% water soluble
Raw propolis is a natural bee product composed of phenolic and flavonoid substances collected by bees from the leaves, stems and buds of plants. The meaning of the word is pure propolis, consisting of the words pro (before) + polis (protector), as the name suggests, the pre-cleaner and responsible for protecting the habitat of bees. Bees cover their honeycomb eyes with raw propolis and then add their honey, hatchlings and food. This means that the products produced by the bees are stored in the hive without spoiling.
After being taken from the hive, it needs to be adapted and processed for human consumption so that the body can digest this product. At this point, the most important issue is the correct processing of raw Anatolian propolis, which is a valuable food. The quality and nutritional content can only be maintained through correct extraction procedures. The polyphenols, terpenoids, amino acids, volatile organic acids, ketones, coumarins, quinones, vitamins and minerals contained in the raw Anatolian propolis are preserved in a water-soluble form thanks to the award-winning processing method of the BEE&YOU experts.
2. BEE&YOU propolis throat spray with honey and menthol
The propolis throat spray with honey menthol and menthol is ideal for the handbag. The propolis throat spray contains no alcohol and is therefore ideal for children.
3. BEE&YOU Royal Jelly & Propolis in Honey
Royal jelly is a very valuable bee product that bees secrete from their bodies. It is used by bees to feed the young in the hive and the queen bee. The bees in the hive live only 45 days and the queen bee, which feeds on royal jelly for her entire life, lives between 5 and 7 years. It develops twice as much as the other bees in the hive and ensures the survival of the colony with a daily egg-laying of 2000 eggs.
Royal jelly consists of 13% proteins, 15% carbohydrates, 5% lipids and 1% minerals such as organic acids, amino acids, enzymes, vitamins A, E, D, C and B1, B2, B3, B5 and B6 and important ones Minerals such as zinc, calcium, magnesium, copper and iron. It also contains components such as 10-HDA and Royalactin. These components turn a regular bee into a queen bee. Physical development and reproductive health are supported.
Propolis is the protector of the beehive. The bees overlay the combs with pure propolis and then place the honey, young and food on top. In this way, the products produced by the bee are protected in the hive.
Thanks to propolis, bees can be protected from viruses, bacteria and other harmful substances and the beehive can be kept completely sterile.
Propolis is a completely natural bee product that bees collect from the leaves, stems and buds of plants. The main task of propolis in the beehive is to keep the environment clean and pure. Propolis is rich in phenolic and flavonoid compounds.
BEE&YOU Royal Jelly & Propolis in Honey is a 100% natural, tasty and nutritious product. The product contains royal jelly, raw honey and propolis, which were produced using the contractual beekeeping method. It is manufactured with a sustainable production approach. Sustainability is at the forefront of this product and is very important to us.
4. BEE&YOU Royal Jelly Bee Pollen Propolis Chewable Tablets
Royal jelly is the queen's food. She feeds exclusively on royal jelly.
Royal Jelly is a nutritious and rich bee product secreted by the bees' bodies. The bees use it to feed their offspring in the hive and the queen bee. For normal bees in the hive, the lifespan is only 45 days, with the queen bee living between 5 and 7 years. It develops twice as fast as the other bees in the hive and lays about 2000 eggs a day to ensure the survival of the colony. It is very similar to mother's milk because it is produced in the bee's body for the breeding and nutrition of the bee's offspring.
With these compositions, normal bees are converted into queen bees. This supports physical development and reproductive health.
With its vitamins, minerals, carbohydrates, roughage, amino acids and polyphenols, bee pollen contributes to the normal functioning of the immune system and normal energy metabolism. It is a very rich substance in its composition, as well as vitamins (niacin (B3), pyridoxine (B6), thiamine (B1), riboflavin (B2), pantothenic acid (B5), folic acid, biotin (H) ), tocopherol (E) , ascorbic acid (C), beta-carotene) minerals (potassium (K), calcium (Ca), magnesium (Mg), zinc (Zn), iron (Fe), copper (Cu) It contains many biologically active substances such as manganese (Mn ), phosphorus (P), phenolic and flavonoids, polyphenols, amino acids, fatty acids and organic acids.
Propolis is the protector of the beehive. The bees fill the honeycomb with pure propolis and then put the honey, offspring and food inside. In this way, the products produced by the bee are kept protected in the hive.
Propolis is a substance that keeps the hive clean and hygienic and protects it from invaders such as viruses, bacteria and other harmful substances.
Application of Propolis tincture 10% (30) ml
For daily support: You can consume it with all solid and liquid foods that you eat in your daily diet.
Oral and Dental Health: You can gargle with propolis water (maximum 5 drops per glass of water) to benefit. Just add 1-2 drops to your toothpaste.
Skin Care: You can use it with your daily skin care cream. You can make your own propolis cream at home with the specific ingredients. Be sure to read our recipe.
Application of royal jelly & propolis in honey for children
It is recommended to take on an empty stomach. Can be consumed directly. Can be consumed by smearing it on a slice of bread. Can be mixed and consumed with a glass of milk.
Use of Royal Jelly Bee Pollen Propolis (chewable tablets - 60 pieces)
The chewable tablets can be melted or chewed in the mouth or taken directly with a glass of water.
Application of propolis throat spray
Spray for use in the oral cavity
RECOMMENDED DAILY CONSUMPTION:
Propolis Extract Tincture Water Soluble 10%
Children between 4-10 years: 10 to 40 drops per day.
Children aged 11 and over and adults: 20 to 80 drops per day.
Royal Jelly & Propolis in Honey for Children: Up to 2 years: 1 teaspoon daily Over 2 years: 2 teaspoons daily It can be consumed directly or with foods such as bread, milk and yogurt.
Royal Jelly Bee Pollen Propolis (chewable tablets)
Children between 4 - 10 years: 2 chewable tablets daily
Adults: 2 chewable tablets daily
Propolis drops can be consumed pure, with yogurt, muesli, milk or fruit juice.
Completely soluble in drinks.
Propolis throat spray with honey 6%
Children between 4-10 years: 1 spray unit in the mouth/throat 3 times/day
Children aged 11 and over and adults: 2 spray units in the mouth/throat 3 times/day
Contents & instructions for immune system strengthening for children
Propolis Extract Tincture Water Soluble 10%
Contents: Propolis extract (10%), water, vegetable glycol (food grade)
Royal jelly & propolis with honey for children
Contents: honey (97.5%), royal jelly (1.5%), propolis extract (1%)
Chewable tablets
Contents: Carob (30%) Bee pollen (30%) Propolis (18%) Royal jelly (% 12), cocoa (10%)
Propolis throat spray
Contents: Propolis throat spray (6%), water, flower honey, menthol
Suggested use
Honey and products containing honey are not recommended for babies under 12 months old.
Storage conditions: room temperature (approx. 24°C / 72°F)
Shelf life: 36 months
What distinguishes BEE&YOU Propolis from other products?
It is produced under controlled conditions by experts with a contractual beekeeping model. Through the innovative award-winning extraction, the beneficial components of propolis are produced with maximum preservation. Has international certificates proving food safety and quality: GMP, BRC, IFS, ISO9000, ISO22000, Halal, Kosher 33 national and international awards Those who test it are very satisfied: 4.88 / 5.00 customer satisfaction in Trusted Shops It is safely consumed by thousands of families in more than 13 countries. Check out our site to discover all our propolis products.
study results
Habashy, Noha H., and Marwa M. Abu Series. "The potential antiviral effect of major royal jelly protein2 and its isoform X1 against severe acute respiratory syndrome coronavirus 2 (SARS-CoV-2): Insight on their sialidase activity and molecular docking." Journal of functional foods 75 (2020): 104282.
Teixeira, Renata Roland, et al. "Royal jelly decreases corticosterone levels and improves the brain antioxidant system in restraint and cold stressed rats." Neuroscience letters 655 (2017): 179-185.
Morita, Hiroyuki, et al. "Effect of royal jelly ingestion for six months on healthy volunteers." Nutrition Journal 11.1 (2012): 77
Kim SR, Jeong MS, Mun SH, Cho J, Seo MD, Kim H, ... & Ko HJ (2021). Antiviral activity of chrysin against influenza virus replication via inhibition of autophagy. Viruses, 13(7), 1350.
El-Shouny, Wagih, et al. "Antimicrobial activity of propolis extract on URT infections in pediatric patients admitted to Al-Thowrah hospital, Hodeidah City, Yemen." World Journal of Medical Sciences 7.3 (2012): 172-177
Di Pierro, Francesco, Alberto Zanvit, and Maria Colombo. "Role of a proprietary propolis-based product on the wait-and-see approach in acute otitis media and in preventing evolution to tracheitis, bronchitis, or rhinosinusitis from nonstreptococcal pharyngitis." International journal of general medicine 9 (2016): 409.
Lisbona-González, Maria Jesús, et al. ""Study of the Antimicrobial Effect of an Ethanolic Extract of Propolis in Periodontal Disease."" Applied Sciences 11.16 (2021): 7463.
Krishna, K., et al. "Health from the hive: 5% Propolis mouth wash as an adjunct in the treatment of chronic generalized gingivitis-a randomized controlled clinical trial." Dentistry 9.533 (2019): 2161-1122.
El Adaouia Taleb, Rabia, et al. "In vivo and in vitro antidiabetic activity of ethanolic propolis extract." Journal of Food Biochemistry 44.7 (2020): e13267.
Asama, Takashi, et al. "Cognitive Improvement and Safety Assessment of a Dietary Supplement Containing Propolis Extract in Elderly Japanese: A Placebo-Controlled, Randomized, Parallel-Group, Double-Blind Human Clinical Study." Evidence-Based Complementary and Alternative Medicine 2021 (2021).
Miryan, Mahsa, et al. "Effects of Propolis Supplementation on The Severity of Disease In Irritable Bowel Syndrome Subjects: A Randomized, Double-Blind Clinical Trial." (2021).
Ebeid, Samia A., et al. ""Assessment of the radioprotective effect of propolis in breast cancer patients undergoing radiotherapy. New perspective for an old honey bee product."" Journal of Radiation Research and Applied Sciences 9.4 (2016): 431-
Soleimani, Davood, et al. ""Protective effects of propolis on hepatic steatosis and fibrosis among patients with nonalcoholic fatty liver disease (NAFLD) evaluated by real-time two-dimensional shear wave elastography: A randomized clinical trial."" Phytotherapy Research 35.3 (2021): 1669-1679 .
Toker, Hulya, et al. ""A morphometric and histopathologic evaluation of the effects of propolis on alveolar bone loss in experimental periodontitis in rats."" Journal of periodontology 79.6 (2008): 1089-1094.
Iyyam Pillai, S., et al. "Wound healing properties of Indian propolis studied on excision wound-induced rats." Pharmaceutical Biology 48.11 (2010): 1198-1206.
Zorlu, DUYGU ""COVID-19 and Anatolian propolis: A case report."" Acta Medica Mediterranea 37.2 (2021): 1229-1233.
Uzel, Atac, et al. "Chemical compositions and antimicrobial activities of four different Anatolian propolis samples." Microbiological research 160.2 (2005): 189-195.
Ozlem Bilir, Enes Guler, Abdullah Osman Kocak and Ismail Atas. Evaluation of the Effect of Anatolian Propolis on Covid-19 in Healthcare Professionals. Science Open Preprints. DOI: 10.14293/S2199-1006.1.SOR-.PPZR1OD.v1.
1. Mărgăoan, Rodica, et al. "Bee collected pollen and bee bread: Bioactive constituents and health benefits." Antioxidants 8.12 (2019): 568.2.Mohammad, Salma Malihah, Nor-Khaizura Mahmud-Ab-Rashid, and Norhasnida Zawawi. "Stingless Bee-Collected Pollen (Bee Bread): Chemical and Microbiology Properties and Health Benefits." Molecules 26.4 (2021): 957.
Cai, Wei, et al. "Ethanol extract of propolis prevents high-fat diet-induced insulin resistance and obesity in association with modulation of gut microbiota in mice." Food Research International 130 (2020): 108939.
Bapat, Salil, et al. "Effect of propolis mouth rinse on oral microorganisms—a randomized controlled trial." Clinical Oral Investigations (2021): 1-8.

Afkhamizadeh, Mozhgan, et al. "Topical propolis improves wound healing in patients with diabetic foot ulcers: a randomized controlled trial." Natural product research 32.17 (2018): 2096-2099.

Ibnu, Yunis Sucipta, Dwi Reno Pawarti, and Mansyur Siddiq Wiyadi. "Efektivitas terapi komplementer propolis telaah terhadap SGHT dan IL-33 secret hidung penderita rinitis alergi." Oto Rhino Laryngologica Indonesiana 49.1 (2019): 57-66.

Khayyal, MT, et al. "A clinical pharmacological study of the potential beneficial effects of a propolis food product as an adjuvant in asthmatic patients." Fundamental & clinical pharmacology 17.1 (2003): 93-102.
inkl. 7 % MwSt. zzgl. Versandkosten
RIGHT OF CANCELLATION: 14 DAYS
RIGHT OF CANCELLATION: 14 DAYS