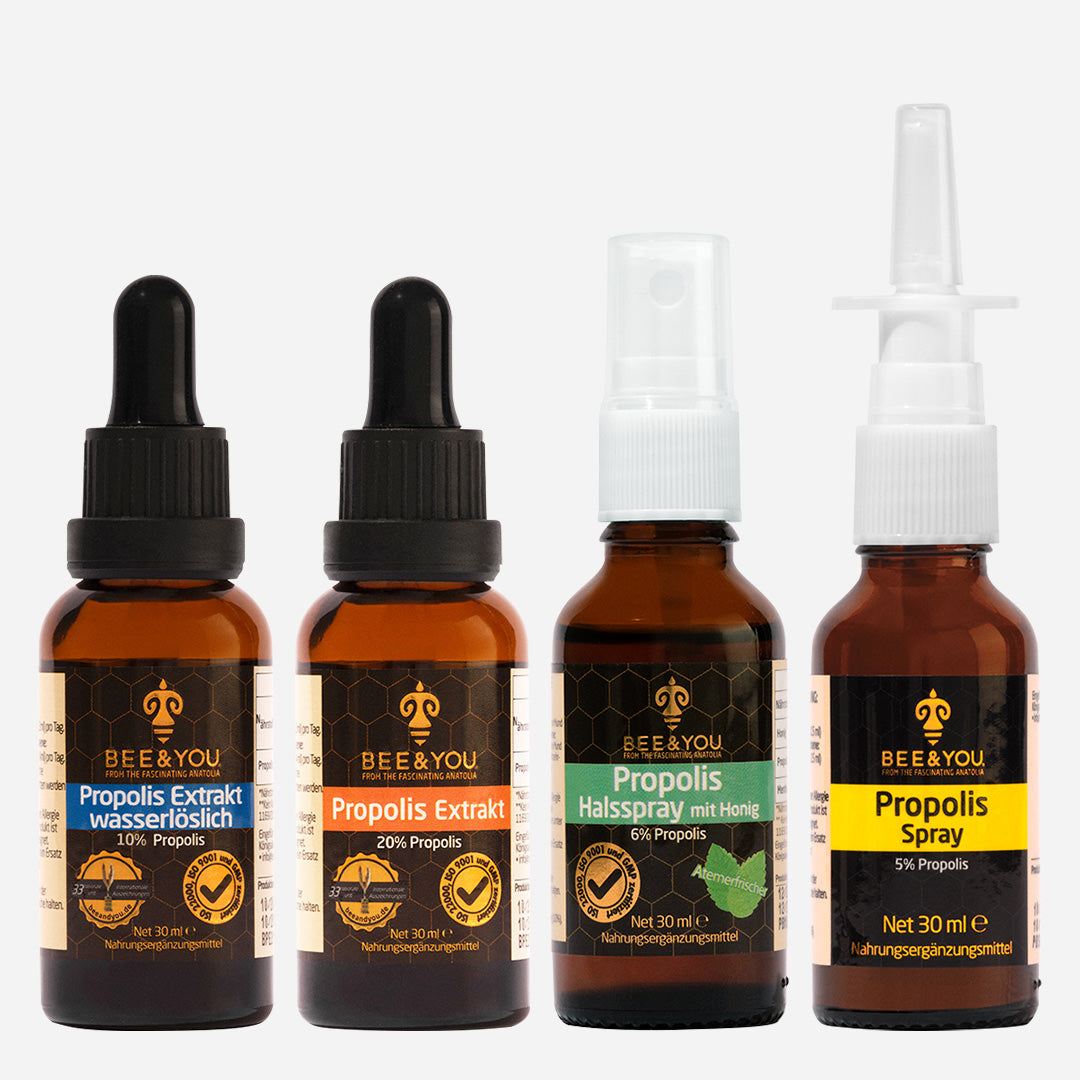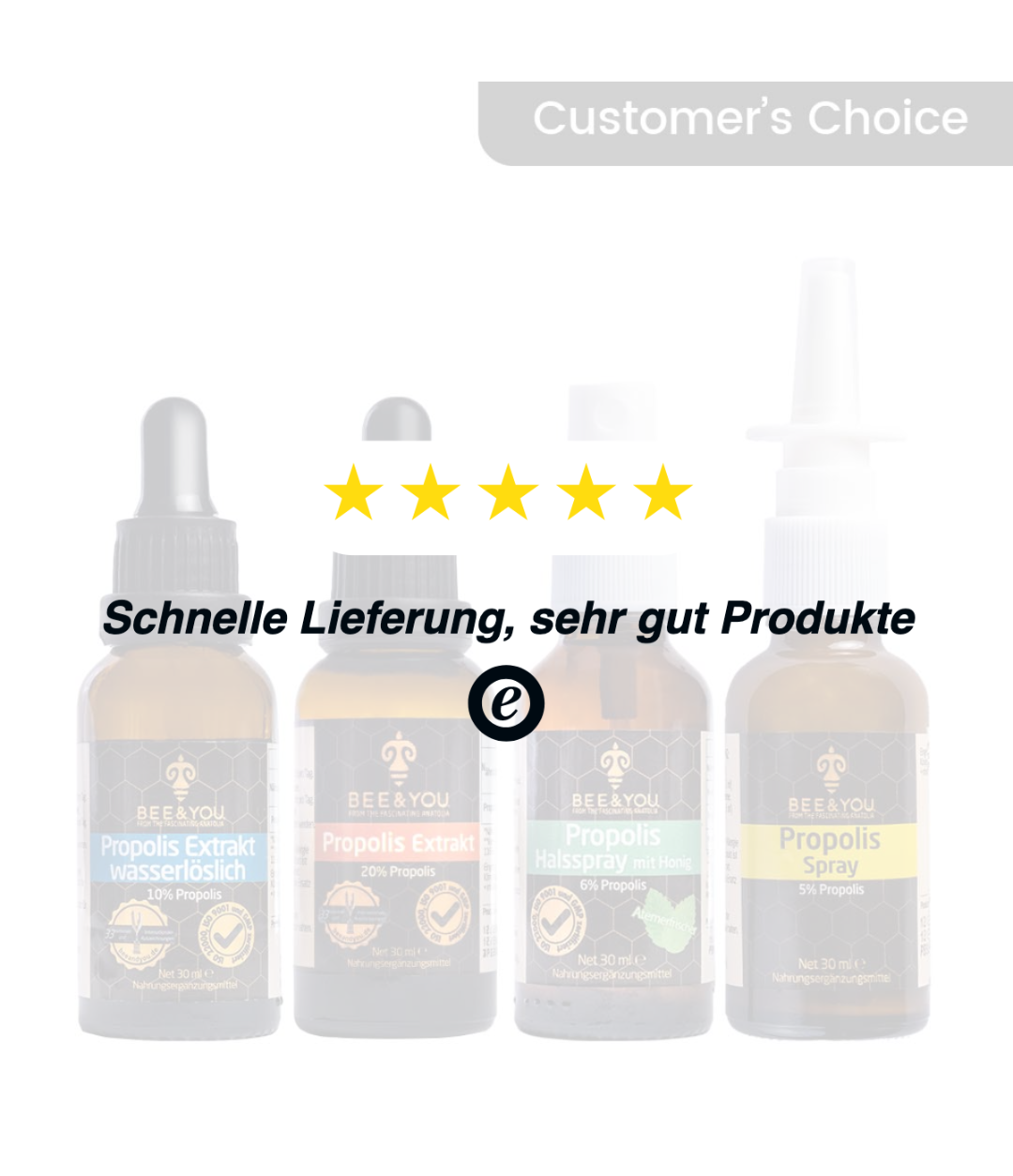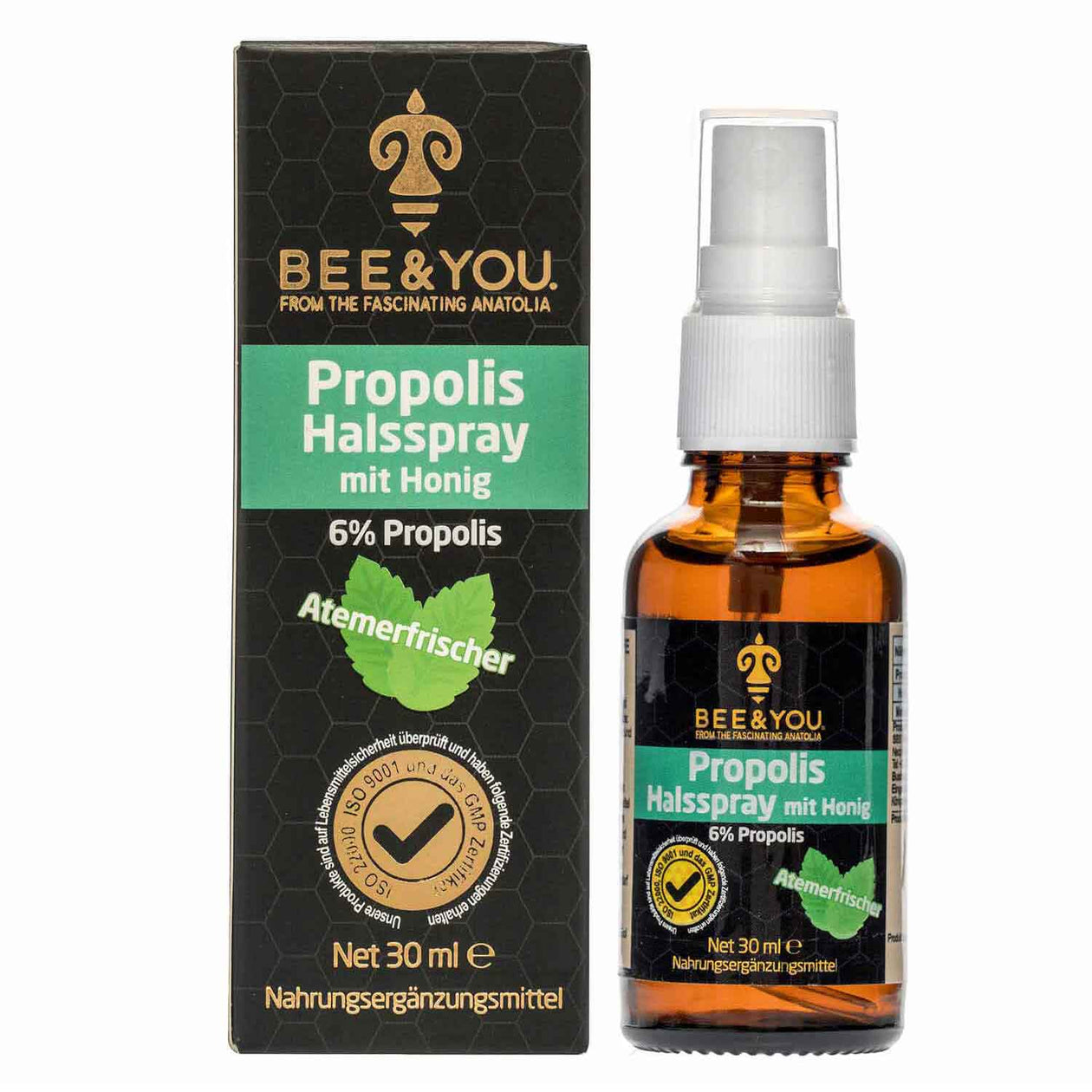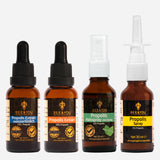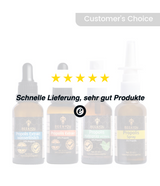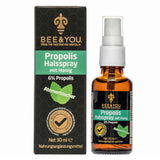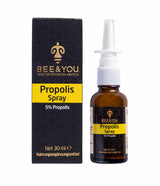 Essential package
Bee&You Deutschland
The essential package is a MUST in every home. All 4 products are suitable for everyday use.
120.0 ml ( 52,79 €* / 100 ml)
inkl. 7 % MwSt.
zzgl. Versandkosten
Auf Lager. 2-3 Tage Lieferzeit
KOSTENLOSER VERSAND AB 49€
SICHERE UND EINFACHE ZAHLUNG
Tipps & Tricks
The package for internal and local antioxidant needs.
What is Propolis Tincture Water Soluble 10% and Propolis Tincture 20%?
Raw propolis is a natural bee product composed of phenolic and flavonoid substances collected by bees from the leaves, stems and buds of plants. The meaning of the word is pure propolis, consisting of the words pro (before) + polis (protector), as the name suggests, the pre-cleaner and responsible for protecting the habitat of bees. Bees cover their honeycomb eyes with raw propolis and then add their honey, hatchlings and food. Thus, the products produced by the bees are stored in the hive without spoilage. After being taken from the hive, it needs to be adapted and processed for human consumption so that the body can digest this product. At this point, the most important issue is the proper processing of raw Anatolian propolis, which is a valuable food. The quality and nutritional value can only be preserved through correct extraction methods.
The polyphenols, terpenoids, amino acids, volatile organic acids, ketones, coumarins, quinones, vitamins and minerals contained in the raw Anatolian propolis are preserved in a water-soluble form thanks to the award-winning processing method of the BEE&YOU experts.
What is Propolis Throat Spray with Menthol and Honey?
The Propolis Throat Spray and Throat Spray is a 100% natural and pure product with raw honey and menthol. The propolis spray contains no alcohol and is therefore also ideal for children.
What is propolis spray?
The propolis spray with natural ingredients is not addictive and is suitable for regular use. It supports the nasal mucous membranes in maintaining their natural moisture balance.
Propolis Extract Tincture Water Soluble 10% can be taken on its own or with liquid foods such as water, milk or fruit juices.
Propolis extract tincture %20 can be taken pure or with solid foods such as yoghurt, muesli or honey.
Propolis Throat Spray with Honey & Menthol and Propolis Spray is sprayed locally into the mouth and nasal mucosa
Dosage of Essential Package?
Propolis extract tincture 10%
Children between 4-10 years: 10 to 40 drops per day.
Children aged 11 and over and adults: 20 to 80 drops per day.
Propolis extract tincture %20
Children between 4-10 years: 10 to 40 drops per day.
Children aged 11 and over and adults: 20 to 80 drops per day
Propolis throat spray with honey 6%
Children between 4-10 years: 1 spray unit in the mouth/throat 3 times/day
Children aged 11 and over and adults: 2 spray units in the mouth/throat 3 times/day
Propolis Nasal Spray 5%
Children between 4-10 years: 2 spray units 2 times/day (1 unit per nostril)
Children aged 11 and over and adults: 2 spray units 3 times/day (1 unit per nostril)
Propolis Extract Tincture Water Soluble 10% (30ml)
The alcohol-free propolis tincture 10% was produced through the award-winning innovation process of Bee&You's expert teams. Propolis contains valuable components such as phenol and flavonoid.
Propolis extract tincture 20% (30ml)
Propolis extract, is a form of propolis tincture, the content of which contains 20% propolis.
Propolis throat spray (30ml)
It is a 100% natural formula that contains raw honey, propolis (6%) and menthol.
Propolis Spray (30ml)
It contains only propolis (5%) and deionized water.
Note for allergy sufferers:
Please carry out an allergy test when using bee products for the first time. Drizzle a few drops of the bee products on the inner part of your wrist and leave it on for 15 minutes. If there are no reactions such as itching, redness or swelling, your immune system does not appear to be in danger. If you are unsure, it is always advisable to consult a doctor or an expert alternative practitioner first.
Hints:
Do not exceed the recommended daily serving.
Dietary supplements do not replace normal nutrition. Keep out of reach of children.
It cannot be used to prevent or treat any disease.
Consult your doctor in case of pregnancy, breastfeeding, or illness.
It is not recommended to give honey and honey-containing products to children under 1 year of age.
What makes BEE&YOU Propolis different from other products?
Germany's No. 1 propolis drops: According to vergleich.org comparison results

BEE&YOU propolis tincture has more biological activity than its comparable

It is produced under controlled conditions by experts using a contractual beekeeping model.
Thanks to the innovative award-winning extraction, the useful components of propolis are produced with maximum preservation.
Has international certificates proving food safety and quality: GMP, BRC, IFS, ISO9000, ISO22000, Halal, Kosher
33 national and international awards
Those who test it are very satisfied: 4.88 / 5.00 customer satisfaction in Trusted Shops
It is safely consumed by thousands of families in more than 13 countries.
Check out our site to discover all our propolis products.
study results
Toker, Hulya, et al. ""A morphometric and histopathologic evaluation of the effects of propolis on alveolar bone loss in experimental periodontitis in rats."" Journal of periodontology 79.6 (2008): 1089-1094.
Iyyam Pillai, S., et al. "Wound healing properties of Indian propolis studied on excision wound-induced rats." Pharmaceutical Biology 48.11 (2010): 1198-1206.
Zorlu, DUYGU ""COVID-19 and Anatolian propolis: A case report."" Acta Medica Mediterranea 37.2 (2021): 1229-1233.
Lisbona-González, Maria Jesús, et al. ""Study of the Antimicrobial Effect of an Ethanolic Extract of Propolis in Periodontal Disease."" Applied Sciences 11.16 (2021): 7463.
Kim SR, Jeong MS, Mun SH, Cho J, Seo MD, Kim H, ... & Ko HJ (2021). Antiviral activity of chrysin against influenza virus replication via inhibition of autophagy. Viruses, 13(7), 1350.
El-Shouny, Wagih, et al. "Antimicrobial activity of propolis extract on URT infections in pediatric patients admitted to Al-Thowrah hospital, Hodeidah City, Yemen." World Journal of Medical Sciences 7.3 (2012): 172-177
Uzel, Atac, et al. "Chemical compositions and antimicrobial activities of four different Anatolian propolis samples." Microbiological research 160.2 (2005): 189-195.
Ozlem Bilir, Enes Guler, Abdullah Osman Kocak and Ismail Atas. Evaluation of the Effect of Anatolian Propolis on Covid-19 in Healthcare Professionals. Science Open Preprints. DOI: 10.14293/S2199-1006.1.SOR-.PPZR1OD.v1.
1. Mărgăoan, Rodica, et al. "Bee collected pollen and bee bread: Bioactive constituents and health benefits." Antioxidants 8.12 (2019): 568.2.Mohammad, Salma Malihah, Nor-Khaizura Mahmud-Ab-Rashid, and Norhasnida Zawawi. "Stingless Bee-Collected Pollen (Bee Bread): Chemical and Microbiology Properties and Health Benefits." Molecules 26.4 (2021): 957.
Cai, Wei, et al. "Ethanol extract of propolis prevents high-fat diet-induced insulin resistance and obesity in association with modulation of gut microbiota in mice." Food Research International 130 (2020): 108939.
Bapat, Salil, et al. "Effect of propolis mouth rinse on oral microorganisms—a randomized controlled trial." Clinical Oral Investigations (2021): 1-8.

Afkhamizadeh, Mozhgan, et al. "Topical propolis improves wound healing in patients with diabetic foot ulcers: a randomized controlled trial." Natural product research 32.17 (2018): 2096-2099.

Ibnu, Yunis Sucipta, Dwi Reno Pawarti, and Mansyur Siddiq Wiyadi. "Efektivitas terapi komplementer propolis telaah terhadap SGHT dan IL-33 secret hidung penderita rinitis alergi." Oto Rhino Laryngologica Indonesiana 49.1 (2019): 57-66.

Khayyal, MT, et al. "A clinical pharmacological study of the potential beneficial effects of a propolis food product as an adjuvant in asthmatic patients." Fundamental & clinical pharmacology 17.1 (2003): 93-102.

Di Pierro, Francesco, Alberto Zanvit, and Maria Colombo. "Role of a proprietary propolis-based product on the wait-and-see approach in acute otitis media and in preventing evolution to tracheitis, bronchitis, or rhinosinusitis from nonstreptococcal pharyngitis." International journal of general medicine 9 (2016): 409.

Krishna, K., et al. "Health from the hive: 5% Propolis mouth wash as an adjunct in the treatment of chronic generalized gingivitis-a randomized controlled clinical trial." Dentistry 9.533 (2019): 2161-1122.

Scheller, S., et al. "Free radical scavenging by ethanol extract of propolis." International Journal of Radiation Biology 57.3 (1990): 461-465.

Ghisalberti, EL "Propolis: a review." Bee world 60.2 (1979): 59-84.

Yilmaz, Ugur Cem, et al. "Evaluation of the miRNA profiling and effectiveness of the propolis on B-cell acute lymphoblastic leukemia cell line." Biomedicine & Pharmacotherapy 84 (2016): 1266-1273.

Demir, Selim, et al. "Antiproliferative and proapoptotic activity of Turkish propolis on human lung cancer cell line." Nutrition and cancer 68.1 (2016): 165-172.
120.0 ml ( 52,79 €* / 100 ml) inkl. 7 % MwSt. zzgl. Versandkosten
RIGHT OF CANCELLATION: 14 DAYS
RIGHT OF CANCELLATION: 14 DAYS