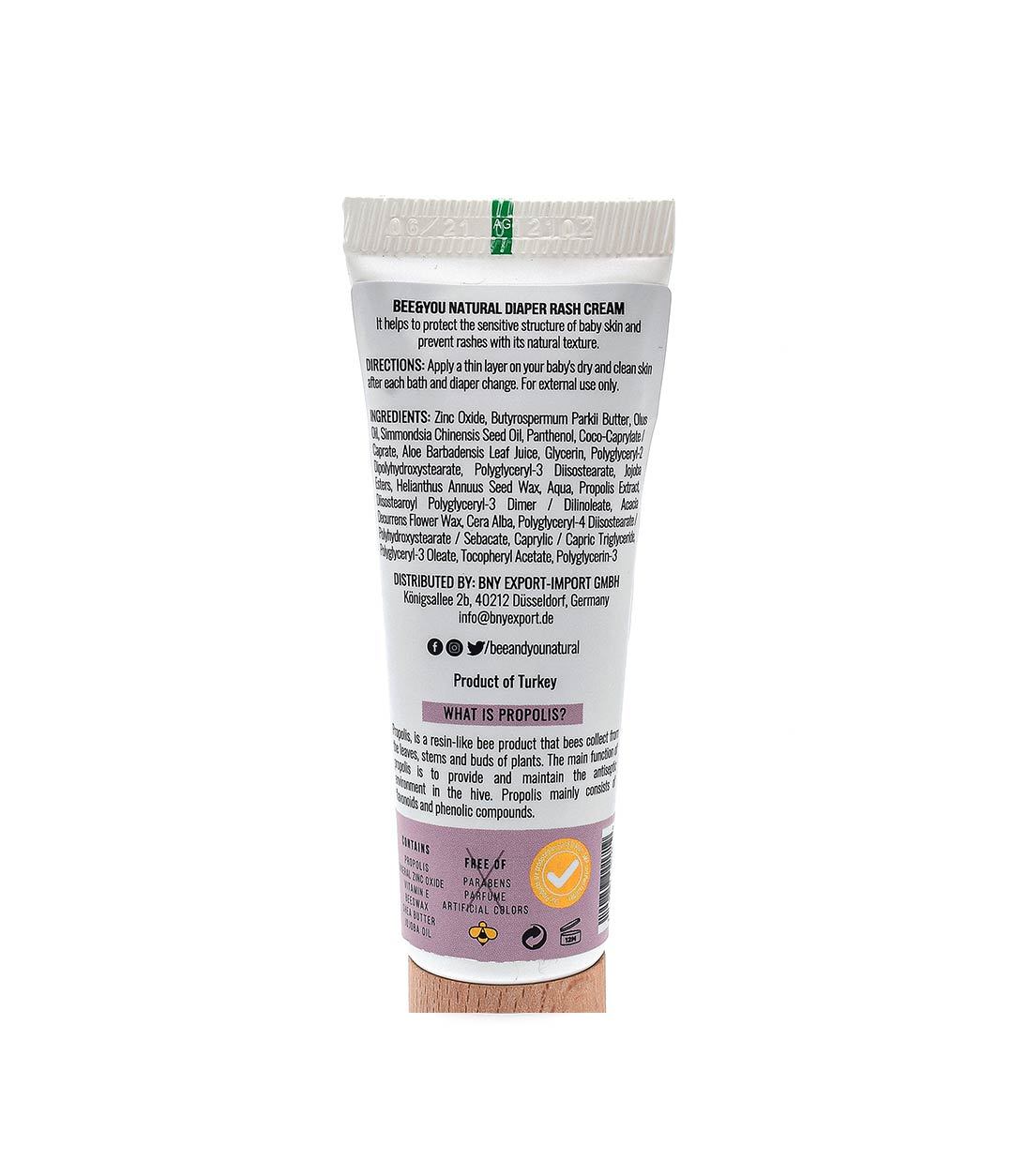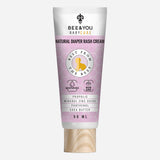 Apibaby wound protection cream with propolis
Bee&You Deutschland
ApiBaby wound protection cream enriched with propolis, mineral zinc, vitamin B5 and shea butter; offers a unique formula compatible with the sensitive and delicate skin of babies and easy to apply.
50.0 ml ( 35,90 €* / 100 ml)
inkl. 19 % MwSt.
zzgl. Versandkosten
Auf Lager. 2-3 Tage Lieferzeit
KOSTENLOSER VERSAND AB 49€
SICHERE UND EINFACHE ZAHLUNG
Tipps & Tricks
The easy-to-apply natural wound protection cream for delicate baby skin.
What is ApiBaby Baby Propolis Wound Protection Cream?
With its rich content, it nourishes your baby's skin and prevents diaper rash.

ApiBaby wound protection cream enriched with propolis, mineral zinc, vitamin B5 and shea butter; offers a unique formula compatible with the sensitive and delicate skin of babies and easy to apply.

Its completely natural and clean content was developed by experts at the Bee & You Propolis R&D Center.

It is suitable for the natural structure of baby skin and the use of sensitive skin, it is hypoallergenic.

It helps prevent rashes from forming and eliminates redness on the skin.

Dermatologically tested.

It does not contain parabens, perfume and dyes.

Not tested on animals
7 effects of ApiBaby wound protection cream
1- Propolis contributes to the nutrition and protection of the skin with valuable phenolic and flavonoid components such as caffeine (caffeic acid phenethyl ester), quercetin, pinosembrine, galangal, chrysin, which have a high content.
2- It helps to remove wrinkles on the skin and prevent rash.
3- Aloe Vera: Soothes and nourishes your baby's irritated skin.
4 - Mineral Zinc: Applied as a thin layer, it helps prevent water loss from the skin and protects the skin's moisture balance. It helps to soothe skin irritation and redness.
5- Vitamin B5: It protects the skin's barrier function, leaving it moisturized, soft and smooth.
6- Shea Butter: With its high moisturizing property, it helps to quickly relieve skin dryness. It is a rich source of natural antioxidants in vitamins A, E and D.
7- Jojoba Oil: Obtained from the seeds of the "Simmondsia Chinensis" plant in Arizona, California and northern Mexico, this plant can live up to 200 years under the right conditions. Since its roots can reach quite deep, it is resistant to drought and temperature differences. Because it extends deep into the ground, it contains many minerals within its structure. It is known for its many skin benefits.
What distinguishes BEE&YOU Propolis from other products?
It is produced under controlled conditions by experts with a contractual beekeeping model.
Through the innovative award-winning extraction, the beneficial components of propolis are produced with maximum preservation.
Has international certificates proving food safety and quality: GMP, BRC, IFS, ISO9000, ISO22000, Halal, Kosher
33 national and international awards
Those who test it are very satisfied: 4.88 / 5.00 customer satisfaction in Trusted Shops
It is safely consumed by thousands of families in more than 13 countries.
Check out our site to discover all our propolis products.
study results
Hsin-Ju, Li, et al. "Chrysin alleviates imiquimod-induced psoriasis-like skin inflammation and reduces the release of CCL20 and antimicrobial peptides." Scientific Reports (Nature Publisher Group) 10.1 (2020).
Kim, Da Hyun, et al. "Propolis Suppresses UV-Induced Photoaging in Human Skin through Directly Targeting Phosphoinositide 3-Kinase." Nutrients 12.12 (2020): 3790.
Vaughn, Alexandra R., et al. "Natural oils for skin-barrier repair: ancient compounds now backed by modern science." American journal of clinical dermatology 19.1 (2018): 103-117.
Andersson, Ann-Charlotte, and Jari Alander. "Shea butter extract for bioactive skin care." Cosmetics & Toiletries 130.6 (2015): 18-25.
Kim, Han Bit, and Byung Sun Yoo. "Propolis inhibits UVA-induced apoptosis of human keratinocyte HaCaT cells by scavenging ROS." Toxicological research 32.4 (2016): 345-351.
Tyszka-Czochara, Małgorzata, et al. ""Zinc and propolis reduces cytotoxicity and proliferation in skin fibroblast cell culture: total polyphenol content and antioxidant capacity of propolis."" Biological trace element research 160.1 (2014): 123-131.

Iyyam Pillai, S., et al. "Wound healing properties of Indian propolis studied on excision wound-induced rats." Pharmaceutical Biology 48.11 (2010): 1198-1206.
50.0 ml ( 35,90 €* / 100 ml) inkl. 19 % MwSt. zzgl. Versandkosten
RIGHT OF CANCELLATION: 14 DAYS
RIGHT OF CANCELLATION: 14 DAYS