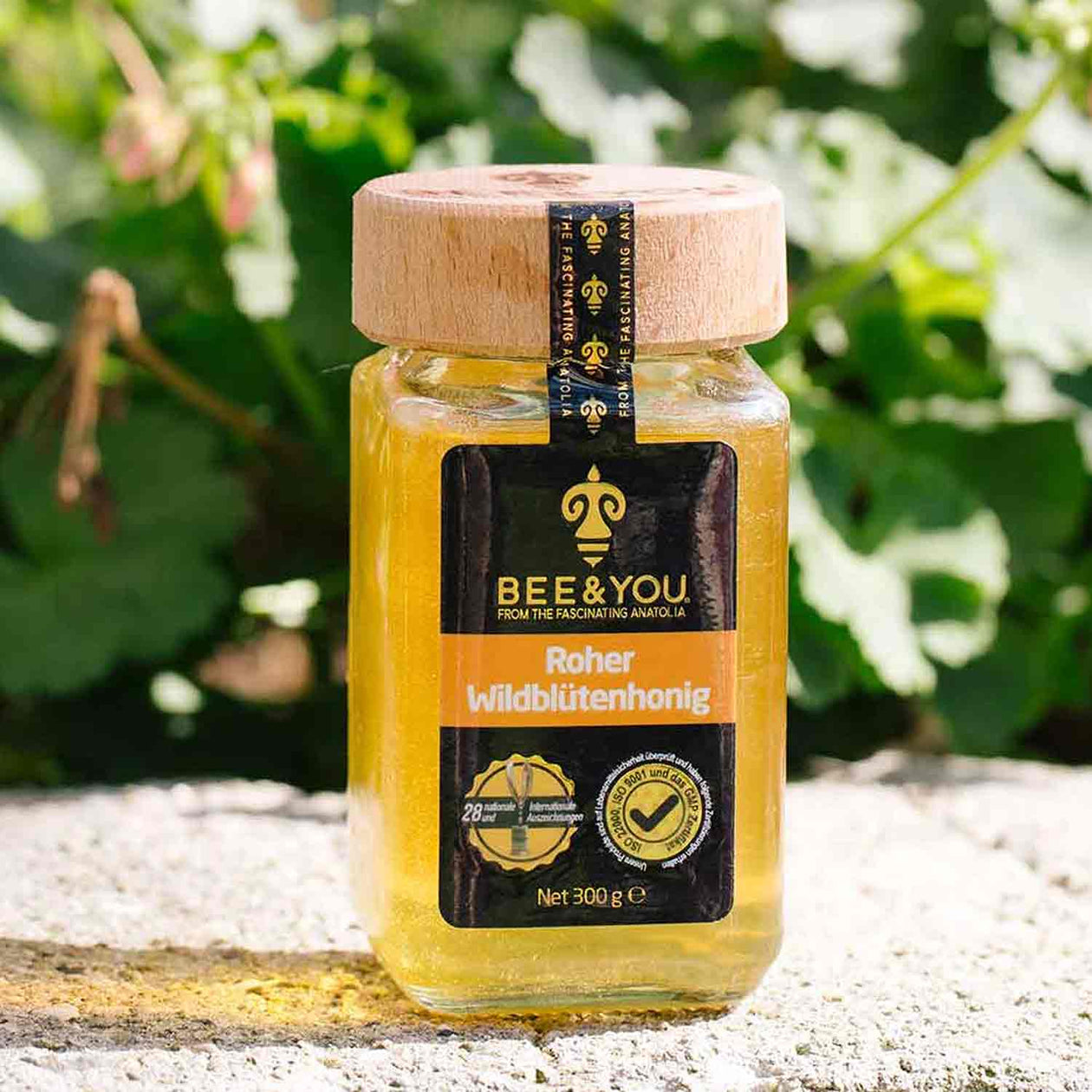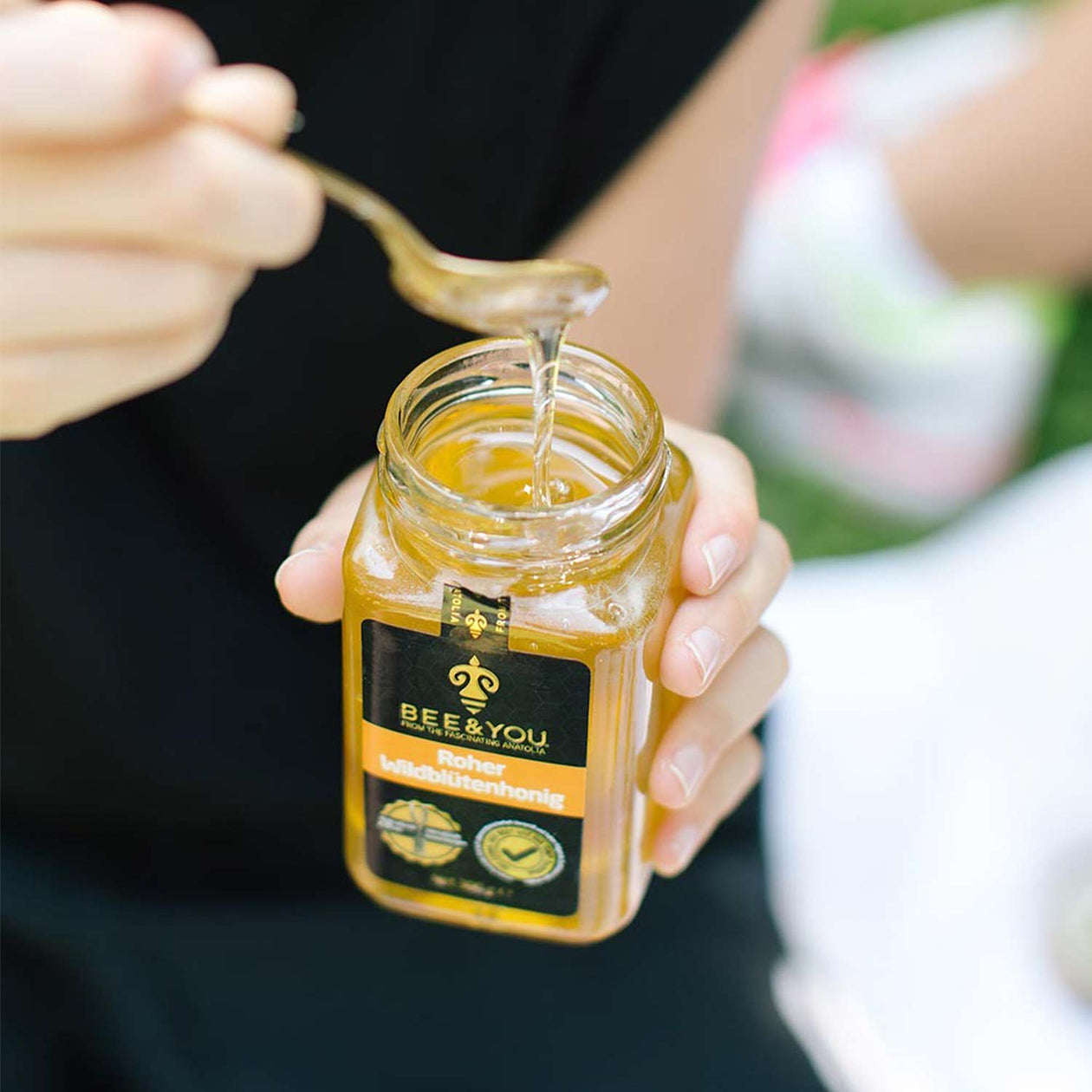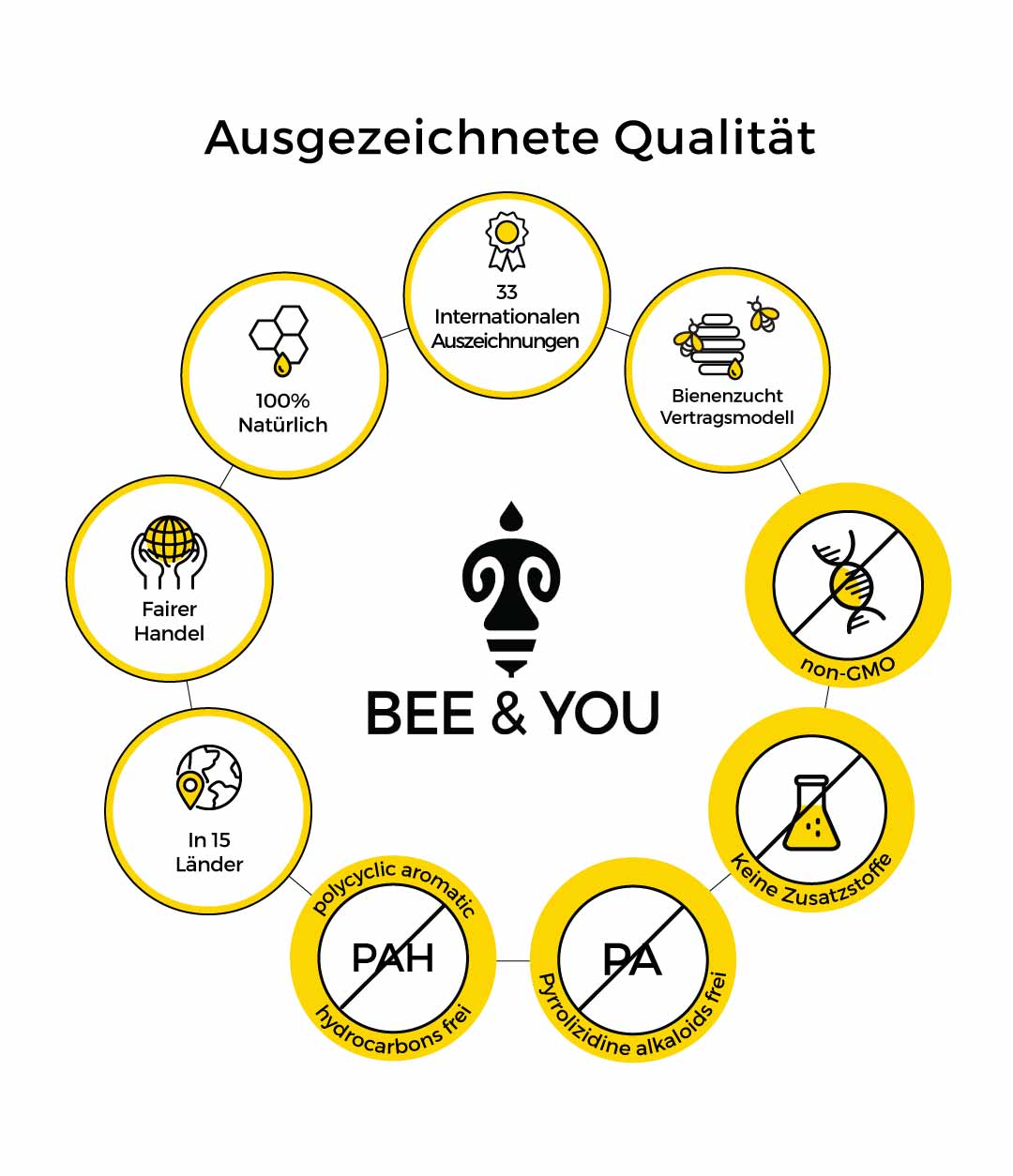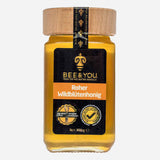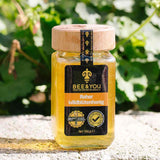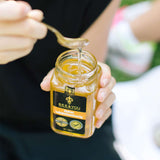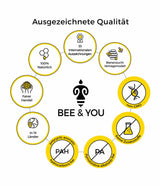 Raw wildflower honey
Bee&You Deutschland
Raw wildflower honey is an excellent food for breakfast and snacks.
300.0 g ( 5,65 €* / 100 g)
inkl. 7 % MwSt.
zzgl. Versandkosten
Auf Lager. 2-3 Tage Lieferzeit
KOSTENLOSER VERSAND AB 49€
SICHERE UND EINFACHE ZAHLUNG
Tipps & Tricks
Pair the honey with whole wheat bread or other high-fiber options to ensure a nutritious breakfast.
What is raw honey?
Raw honey is honey that has not been heat treated and has not been filtered to capture the pollen it contains. Only visible foreign matter is filtered and spilled. In this way, honey is delivered to consumers while preserving the nutritional value of the hive. Raw honey is the most valuable honey in terms of nutritional value.
Bee & You Raw Honey, the world's first area in terms of diversity of endemic plants produced in Turkey. Raw honey, which bees obtain from hundreds of types of flower nectars that grow naturally in plateaus and enrich them by mixing them with enzymes, is presented to you by preserving its nutritional value when taken from the hive.
Why should raw wildflower honey be consumed?
According to many experts, the most beneficial form of honey is its raw form and should be consumed in its raw state. Because raw honey is not heat treated at high temperatures, it naturally crystallizes, meaning it freezes. But there is no harm in consuming honey in this state. In order to benefit from the main healing of honey, it is recommended to choose honey in its raw form.
Some honey producers use heat treatment to prevent honey from crystallizing and keep it on the shelves longer. In fact, honey crystallization is a natural phenomenon and heat treatment can reduce the nutritional value of honey.
Effect of Raw Wildflower Honey
Honey, which holds an important place in human life, is a natural food that has been used to treat health and various diseases for thousands of years.
Raw honey, which has protective and nutritive properties, is a bee product that especially growing children should consume with its high nutritional value.
Application of raw honey
Raw honey is an excellent food for breakfast and snacks. It can be consumed directly for breakfast or with a glass of milk.
You can also try it as a snack on a slice of bread.
Contents and notes for raw honey
Ingredients: Raw blossom honey
Net weight: 300g
Shelf life: 36 months
Storage conditions:
Do not store this product above 22°C. Store in original packaging to protect contents from light and excessive heat.
Hints:
Not suitable for children under 1 year
Why BEE&YOU?
Award-winning bee products: Our bee products, made with an award-winning and patented extraction process, have received 33 national and international awards.
Reliable bee products: Our bee products are manufactured in the heart of Europe by our two founders, food engineers, using the latest technology and FDA standards.
High-quality bee products: We work with over 5,000 contract beekeepers and over 550,000 beehives and apply the contract beekeeping model. This guarantees high propolis quality.
Qualitative manufacturing: It is manufactured according to the principles of good beekeeping practices and under controlled conditions by experts according to contractual beekeeping model.
The production of pure propolis products uses extraction methods developed by experienced food engineers of ITU ARI Teknokent through R&D studies and deemed worthy of TUBITAK, TTGV and TUSIAD Technology Awards 2016. It is possible by this method to preserve the nutrients of raw Anatolian propolis in a maximum way while still removing impurities.
Thanks to the innovative award-winning extraction, the useful components of propolis are produced with maximum preservation
We love bees: For the love of bees, we donate 10 cents with every purchase. This amount will be invested in the research and development center to protect bee habitats.
Has international certificates proving food safety and quality: GMP, BRC, IFS, ISO9000, ISO22000, Halal, Kosher
Those who test it are very satisfied: 4.88 / 5.00 customer satisfaction in Trusted Shops
It is trusted by thousands of families in more than 13 countries.
study results
Chiu, Hui-Fang, et al. ""Hypocholesterolemic efficacy of royal jelly in healthy mild hypercholesterolemic adults."" Pharmaceutical biology 55.1 (2017): 497-502.

Abd Jalil, Mohd Azri. "Development of pva-natural biopolymer hydrogel incorporated with stingless bee honey for wound healing." (2020).

Cohen, Herman Avner, et al. "Effect of honey on nocturnal cough and sleep quality: a double-blind, randomized, placebo-controlled study." Pediatrics 130.3 (2012): 465-471.

Sharma, Manju, et al. "Influence of honey on adverse reactions due to anti-tuberculosis drugs in pulmonary tuberculosis patients." Continental Journal of Pharmacology and Toxicology Research 2 (2008): 6-11.
300.0 g ( 5,65 €* / 100 g) inkl. 7 % MwSt. zzgl. Versandkosten
RIGHT OF CANCELLATION: 14 DAYS
RIGHT OF CANCELLATION: 14 DAYS