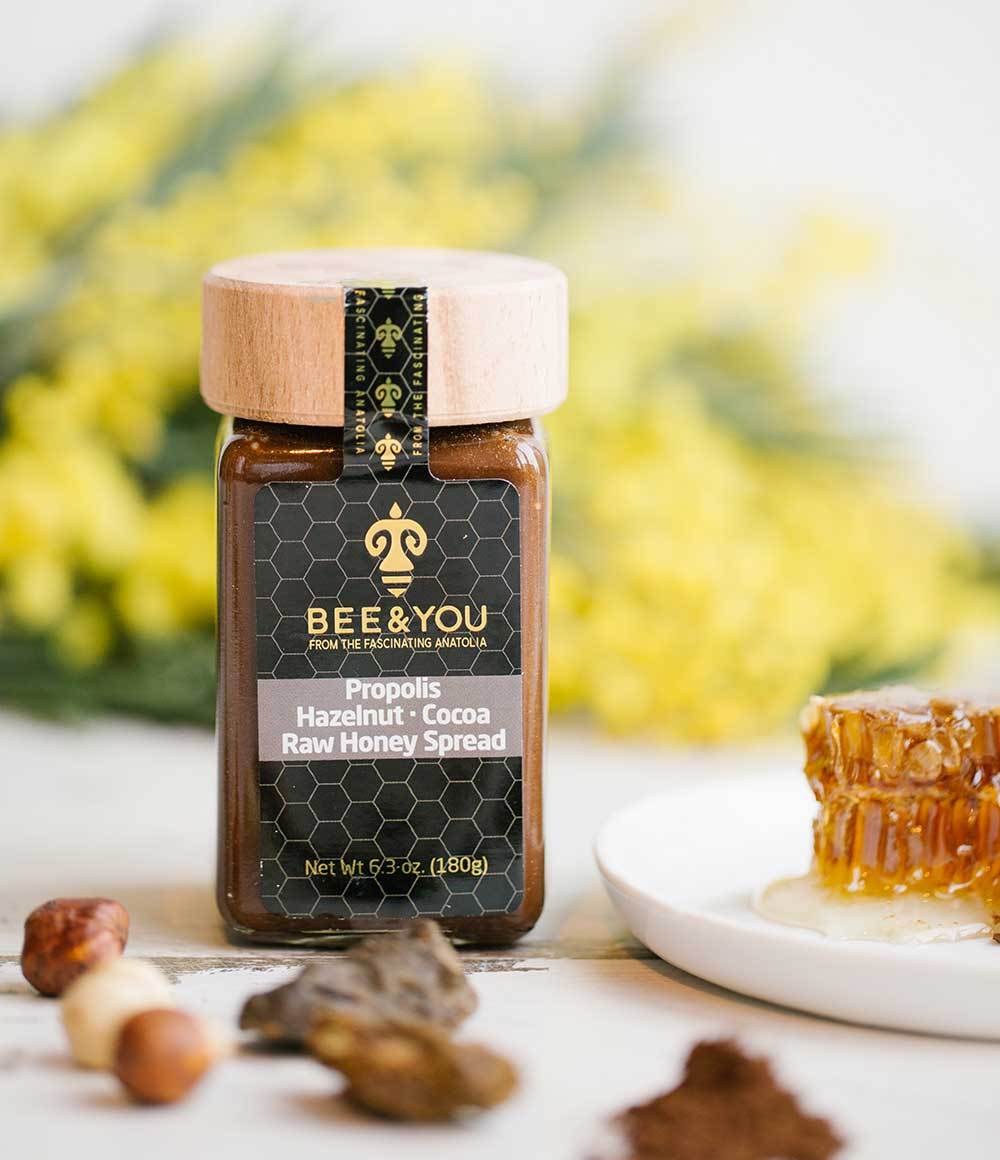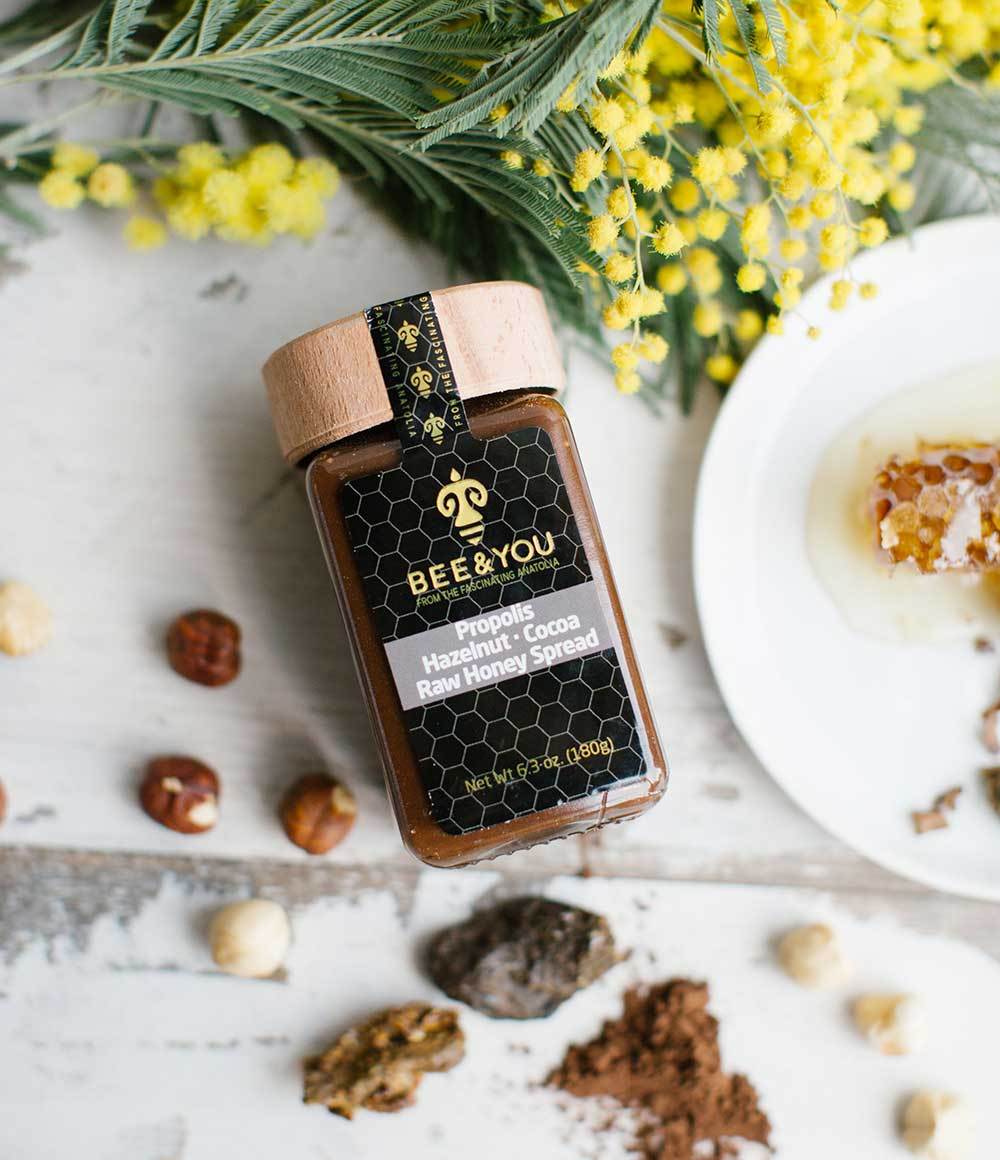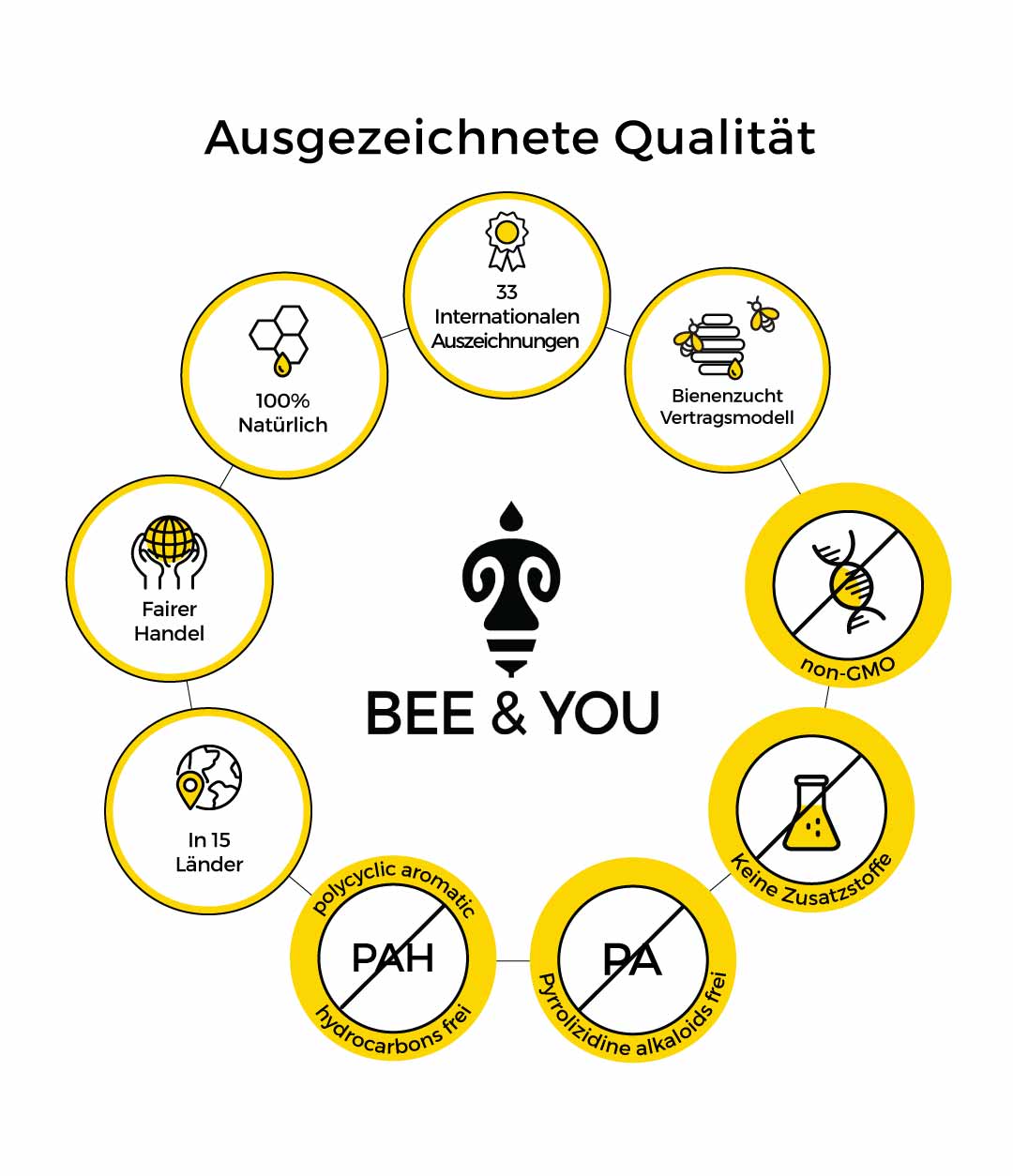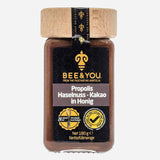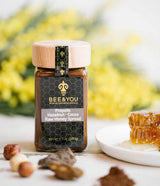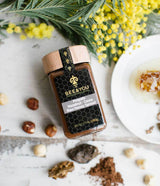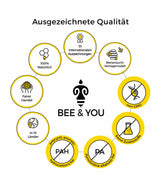 Propolis hazelnut - cocoa in honey mixture
Bee&You Deutschland
Propolis Hazelnut Cocoa is a healthy and excellent food for breakfast and as a snack.
180.0 g ( 10,53 €* / 100 g)
inkl. 7 % MwSt.
zzgl. Versandkosten
Auf Lager. 2-3 Tage Lieferzeit
KOSTENLOSER VERSAND AB 49€
SICHERE UND EINFACHE ZAHLUNG
Tipps & Tricks
If more propolis is required, the mixture can be taken together with propolis extract 20%.
What is Propolis Hazelnut - Cocoa in Honey Mixture?
BEE&YOU hazelnut cocoa in honey mixture does not contain any added sugar or additives like other cocoa products. It derives its flavor and nutritional content from raw honey, cacao and propolis. The 100% natural formula is enriched with cocoa, raw honey and propolis. Cacao is an extremely nutritious and super tasty food. It also contains health-promoting plant compounds such as flavonoids.
Application of propolis hazelnut cocoa in honey mixture
Directly or by smearing it on the bread. You can mix it with your favorite foods like yogurt, milk, etc. mix and consume it. You can make milk more delicious and nutritious by adding a dessert spoon to the milk you give your child at breakfast.
Adults can consume it during the day for sweet crises. It contains no added sugar and no added fat. It's a light, tasty and nutritious snack.
Propolis hazelnut - cocoa in honey mixture dosage
It is recommended to adhere to the daily usage amount indicated on the product
(2-3 teaspoons per day)

Suggested use
Honey and products containing honey are not recommended for babies under 12 months.
Contents and information for hazelnut - cocoa in honey mixture (180g)
blossom honey (74%), hazelnut (20%),
Cocoa (5%), Propolis Extract (1%)
Net weight: 180g
Storage conditions: room temperatures (approx. 22 ° C / 72 ° F)
Shelf life: 36 months
Why BEE&YOU?
Award-winning bee products: Our bee products, made with an award-winning and patented extraction process, have received 33 national and international awards.
Reliable bee products: Our bee products are manufactured in the heart of Europe by our two founders, food engineers, using the latest technology and FDA standards.
High-quality bee products: We work with over 5,000 contract beekeepers and over 550,000 beehives and apply the contract beekeeping model. This guarantees a high propolis quality.
Qualitative manufacturing: It is manufactured according to the principles of good beekeeping practices and under controlled conditions by experts according to contractual beekeeping model.
The production of pure propolis products uses extraction methods developed by experienced food engineers of ITU ARI Teknokent through R&D studies and deemed worthy of TUBITAK, TTGV and TUSIAD Technology Awards 2016. It is possible by this method to preserve the nutrients of raw Anatolian propolis in a maximum way while still removing impurities.
Thanks to the innovative award-winning extraction, the useful components of propolis are produced with maximum preservation
We love bees: For the love of bees, we donate 10 cents with every purchase. This amount will be invested in the research and development center to protect bee habitats.
Has international certificates proving food safety and quality: GMP, BRC, IFS, ISO9000, ISO22000, Halal, Kosher
Those who test it are very satisfied: 4.88 / 5.00 customer satisfaction in Trusted Shops
It is trusted by thousands of families in more than 13 countries.
study results
Ghisalberti, EL "Propolis: a review." Bee world 60.2 (1979): 59-84.
Chiu, Hui-Fang, et al. ""Hypocholesterolemic efficacy of royal jelly in healthy mild hypercholesterolemic adults."" Pharmaceutical biology 55.1 (2017): 497-502.
Kim SR, Jeong MS, Mun SH, Cho J, Seo MD, Kim H, ... & Ko HJ (2021). Antiviral activity of chrysin against influenza virus replication via inhibition of autophagy. Viruses, 13(7), 1350.
El-Shouny, Wagih, et al. "Antimicrobial activity of propolis extract on URT infections in pediatric patients admitted to Al-Thowrah hospital, Hodeidah City, Yemen." World Journal of Medical Sciences 7.3 (2012): 172-177
Cohen, Herman Avner, et al. "Effect of honey on nocturnal cough and sleep quality: a double-blind, randomized, placebo-controlled study." Pediatrics 130.3 (2012): 465-471.
1. Aliyazıcıoglu, Rezzan, et al. "Properties of phenolic composition and biological activity of propolis from Turkey." International Journal of Food Properties 16.2 (2013): 277-287.
2. Tugba Degirmencioglu, Hacer, et al. "A new type of Anatolian propolis: Evaluation of its chemical composition, activity profile and botanical origin." Chemistry & biodiversity 16.12 (2019): e1900492.
Cohen, Herman Avner, et al. "Effect of honey on nocturnal cough and sleep quality: a double-blind, randomized, placebo-controlled study." Pediatrics 130.3 (2012): 465-471.
Rashad, UM, et al. "Honey as topical prophylaxis against radiochemotherapy-induced mucositis in head and neck cancer." The Journal of laryngology and otology 123.2 (2009): 223.
Sharma, Manju, et al. "Influence of honey on adverse reactions due to anti-tuberculosis drugs in pulmonary tuberculosis patients." Continental Journal of Pharmacology and Toxicology Research 2 (2008): 6-11.
180.0 g ( 10,53 €* / 100 g) inkl. 7 % MwSt. zzgl. Versandkosten
RIGHT OF CANCELLATION: 14 DAYS
RIGHT OF CANCELLATION: 14 DAYS