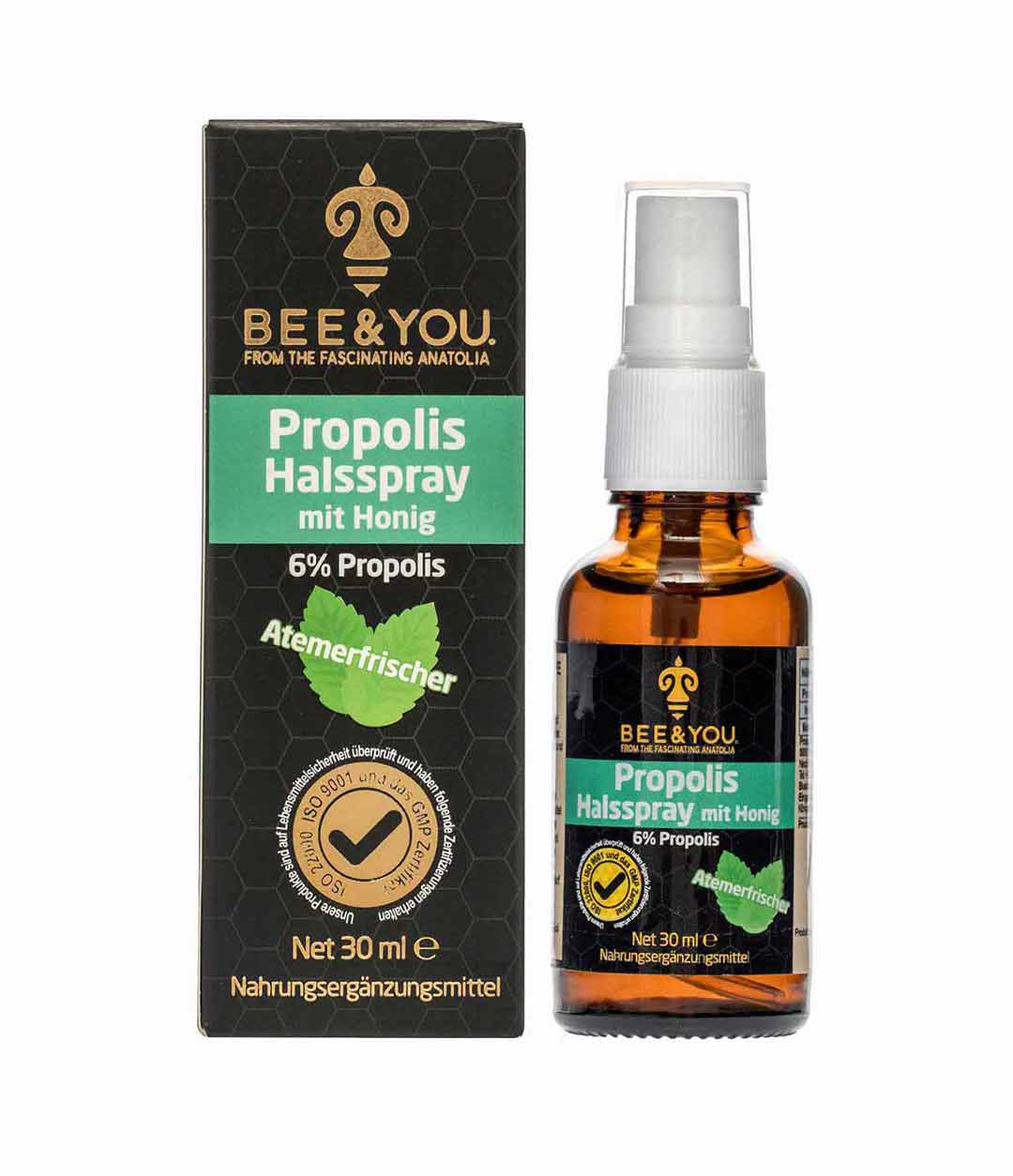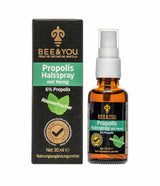 Propolis throat spray with honey
Bee&You Deutschland
The BEE&YOU Propolis Throat Spray also contains honey and menthol to support the throat and pharynx.
30.0 ml ( 49,97 €* / 100 ml)
inkl. 7 % MwSt.
zzgl. Versandkosten
Auf Lager. 2-3 Tage Lieferzeit
KOSTENLOSER VERSAND AB 49€
SICHERE UND EINFACHE ZAHLUNG
Tipps & Tricks
• Very simple - practical for the handbag.
• Can be used at any time, on the way to work on the train or on the plane.
• Both in winter and in summer, whatever the season.
• In the car or in the office, in air-conditioned rooms.
• At the turn of the year/weather change.
• For oral hygiene.
• Can be used in concerts or in choirs.
• On presentations at work or at school.
What is propolis throat spray?
Propolis, also called bee resin or putty resin, is a resinous mass produced by bees with antibiotic, antiviral and antifungal effects in the beehive. Propolis is used by worker bees to seal small openings while preventing the development of bacteria and microorganisms present in the hive, causing them to die out. The foreign bodies in the beehive that cannot be removed by the bees are also encapsulated with propolis. The antibacterial, antiviral and fungicidal effect makes propolis an important protective substance in the beehive. The Propolis Throat Spray and Throat Spray is a 100% natural and pure product with raw honey and menthol. The propolis spray contains no alcohol and is therefore ideal for children.
Application of propolis throat spray
You can carry it in your pocket
Shake it gently before use
Spray the mouth part of the bottle into your mouth
Dosage of propolis throat spray
Children between 4-10 years: 1 spray unit in the mouth/throat 3 times/day

Children from 11 years and adults: 2 sprays in the mouth/throat 3 times a day

Not suitable for children under 3 years.
The recommended daily dose should not be exceeded.
Contents and instructions for Propolis Throat Spray with Honey (30ml)
Propolis Throat Spray (Propolis Extract 6%)
Other Ingredients: Water, Flower Honey, Menthol
It contains no additives or preservatives.

It does not contain PA (pyrrolizidine alkaloids) and PAH (polycyclic aromatic hydrocarbons).

It does not contain GMOs. It does not contain glucose.

It contains no sugar.

It does not contain gluten.
Net Weight: 0.6 fl oz. (30ml)
Storage conditions: room temperature (approx. 24 °C / 72 °F)
Shelf life: 36 months
Notes: Do not exceed the recommended daily portion. Dietary supplements do not replace normal nutrition. Keep out of reach of children. It cannot be used to prevent or treat any disease. Consult your doctor in case of pregnancy, lactation, or illness. It is not recommended to give honey and products containing honey to children under 1 year old.

What distinguishes BEE&YOU Propolis from other products?
It is produced under controlled conditions by experts with a contractual beekeeping model.
Through the innovative award-winning extraction, the beneficial components of propolis are produced with maximum preservation.
Has international certificates proving food safety and quality: GMP, BRC, IFS, ISO9000, ISO22000, Halal, Kosher
33 national and international awards
Those who test it are very satisfied: 4.88 / 5.00 customer satisfaction in Trusted Shops
It is safely consumed by thousands of families in more than 13 countries.
Check out our site to discover all our propolis products.

study results
https://www.ncbi.nlm.nih.gov/pmc/articles/PMC6271064/#:~:text=Propolis%20is%20a%20potential%20source%20of%20natural%20antioxidants,effects%20have%20been%20known% 20and%20used%20since%20antiquity

.

Kim SR, Jeong MS, Mun SH, Cho J, Seo MD, Kim H, ... & Ko HJ (2021). Antiviral activity of chrysin against influenza virus replication via inhibition of autophagy. Viruses, 13(7), 1350.
El-Shouny, Wagih, et al. "Antimicrobial activity of propolis extract on URT infections in pediatric patients admitted to Al-Thowrah hospital, Hodeidah City, Yemen." World Journal of Medical Sciences 7.3 (2012): 172-177
Di Pierro, Francesco, Alberto Zanvit, and Maria Colombo. "Role of a proprietary propolis-based product on the wait-and-see approach in acute otitis media and in preventing evolution to tracheitis, bronchitis, or rhinosinusitis from nonstreptococcal pharyngitis." International journal of general medicine 9 (2016): 409.
Lisbona-González, Maria Jesús, et al. ""Study of the Antimicrobial Effect of an Ethanolic Extract of Propolis in Periodontal Disease."" Applied Sciences 11.16 (2021): 7463.
Krishna, K., et al. "Health from the hive: 5% Propolis mouth wash as an adjunct in the treatment of chronic generalized gingivitis-a randomized controlled clinical trial." Dentistry 9.533 (2019): 2161-1122.
El Adaouia Taleb, Rabia, et al. "In vivo and in vitro antidiabetic activity of ethanolic propolis extract." Journal of Food Biochemistry 44.7 (2020): e13267.

30.0 ml ( 49,97 €* / 100 ml) inkl. 7 % MwSt. zzgl. Versandkosten
RIGHT OF CANCELLATION: 14 DAYS
RIGHT OF CANCELLATION: 14 DAYS