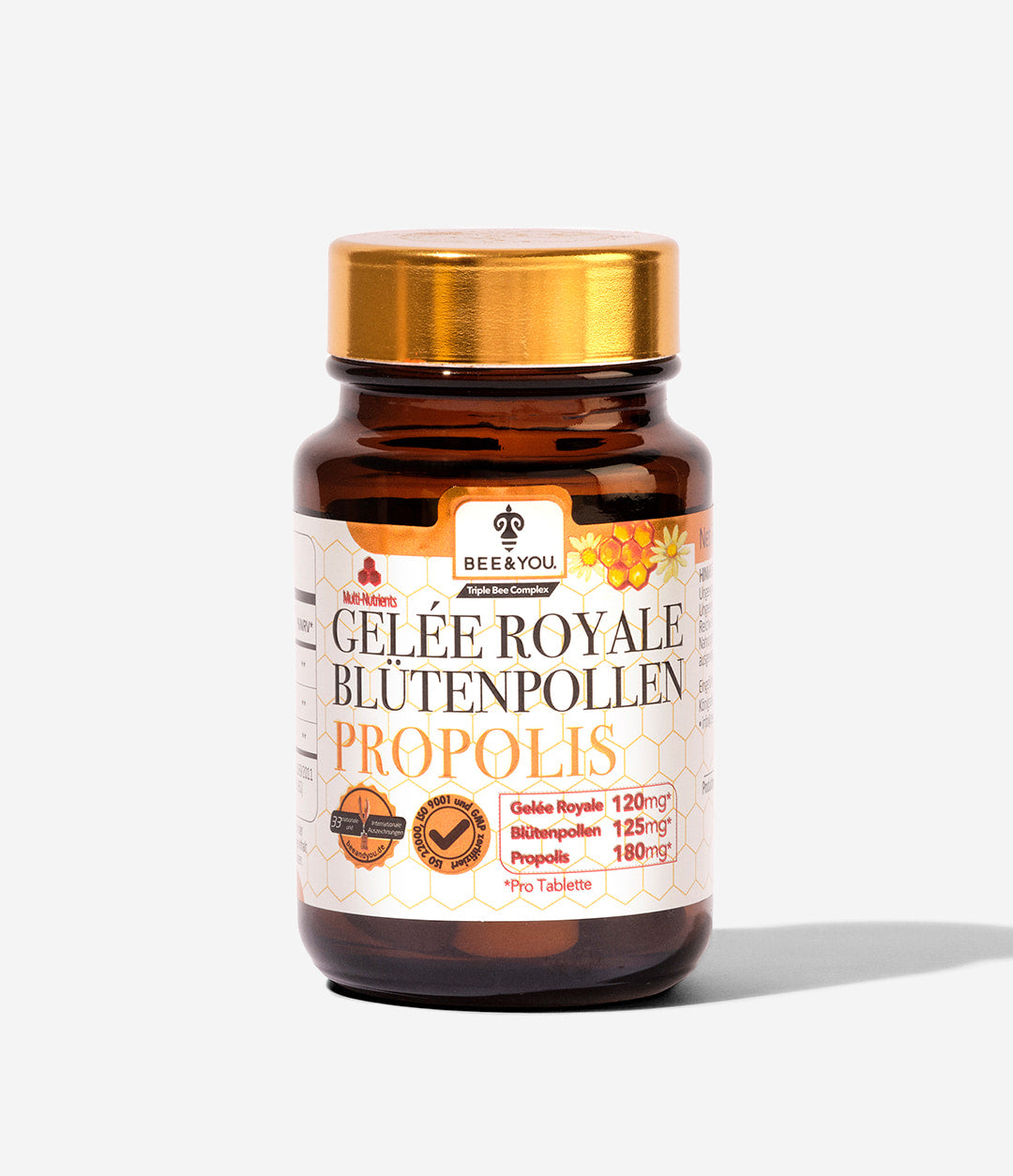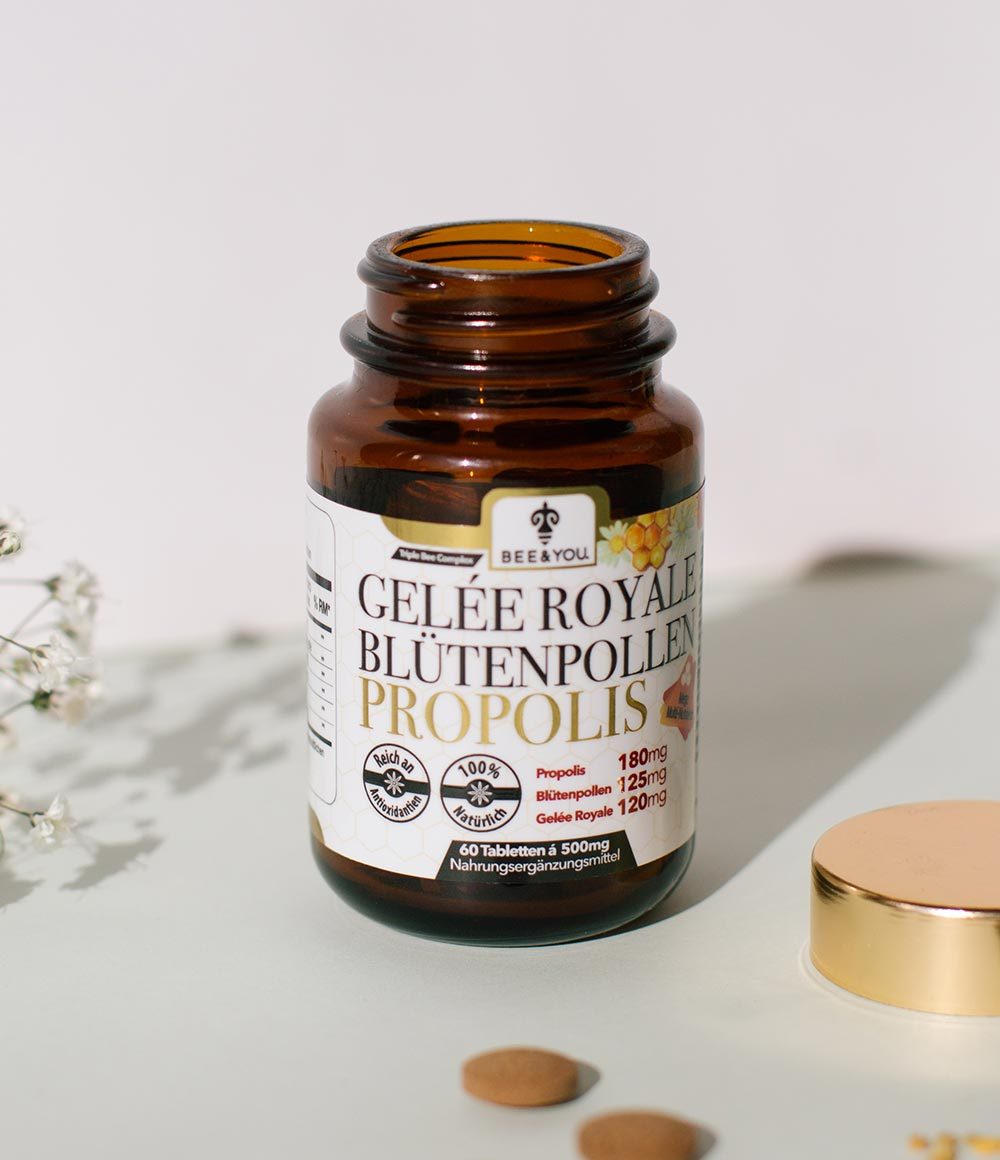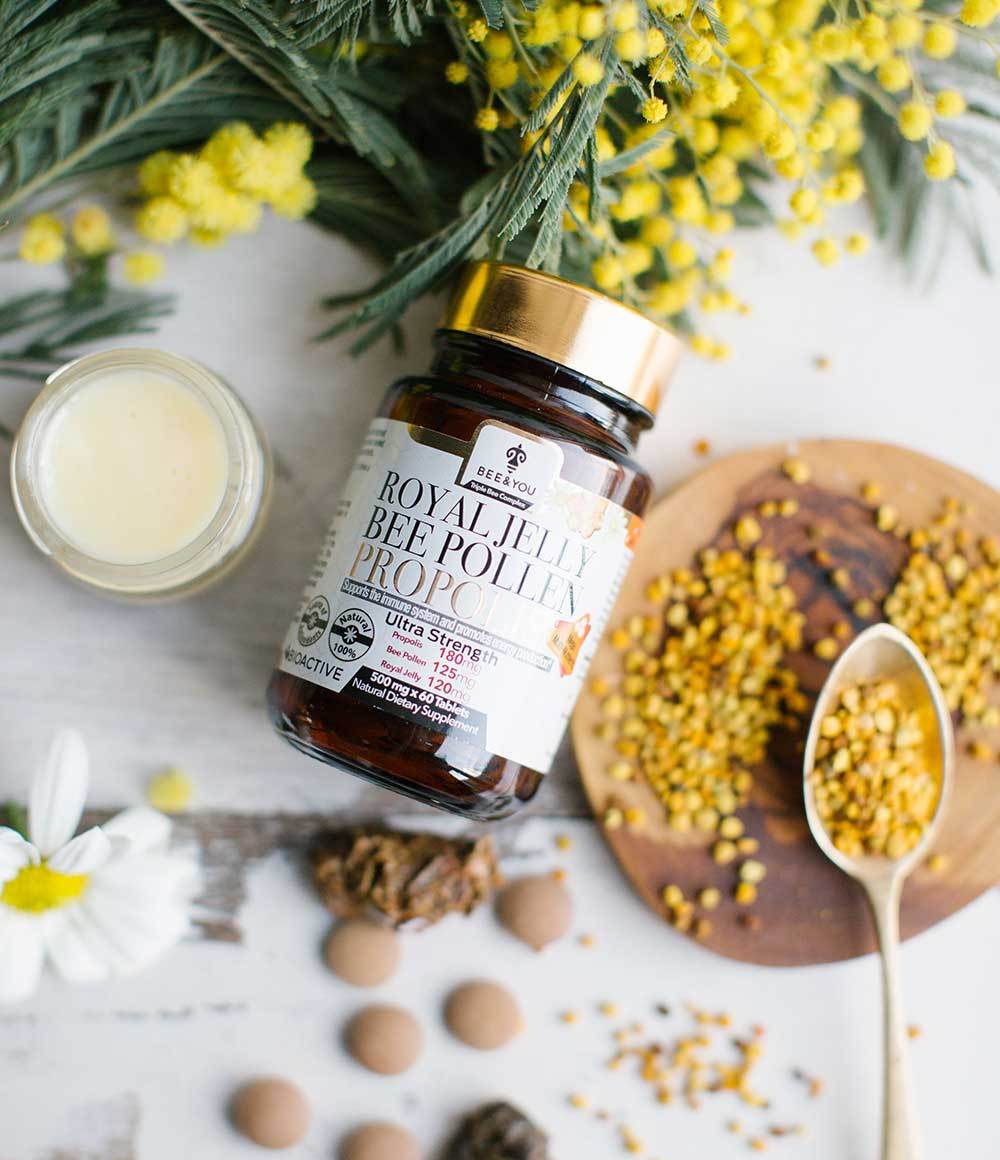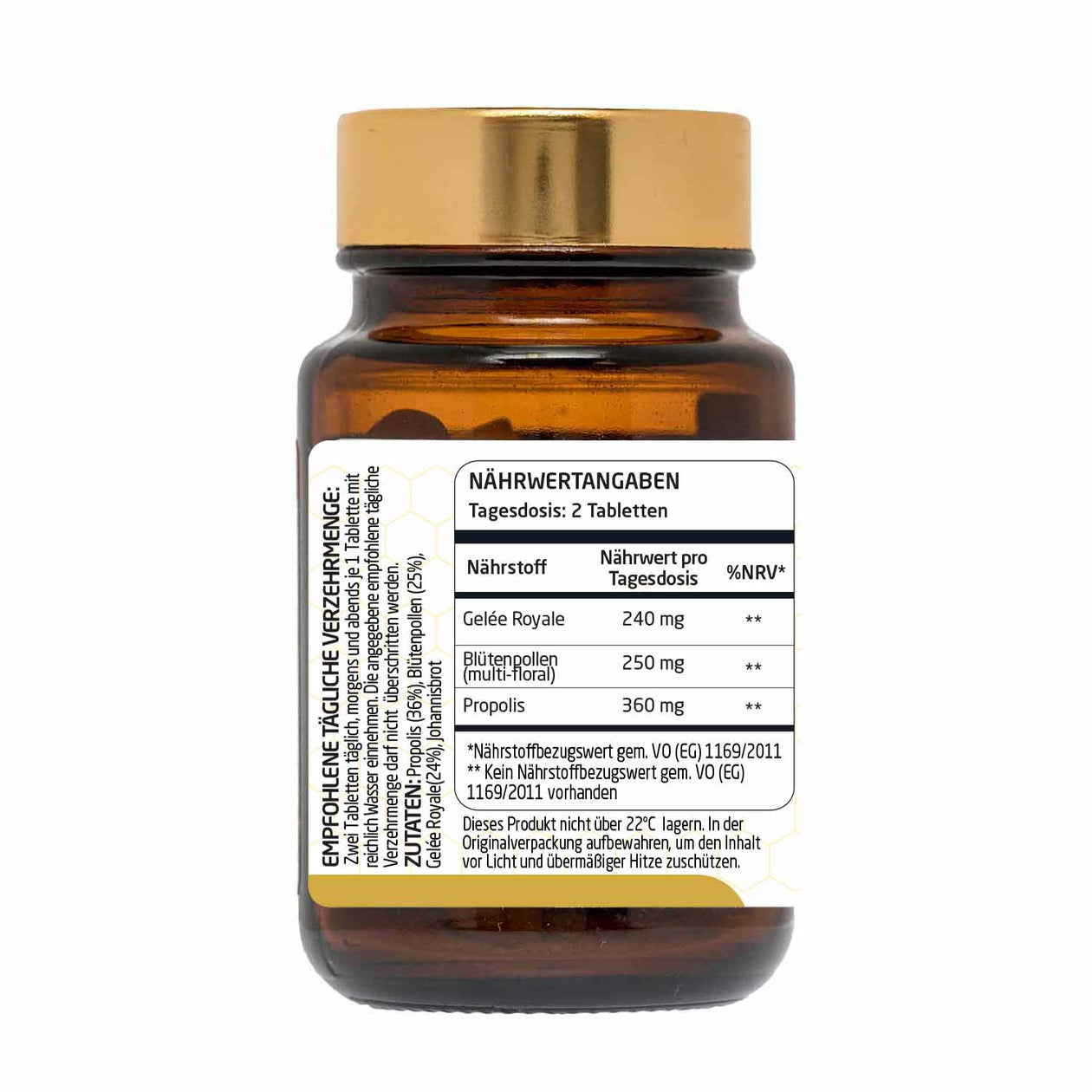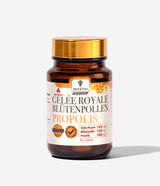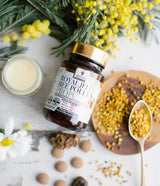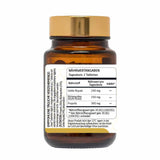 Royal Jelly Bee Pollen Propolis (Tablets - 60 pcs) 1
Bee&You Deutschland
Das BEE&YOU Gelee Royal Blütenpollen Propolis, 3 in einem Produkt. Für die praktisch- schnelle Einnahme und ideal für Unterwegs und auf Reisen.
30.0 g ( 66,50 €* / 100 g)
inkl. 7 % MwSt.
zzgl. Versandkosten
Auf Lager. 2-3 Tage Lieferzeit
KOSTENLOSER VERSAND AB 49€
SICHERE UND EINFACHE ZAHLUNG
Tipps & Tricks
• Ideal to take with you – when travelling.
• Easy to take with liquids.
Royal jelly, or royal jelly by another name, is a precious juice that turns the bees into queen bees. Milk has been used by humans for thousands of years and has good positive health benefits for humans.
Royal jelly is known for its effect of better oxygen absorption in the tissue. It can also be used to treat irritability and mood elevation. The appetite-stimulating effect and improvement in red blood cell formation are other health benefits of bee milk. Other positive effects of royal jelly are listed below.
5 effects of royal jelly bee pollen propolis tablets on your health
Naturally supports the immune system
Relieves fatigue and feels fitter
support of brain function
Helps to increase focus and strengthen memory
Supports the skin against signs of aging
Helps with inflamed mucous membranes [4]
Enables better weight loss [5]
--
The BEE&YOU Royal Jelly Bee Pollen Propolis, 3 in one product. For practical, quick intake and ideal for on the go and when travelling.
Use of BEE&YOU Royal Jelly Bee Pollen Propolis (tablets - 60 pieces)

Do not exceed the recommended daily portion.
Dietary supplements do not replace normal nutrition.
Keep it away from children.
It cannot be used to prevent or treat any disease.
Consult your doctor if you are pregnant, breastfeeding, ill or taking other medications.
RECOMMENDED DAILY CONSUMPTION:
Children from 10 years: 2 tablets daily
Adults: 2 tablets daily
The recommended daily dose should not be exceeded.
Net weight: 60 tablets of 500 mg each
Storage conditions: room temperature (approx. 24 °C / 72 °F)
What are the properties of BEE&YOU Propolis?
Contains royal jelly (24%) + pollen (25%) + propolis (36%) + carob (15%)

It contains no additives or preservatives. It was flavored with carob

Contains 360 mg propolis, 250 mg pollen and 240 mg royal jelly in a daily dosage.

It contains no additives or preservatives
It does not contain PA (pyrrolizidine alkaloids) and PAH (polycyclic aromatic hydrocarbons)
It does not contain GMOs
It contains no glucose
It contains no sugar
It does not contain gluten
What distinguishes Bee & You Propolis from other products?
It is produced under controlled conditions by experts with a contractual beekeeping model.
Through the innovative award-winning extraction, the beneficial components of propolis are produced with maximum preservation.
Has international certificates proving food safety and quality: GMP, BRC, IFS, ISO9000, ISO22000, Halal, Kosher
33 national and international awards
Those who test it are very satisfied: 4.88 / 5.00 customer satisfaction in Trusted Shops
It is safely consumed by thousands of families in more than 13 countries. Check out our site to discover all our Propolis products .
study results
Soleimani, Davood, et al. ""Protective effects of propolis on hepatic steatosis and fibrosis among patients with nonalcoholic fatty liver disease (NAFLD) evaluated by real-time two-dimensional shear wave elastography: A randomized clinical trial."" Phytotherapy Research 35.3 (2021): 1669-1679 .

Ebeid, Samia A., et al. ""Assessment of the radioprotective effect of propolis in breast cancer patients undergoing radiotherapy. New perspective for an old honey bee product."" Journal of Radiation Research and Applied Sciences 9.4 (2016): 431-

Miryan, Mahsa, et al. "Effects of Propolis Supplementation on The Severity of Disease In Irritable Bowel Syndrome Subjects: A Randomized, Double-Blind Clinical Trial." (2021).

Asama, Takashi, et al. "Cognitive Improvement and Safety Assessment of a Dietary Supplement Containing Propolis Extract in Elderly Japanese: A Placebo-Controlled, Randomized, Parallel-Group, Double-Blind Human Clinical Study." Evidence-Based Complementary and Alternative Medicine 2021 (2021).
30.0 g ( 66,50 €* / 100 g) inkl. 7 % MwSt. zzgl. Versandkosten
RIGHT OF CANCELLATION: 14 DAYS
RIGHT OF CANCELLATION: 14 DAYS