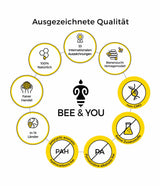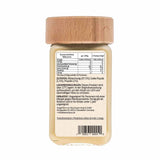 Royal jelly & propolis in honey for children
Bee&You Deutschland
The unique formula with royal jelly, propolis and honey contains various B vitamins and minerals such as calcium, magnesium, iron, folic acid and zinc. The mixture for children to support physical and mental development.
190.0 g ( 12,61 €* / 100 g)
inkl. 7 % MwSt.
zzgl. Versandkosten
Auf Lager. 2-3 Tage Lieferzeit
KOSTENLOSER VERSAND AB 49€
SICHERE UND EINFACHE ZAHLUNG
Tipps & Tricks
• The mixture can be spread on a piece of bread.
• The mixture can be used to sweeten yoghurt, muesli and other breakfast dishes.
• The mixture can be taken with fruit salad.
• The mixture can also be taken pure.
• If more is required, propolis extract can be added to the mixture.
• The mixture can be mixed into the milk.
Royal jelly is consumed by the queen bee. This bee product is very nutritious and is used by bees to feed the queen bee and offspring. The normal lifespan of a bee is 45 days. The queen bee lives between 5 and 7 years by consuming royal jelly.
Royal jelly is very similar to breast milk. The physical development of the bees is accelerated by the administration of this bee milk. They evolve twice as fast. Honey is a traditional home remedy that helps boost the immune system. It is a 100% natural product and has various positive health effects.
Application of royal jelly propolis in honey for children


It is recommended to take on an empty stomach.
Can be consumed directly
Can be consumed by smearing it on a slice of bread.
Can be mixed and consumed with a glass of milk.
Dosage of royal jelly propolis in honey for children
Children from 1-2 years: 1 teaspoon
Children from 2 years: 2 teaspoons
Children from 13 years - adults: 2 dessert spoons
The recommended daily dose should not be exceeded.
Contents and instructions for Royal Jelly & Propolis in Honey for Children (190g)
Honey (97.5%), royal jelly (1.5%), propolis extract (1%)
The composition of royal jelly consists of 13% proteins, 15% carbohydrates, 5% lipids and 1% minerals such as organic acids, amino acids, enzymes, vitamins niacin (B3), pyridoxine (B6), tyamine (B1), riboflavin ( B2), pantothenic acid (B5), folic acid (B9), biotin, and important minerals such as zinc, potassium, calcium, manganese, magnesium, copper and iron. In addition, it contains components such as 10-HDA and Royalactin. It is very similar to mother's milk because it is produced in the body of the bees for breeding and feeding the offspring of the bees.
Do not administer honey and products containing honey under the age of 1 year.
It contains no additives or preservatives.
It does not contain PA (pyrrolizidine alkaloids) and PAH (polycyclic aromatic hydrocarbons).
It does not contain GMOs
It contains no glucose.
It contains no sugar.
It does not contain gluten
Net weight: 190g
Storage conditions: room temperature (about 24 ° C)
Shelf life: 36 months
Why BEE&YOU?
The product Royal Jelly & Propolis in Honey has received the Eco Excellence Awards and also has 33 national and international awards.
Royal Jelly in Honey with Propolis for Kids is specially formulated for children, with a texture and flavor that appeals to children and which children can easily consume.
The product is halal certified and is a valuable contribution to the nutrition of your child
Award-winning bee products: Our bee products, made with an award-winning and patented extraction process, have received 33 national and international awards.
Reliable bee products: Our bee products are manufactured in the heart of Europe by our two founders, food engineers, using the latest technology and FDA standards.
High-quality bee products: We work with over 5,000 contract beekeepers and over 550,000 beehives and apply the contract beekeeping model. This guarantees a high propolis quality.
Qualitative manufacturing: It is manufactured according to the principles of good beekeeping practices and under controlled conditions by experts according to contractual beekeeping model.
The production of pure propolis products uses extraction methods developed by experienced food engineers of ITU ARI Teknokent through R&D studies and deemed worthy of TUBITAK, TTGV and TUSIAD Technology Awards 2016. It is possible by this method to preserve the nutrients of raw Anatolian propolis in a maximum way while still removing impurities.
Through the innovative award-winning extraction, the beneficial components of propolis are produced with maximum preservation.
We love bees: For the love of bees, we donate 10 cents with every purchase. This amount will be invested in the research and development center for the protection of bee habitats.
Has international certificates proving food safety and quality: GMP, BRC, IFS, ISO9000, ISO22000, Halal, Kosher
Those who test it are very satisfied: 4.88 / 5.00 customer satisfaction in Trusted Shops
It is familiarly consumed by thousands of families in more than 13 countries.
Check out our site to discover all of our propolis tincture products.
study results
Effect of royal jelly on mental health
https://www.researchgate.net
Effect of royal jelly propolis and raw honey on immunity
https://www.researchgate.net
Habashy, Noha H., and Marwa M. Abu Series. "The potential antiviral effect of major royal jelly protein2 and its isoform X1 against severe acute respiratory syndrome coronavirus 2 (SARS-CoV-2): Insight on their sialidase activity and molecular docking." Journal of functional foods 75 (2020): 104282.
Teixeira, Renata Roland, et al. "Royal jelly decreases corticosterone levels and improves the brain antioxidant system in restraint and cold stressed rats." Neuroscience letters 655 (2017): 179-185.
Morita, Hiroyuki, et al. "Effect of royal jelly ingestion for six months on healthy volunteers." Nutrition Journal 11.1 (2012): 77
190.0 g ( 12,61 €* / 100 g) inkl. 7 % MwSt. zzgl. Versandkosten
RIGHT OF CANCELLATION: 14 DAYS
RIGHT OF CANCELLATION: 14 DAYS