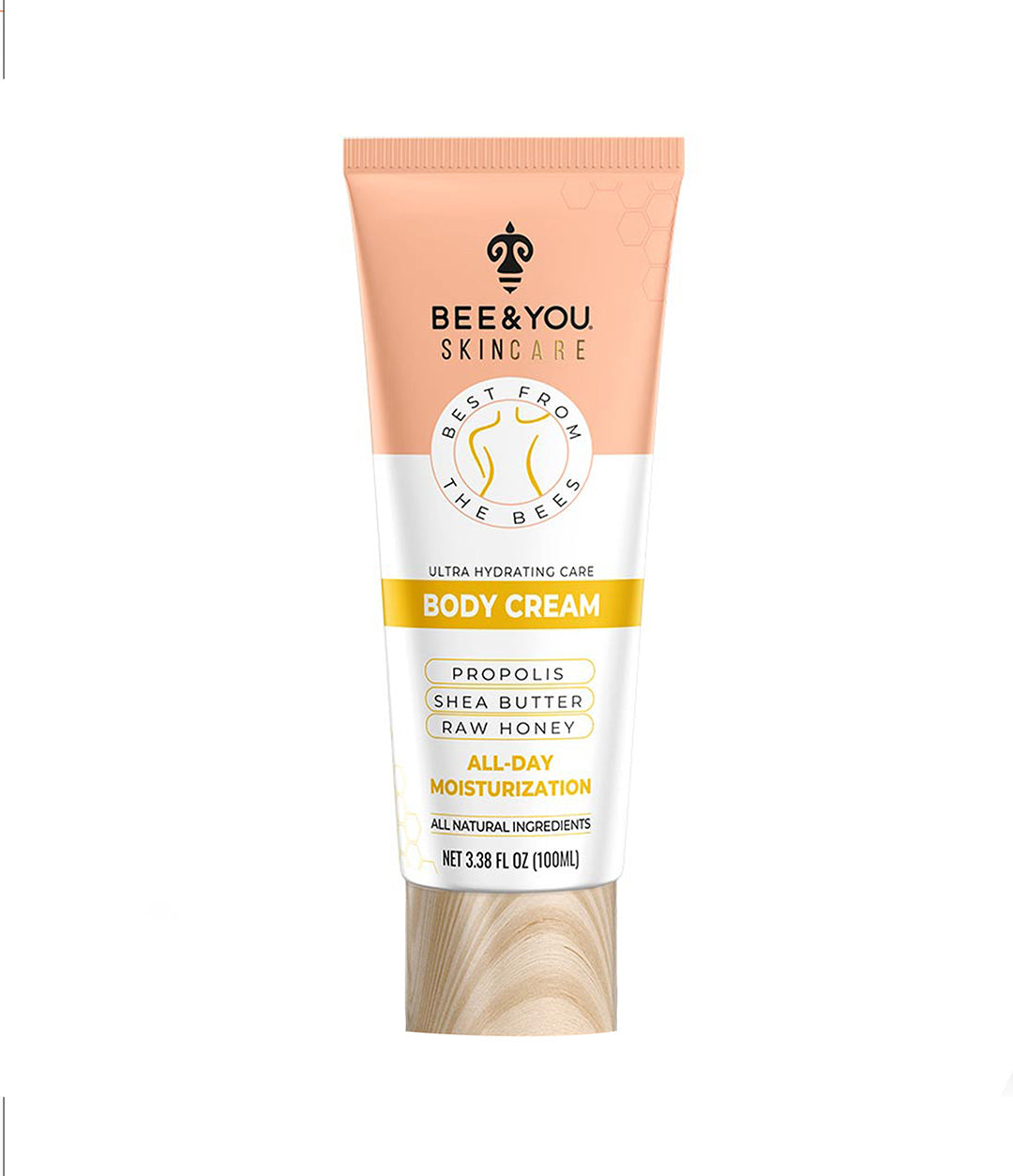 Apicare body cream with propolis
Bee&You Deutschland
The body cream with propolis, shea butter and honey nourishes and moisturizes the skin.
100.0 ml ( 14,99 €* / 100 ml)
inkl. 19 % MwSt.
zzgl. Versandkosten
Auf Lager. 2-3 Tage Lieferzeit
KOSTENLOSER VERSAND AB 49€
SICHERE UND EINFACHE ZAHLUNG
Tipps & Tricks
The natural body cream for daily use.
What is Apicare Body Cream with Propolis?
Silky and moist skin with the BEE&YOU Apicare body cream with propolis!
The purely natural formula from BEE&YOU with patented pure Anatolian propolis, raw honey, shea butter and valuable vitamins nourishes your skin, ensures moisture balance and has a protective and repairing effect on dry and stressed skin.
The natural and unique note of bee products is in the BEE&YOU APICARE moisturizing care series
Softer and silkier skin with unique natural formulas from the BEE&YOU APICARE series!
The completely natural and clean content of BEE&YOU APICARE body, hand and foot creams has been developed by experts at the BEE&YOUPropolis Research and Development Center.
It nourishes and cares for your skin with its special formula enriched with propolis, raw honey, beeswax, vegetable oils, vitamins and minerals.

While increasing the skin's natural protective barrier, it protects the moisture and oil balance.

Dermatologically tested.

Without parabens, GMO and dyes.

Suitable for sensitive skin, hypoallergenic.
Patented BEE&YOU Anatolian Propolis: With valuable phenolic and flavonoid components such as KAFE (caffeic acid phenethyl ester), quercetin, pinosembrine, galangin and chrysin with a high content, it contributes to the nutrition and protection of the skin.

In addition, with the powerful antioxidant effects of propolis, it detoxifies the skin and helps to remove dead cells and toxins from the skin.
Why BEE&YOU?
Award-winning bee products: Our bee products, made with an award-winning and patented extraction process, have received 33 national and international awards.
Reliable bee products: Our bee products are manufactured in the heart of Europe by our two founders, food engineers, using the latest technology and FDA standards.
High-quality bee products: We work with over 5,000 contract beekeepers and over 550,000 beehives and apply the contract beekeeping model. This guarantees a high propolis quality.
Qualitative manufacturing: It is manufactured according to the principles of good beekeeping practices and under controlled conditions by experts according to contractual beekeeping model.
The production of pure propolis products uses extraction methods developed by experienced food engineers of ITU ARI Teknokent through R&D studies and deemed worthy of TUBITAK, TTGV and TUSIAD Technology Awards 2016. It is possible by this method to preserve the nutrients of raw Anatolian propolis in a maximum way while still removing impurities.
Through the innovative award-winning extraction, the beneficial components of propolis are produced with maximum preservation
We love bees: For the love of bees, we donate 10 cents with every purchase. This amount will be invested in the research and development center for the protection of bee habitats.
Has international certificates proving food safety and quality: GMP, BRC, IFS, ISO9000, ISO22000, Halal, Kosher
Those who test it are very satisfied: 4.88 / 5.00 customer satisfaction in Trusted Shops
It is familiarly consumed by thousands of families in more than 13 countries.
Check out our site to discover all of our propolis tincture products.
study results
1. Hsin-Ju, Li, et al. "Chrysin alleviates imiquimod-induced psoriasis-like skin inflammation and reduces the release of CCL20 and antimicrobial peptides." Scientific Reports (Nature Publisher Group) 10.1 (2020).
2. Kim, Da Hyun, et al. "Propolis Suppresses UV-Induced Photoaging in Human Skin through Directly Targeting Phosphoinositide 3-Kinase." Nutrients 12.12 (2020): 3790.
Erdem, Özden, and Zeynep Güngörmüs. "The effect of royal jelly on oral mucositis in patients undergoing radiotherapy and chemotherapy." Holistic Nursing Practice 28.4 (2014): 242-246.
1.Zhu, Li, et al. "Anti-photoaging and anti-melanogenesis activities of chrysin." Pharmaceutical biology 54.11 (2016): 2692-2700.2. Holmes, Amy M., et al. "Penetration of Zinc into Human Skin after Topical Application of Nano Zinc Oxide Used in Commercial Sunscreen Formulations." ACS Applied BioMaterials 3.6 (2020): 3640-3647.
Mazzarello, V., et al. "Treatment of acne with a combination of propolis, tea tree oil, and aloe vera compared to erythromycin cream: two double-blind investigations." Clinical pharmacology: advances and applications 10 (2018): 175.
Pavlackova, Jana, et al. "Hydration and Barrier Potential of Cosmetic Matrices with Bee Products." Molecules 25.11 (2020): 2510.
Kim, Han Bit, and Byung Sun Yoo. "Propolis inhibits UVA-induced apoptosis of human keratinocyte HaCaT cells by scavenging ROS." Toxicological research 32.4 (2016): 345-351
El–Gammal, Egharid, et al. "Apitherapy as a New Approach in Treatment of Palmoplantar Psoriasis." Open access Macedonian journal of medical sciences 6.6 (2018): 1059.
Tyszka-Czochara, Małgorzata, et al. ""Zinc and propolis reduces cytotoxicity and proliferation in skin fibroblast cell culture: total polyphenol content and antioxidant capacity of propolis."" Biological trace element research 160.1 (2014): 123-131.
100.0 ml ( 14,99 €* / 100 ml) inkl. 19 % MwSt. zzgl. Versandkosten
RIGHT OF CANCELLATION: 14 DAYS
RIGHT OF CANCELLATION: 14 DAYS